Research Finds Exercise Has Similar Effect as Opioids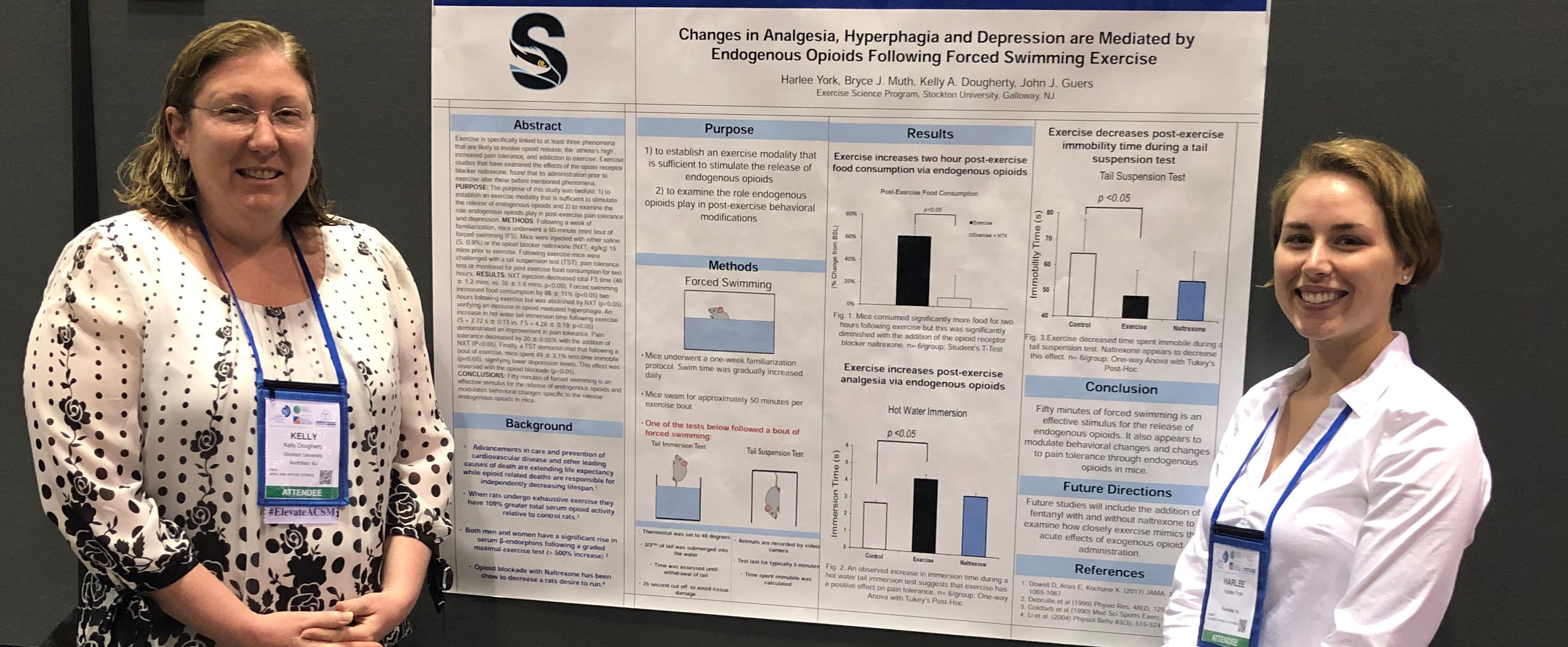 Galloway, N.J. – Can exercise have the same effect on anxiety, depression and pain tolerance as an opioid?
Stockton University junior exercise science major Harlee York from Riverdale, New Jersey presented her addiction research at the American College of Sports Medicine's 66th Annual Meeting May 28 to June 1 in Orlando, Florida. She is the first undergraduate student in Stockton's Exercise Science program to present at a national meeting.
York's research was titled "Changes in Analgesia, Hyperphagia and Depression are Mediated by Endogenous Opioids Following Forced Swimming Exercise." It was a collaborative effort with exercise science professors John Guers, Kelly Dougherty and Bryce Muth. The goal of the project was to analyze the brain's own internal opioid system, using mice and the opioid receptor-blocking drug Naltrexone, to see if exercise had a similar effect as opioids when dealing with depression, anxiety and pain tolerance. The research team analyzed the mice's behaviors while swimming, both with and without Naltrexone, to note any behavioral differences.
"Exercise is known to have an anti-depressive and pain killing effect for some individuals," said Guers. "Exercise is also known to have properties which resemble opioids."
The study concluded that the mice had a higher pain threshold following the exercise, and this effect was lowered with Naltrexone. It also revealed that the mice demonstrated lower characteristics associated with depression/anxiety following the exercise, and this effect was also diminished with Naltrexone.
"We wanted to see if the internal opioid system was causing the positive effects on the before mentioned outcomes – anxiety, depression, and so on – that occurred with exercise ... and this was indeed the case," Guers said.
The whole experience was particularly beneficial for York.
"It was a humbling experience to present our work at this national conference as an undergraduate student," said York. "I hope that our program continues sending students to gain the same experience, and to grow through the research field and presenting findings in future years."
Reported by Kat H. Wentzell.
# # #
Contact:
Diane D'Amico
Director of News and Media Relations
Stockton University
Galloway, N.J. 08205
Diane.DAmico@stockton.edu
609-652-4593
609-412-8069
stockton.edu/media