Esports Teams Play Exhibition Matches at Conferences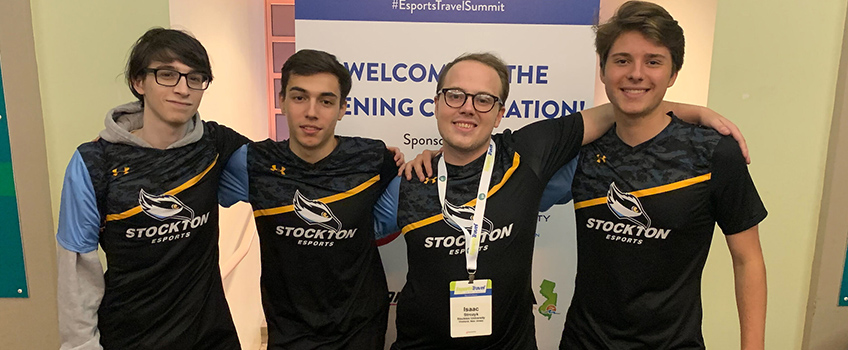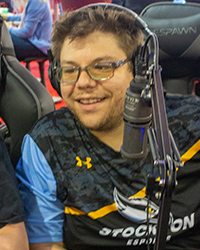 Galloway, N.J. –Stockton University esports team members demonstrated their prowess at two recent conferences.
At the Esports Travel Summit in Atlantic City, Rocket League players Alex "Large" Lee, Vincent "Dark" Nelson, and Geno "Genocop" Copertino beat Rutgers University 2-0 in an exhibition match. After winning the series, Stockton players received HyperX gear.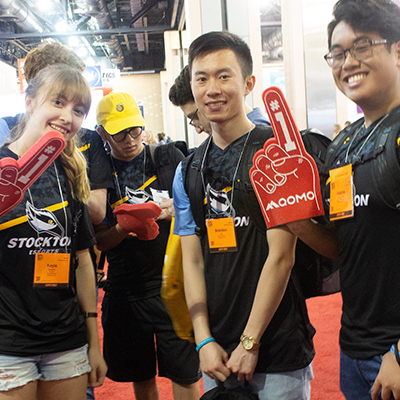 Stockton Esports was invited to the Acer booth at the International Society for Technology in Education (ISTE) Conference in Philadelphia. Stockton League of Legends players Kayla "Kaybun" Brawley, Adonis "A Nice Ward" Mellomida, Colin "The Fire Ferret" Alleger, Ty-Anthony "TeeDough" Conner, Timothy "Boozie" Tran, and ECAC MVP Brandon "Appa" Yip also played a series of competitive matches with Stockton esports intern Isaac Strozyk and coach Demetrios Roubos providing play-by-play discussion and match analysis.
Stockton's Rocket League team members Alex "Large" Lee, Vincent "Dark" Nelson, and Geno "Genocop" Copertino also competed in an exhibition series against Fair Haven Middle Schools' FH Knights. After a few best of three series matches, the teams were mixed together, enabling the FH Knights to play with Stockton's seasoned competitors.
Throughout ISTE, Stockton's participants educated conference attendees on the importance of esports in education, collegiate esport's rapid growth, and how Stockton has built a successful program.
For more information about Stockton esports, visit the club webpage.
View photo galleries from the Esports Summit and the ISTE Conference.
Reported by Kat H. Wentzell.
# # #
Contact:
Diane D'Amico
Director of News and Media Relations
Stockton University
Galloway, N.J. 08205
Diane.DAmico@stockton.edu
609-652-4593
609-412-8069
stockton.edu/media