New Campus Esports Facility Attracting Gamers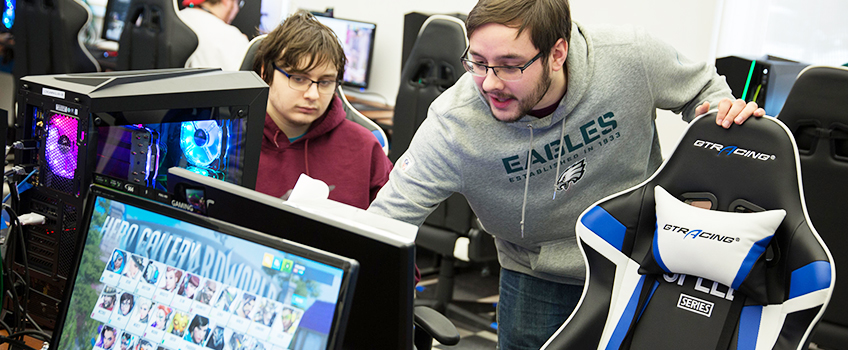 Galloway, N.J. – Jacob Hoppenfeld of Voorhees started playing video games at age 6 when his father introduced him to Age of Empires and Civilization I.
"I loved the historical aspect and the strategy," said Hoppenfeld, who later moved on to League of Legends. He has paid for his last two years at Stockton University with scholarships and awards won playing in tournaments.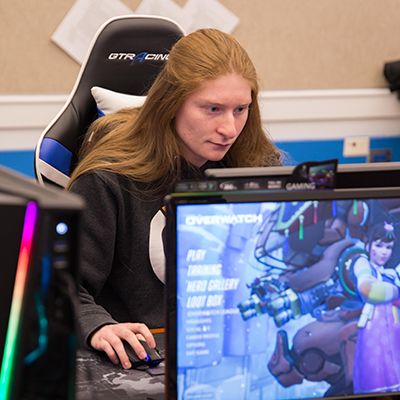 This year the Stockton University junior is also playing on a Stockton University team as a member of the university's new esports program, practicing and competing in a new state-of-the-art esports facility equipped with 15 high-powered machines the students helped build and customized chairs built for comfort and support.
"It is different playing on a college team," Hoppenfeld said. "There are teammates now, and you have to be reliable and responsible. I'm not just playing for myself. It's not just about me. I've really learned things about myself that are life skills."
More than 100 students have registered to participate in the esports program, which began in January. More than 50 students are competing on teams in Overwatch, League of Legends and Fortnite and Smash Brothers Ultimate as part of the Eastern College Athletic Conference.
Students are also playing and competeing in Rocket League, Hearthstone, and the hot new game, Apex Legend.
"The students had requested and have now embraced the adoption of esports and an esports facility at Stockton," said Stockton Chief Information Officer Scott Huston, who with Associate Director of Information Security Demetrios Roubos has worked with Stockton Athletics to develop the program.
"We're extremely excited to provide a facility where students can gather and compete on campus. Esports engages participants in competitive and cooperative exercises that build mental acuity, communication, teamwork, and comradery" said Roubos.
Freshman Alex Lee of Linwood is playing Rocket League in the Collegiate Star League and is currently in the Eastern Division playoffs. Winners earn the chance to go to a live tournament in Cincinnati, and win scholarship money.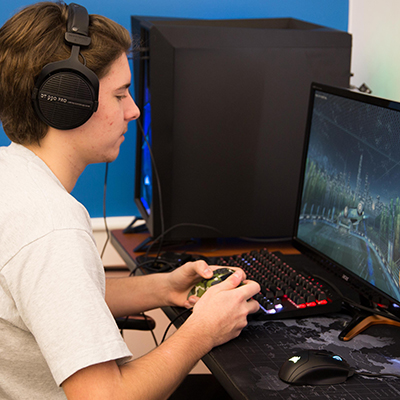 Lee started playing in high school and played professionally for a while. Now he is looking forward to developing a Stockton team.
"I really expect esports to blow up at the college level," Lee said. "People watch and root for their college team. I want to do well to show that playing video games can be positive and worthwhile. You can win scholarships and make friends."
Many of the players talked about the competitiveness and camaraderie of the team games. They discussed developing team strategies, and spending time socially with others who play the same games.
"People like the team games because the aspect of human interaction is important," Hoppenfeld said. "There is a lot of personal connection."
Dianna Marinelli, an Overwatch team camptain anda part of the esports leadership council said team members are also good students academically and take their roles on the teams seriously.
The teams will soon have official Stockton esports team jerseys to wear when they compete.
"We are very proud of the dedication and effort the students are putting into this initiative between building teams, working together on scheduling, and competing against other colleges. The entire Stockton community has been very supportive of the esports efforts" Huston said. "We are very excited to watch the esports program at Stockton continue to grow."
The esports room, located in a former computer lab in Building 80, is open to all students, and is available 24/7 with swipe card access.
"Every Stockton student is welcome," Huston said.
For more information about the program, visit esports.stockton.edu.
# # #
Contact:
Diane D'Amico
Director of News and Media Relations
Stockton University
Galloway, N.J. 08205
Diane.DAmico@stockton.edu
609-652-4593
609-412-8069
stockton.edu/media