Stockton Esports Team Wins ECAC Fortnite Championship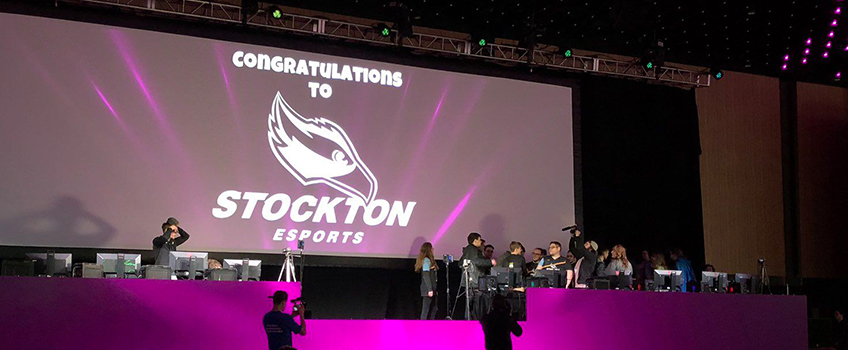 Galloway, N.J. _ The Stockton University esports team of Austin Van Zant of Lincoln Park, Damian Majewski of Barnegat, and Parker Teliszewski of Barnegat won the Eastern College Athletic Conference Fortnite Championship held during the Hudson Valley Gamer Con at the Albany New York Capital Center on March 30-31.
Four Stockton students were named season MVPs. Van Zant and Majewski got the awards for Fortnite and Brandon Yip and Joseph Difilippo got the awards for League of Legends.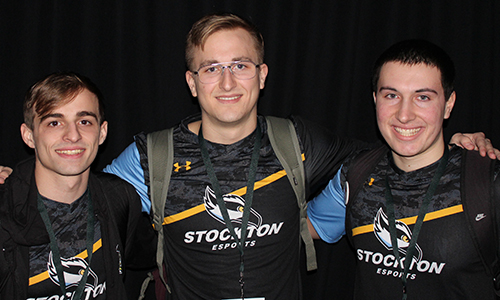 Stockton teams also placed second in the League of Legends Championship and made the quarterfinals in Overwatch.
Some 400 gamers from 19 colleges from the east coast competed in the season ending weekend tournament for Fortnite, League of Legends and Overwatch.
Stockton, which was seeded fifth in the Fornite tournament, was the underdog victor having to knock off fourth-seeded Saint Peter's University, the number one seeded team Canisius College and number-two Siena College in the championship final.
The Stockton League of Legends team was seeded sixth and was able to rally all the way to the final before losing to top seeded defending champions Marist College.
This is Stockton's first semester competing in esports at the college leaving many in attendance stunned at their success.
"We were the Cinderella story of the tournament," said Stockton Chief Information Officer Scott Huston, who helped organize esports at Stockton.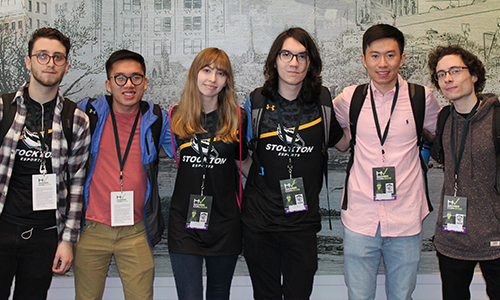 Team coach and esports program manager Demetrios Roubos, who is also Associate Director of Information Security at Stockton, said he had a good feeling about the Fornite team in particular since it is a relatively new game to esports competition.
"I really felt they were going to be incredible. The commentators really didn't know what we could do," Roubos said. "That started to change as we gained momentum, but right up to the end they thought we were at a disadvantage. But we came in and cleaned house."
Stockton got a banner and trophy for their wins and the MVPs also got awards.
"Everyone is just really excited," Roubos said. "We already put our winning banner up in the esports lab."
Members of the League of Legends team are Timothy Tran of Atlantic City, Brandon Yip of South Brunswick, Joseph Defilippo of Waretown, Ty-Anthony Connor of Somers Point, Kayla Brawley of Middletown and Christopher Pankewytch of Howell.
Members of the Overwatch team are Dianna Marinelli of Galloway, Brian Kibelstis of Williamstown, Kieran Subin of Vineland, Chris Hall of Oxnard, Calif., Edward Corcoran of Seaville, Lawrence Chiappelli, and Isaac Strozyk of Vineland.
The team was supported over the weekend by Theresa Marinelli of Galloway, Ryan Steup of Barnegat and Alexander Rodriguez of Atlantic City.
For more information about Stockton's Esports program, visit esports.stockton.edu
Watch a video from the competition.
# # #
Contact:
Diane D'Amico
Director of News and Media Relations
Stockton University
Galloway, N.J. 08205
Diane.DAmico@stockton.edu
609-652-4593
609-412-8069
stockton.edu/media