Doctor of Physical Therapy Students Receive White Coats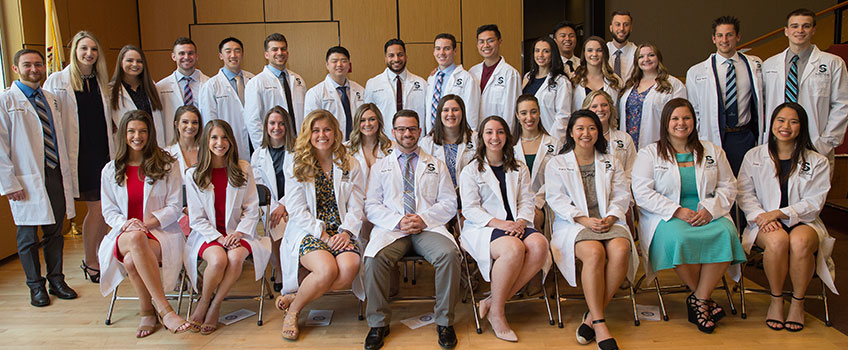 Galloway, N.J. – Stockton University class of 2020 students enrolled in the Doctor of Physical Therapy (DPT) program received their honorary white coats at the DPT Commitment to the Profession Ceremony Wednesday, April 3 in Alton Auditorium.
Associate Professor of Physical Therapy Thomas Nolan, Provost and Vice President of Student Affairs Lori Vermuelen, and Dean of the School of Health Sciences Margaret Slusser opened the ceremony with remarks relating to pride, hope, and best wishes for graduates.
Jennifer Brooks, a physical therapist specialized in oncology rehab and lymphedema management at the Bacharach Institute for Rehabilitation, was the ceremony's keynote speaker. Brooks reflected on her time at Stockton, where she too, received her DPT degree, and gave her own tidbits of advice about the medical field to graduates.
The event closed with the adornment of the white coats and the recitation of the Oath of Commitment to the Profession, a verbal agreement from new health professionals to always abide by all legal and health requirements, and to always be compassionate, trustworthy, and knowledgeable in practice.
Members of the 2020 graduating class are (in alphabetical order): Favad Akhtar, Brendon Barksdale, Kyle Bohn, Kristin Cavorley, Kelly Corrado, Jessica D'Angelo, Rafaela Dos Santos, Raniel Gernale, Laura Gowdy, Virginia Hurley, Kristen Janiszewski, Shauna Lawlor, Ziwei Li, Christopher Martin, Christy McCann, Joseph Nevoso, Rachael Newman, Nicholas Persia, Jesse Phalanukorn, Nathan Roberts, Liliana Sainato, Brandon Samuels, Stephen Sisto, Sara Smith, Emily Sorochynskyj, Joshua Tebangin, Sarah Turetzkin, Brent Wilder, Avery Wilson, Kimberly Wilson, and Tracy Wong.
View the full photo gallery on Flickr.
Reported by Kat H. Wentzell.
# # #
Contact:
Diane D'Amico
Director of News and Media Relations
Stockton University
Galloway, N.J. 08205
Diane.DAmico@stockton.edu
609-652-4593
609-412-8069
stockton.edu/media