Faculty Research Examines Learning Outcomes of Days of Service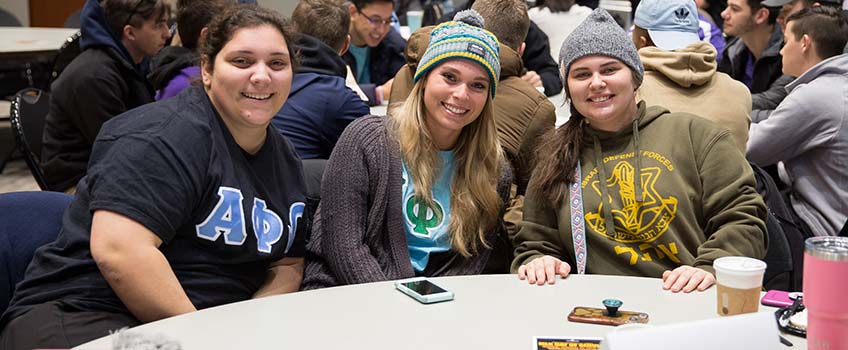 Betsy Erbaugh, assistant professor of Sociology and Anthropology, and Jess Bonnan-White, associate professor of Criminal Justice, compiled a research paper, "Do 'Days of Service' Meet Institutional Service-Learning Goals? A Case Study in Assessment of the MLK Day of Service," which was recently published in the Journal of Community Engagement and Higher Education. Bonnan-White and Erbaugh also presented their work in August at the American Sociological Association Conference in Philadelphia.
The study examines how beneficial Days of Service are as a learning tool, in contrast to service-learning courses over a full semester. Erbaugh and Bonnan-White used Stockton's 2016 MLK Day of Service to pilot participant surveys and discussion-based reflection processes. A total of 344 participants completed the team's survey questions, with responses showing participants felt positive about the importance and contribution of their service, as well as the connections they built with the community.
"We started this research because Stockton had a rich history of creating space and opportunity for students to engage with their community through service. However, Days of Service were largely being used as examples of service-learning. Service-learning is a specific teaching tool, and we wondered whether Days of Service were truly meeting the goals of service-learning," Bonnan-White said.
According to Bonnan-White, the analysis of the event provided some very important learning lessons that she and Erbaugh are excited to pass on to Stockton, as well as other universities.
"In the end, Days of Service are incredible outreach and engagement opportunities, and they have value in stimulating student interest in moving beyond volunteering, and actually planning engagement that provided them greater understanding of social justice and professional ethics," Bonnan-White said.
Bonnan-White said the results indicate that the Days of Service are a great starting point for students and Stockton can best develop civic engagement in students by providing a number of opportunities.
Building upon the prior research, Erbaugh and Bonnan-White are currently collaborating on a 2020-funded study with Erin O'Hanlon, senior program coordinator in Service-Learning; and Alexis Poston, a graduate student in the M.A. in Holocaust & Genocide Studies program, to investigate the impact of 15 years of the MLK Day of Service at Stockton.
They will produce an archive of documents, interviews and artifacts based on the experiences of Stockton students, staff and faculty, community partners and members of the community who have volunteered at MLK Day events since 2004 to document the long-term evolution and impact of MLK Day in the Stockton community.
Reported by Mandee McCullough