Children's Drawings from Darfur Preserved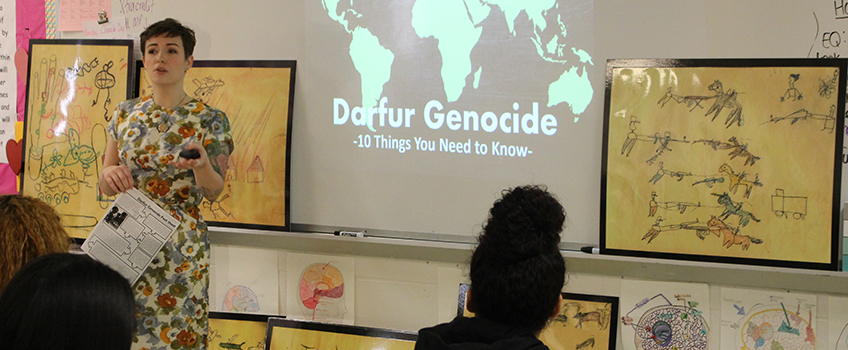 Galloway, NJ – Drawings made by refugee children in the war-torn Darfur region of Sudan are now part of a collection preserved by Stockton University for use by schools throughout South Jersey.
In 2004, Cherry Hill pediatrician Jerry Ehrlich traveled to the Darfur section of Sudan to treat refugee children in the war-torn country. He brought with him 400 pieces of paper and 20 boxes of crayons and asked children to draw stories of their lives. When he left, he smuggled out 157 drawings inside a copy of the Sunday New York Times.
Twenty-one of the drawings are now owned by Stockton University, which used grant money to frame 12 of the original 8x11 drawings and make enlargements of the originals and nine copies for classroom use.
They are now available to the 24 South Jersey high schools that participate in the dual credit Holocaust and Genocide Studies program at Stockton, and can also be loaned to other schools or groups.
The first school to participate is Egg Harbor Township High School, where students in Rachel Worrall's class have been trained as guides for a public exhibit of the drawings. Snow postponed the Feb. 20 exhibit date, but it is expected to be rescheduled.
Devon Patchel, Program Director at Stockton's Sam Azeez Museum/Woodbine instructional site and Steve Marcus, program coordinator for the dual credit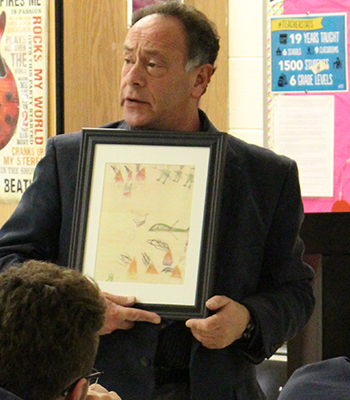 program, brought some of the drawings to Worrall's classes where she talked about the war and genocide that is still ongoing in Darfur, and how Ehrlich's drawings are keeping the crisis in the public eye.
"Jerry is so grateful there is still interest," Marcus said
Patchel outlined the history of the conflict, and talked about how Ehrlich found children so dehydrated he could barely insert an IV drip.
"Their stomachs could no longer hold solid food," Patchel said.
Patchel said Ehrlich was not sure if any children would return drawings to him, and was thrilled that he got so many. The graphic and detailed drawings were later used as part of investigations into the atrocities and village-burnings in Darfur.
Worrall's students examined the drawings and talked about which had the most impact for them.
"The details and the colors in this one tell a story," said Brandi Nelson of an elaborate drawing of planes, helicopters and tanks entering a village. "You can tell it took a lot of time."
Jessica Ireland was attracted to a drawing that shows people being shot surrounded by large colorful vegetation.
"There is a lot going on," she said. "It's interesting how a little kid can remember a scene like that."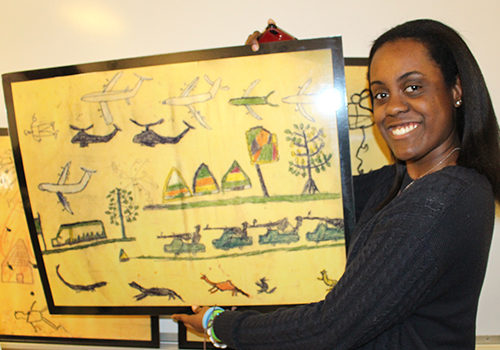 Patchel said the drawings also serve as a reminder that many victims are children. Her favorite includes the tracing a child did of their own hand.
"It really shows that the most vulnerable are children," she said. "They have nowhere to go. Some 86 percent of refugees are women and children because the men were killed. Many of the children are orphans."
She said Ehrlich often wonders what happened to the children who made the drawings.
"They could have died the next day, or they could still be alive and by now even have children of their own," she said. "We have no way to know."
The preservation of the collection was made possible by generous donations from Stockton's School of General Studies, The Sara and Sam Schoffer Holocaust Resource Center, The Sam Azeez Museum of Woodbine Heritage, and The Harry L. Katz Memorial Trust Fund. The 21 drawings were enlarged, mounted, and laminated by the Stockton graphics department.
The drawings will be housed at the Azeez Museum in Woodbine and are available for loan to schools outside groups. Contact Devon Patchel at devon.patchel@stockton.edu or 609-626-3830.
# # #
Contact:
Diane D'Amico
Director of News and Media Relations
Stockton University
Galloway, N.J. 08205
Diane.DAmico@stockton.edu
609-652-4593
609-412-8069
stockton.edu/media