Author Shares Insights on U.S. Supreme Court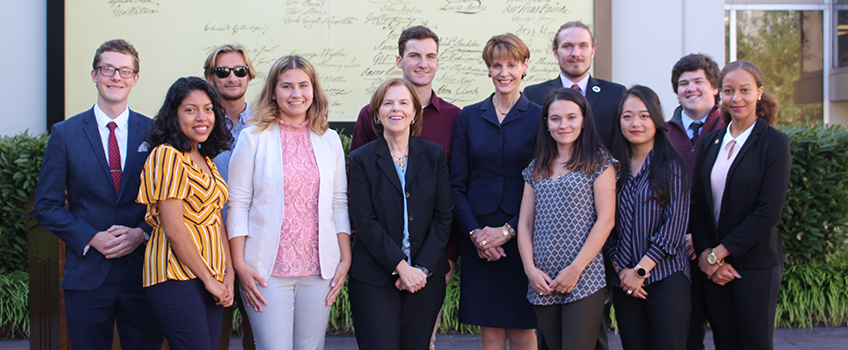 Galloway, N.J. – U.S. Supreme Court Chief Justice John Roberts is very aware of his role in preserving the independence of the court, author, journalist and CNN legal analyst Joan Biskupic said at the annual Constitution Day lecture Sept. 17 at Stockton University.
Biskupic, whose most recent book is "The Chief: The Life and Turbulent Times of Chief Justice John Roberts," told an overflow crowd in the Campus Center Event Room that a review of Roberts' votes reflect his concern that the court not look partisan.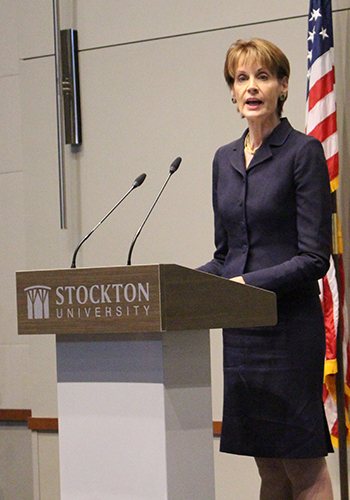 "We are going to see more of him trying to preserve the reputation of the court, and not just do what is expected," Biskupic said.
A veteran journalist, who has also written books on Sandra Day O'Connor, Antonin Scalia and Sonia Sotomayor, Biskupic has spent years covering the court and its decisions. She shared her insights with the audience and talked about how she researches the cases and the justices and strives to write about them in a way that shows their impact on the nation.
She cited Robert's decision to uphold the Affordable Care Act in 2012 as an early sign that Roberts would not just vote a conservative party line.
"That angered conservatives," Biskupic said, calling it a decision that has reverberated in the public arena ever since. "It was a real departure."
She said, since the retirement of Justice Anthony Kennedy, formerly considered the "swing vote" on the court, Roberts is now at the ideological center of the court and under a tremendous amount of pressure in a Washington atmosphere that is very politically polarized.
"He has become less predictable and more flexible," she said.
She said he has given the administration a lot of leeway in votes that upheld the Trump travel ban, banned transgender people from serving in the military, and allowed the president to use military funds to build a border wall.
But he also voted against adding a citizenship question to the Census.
In a meeting with students and in answer to audience questions, Biskupic talked about the challenges of trying to learn the inside story of Supreme Court decisions. She said she loves "the chase" of trying to get information and lock it down.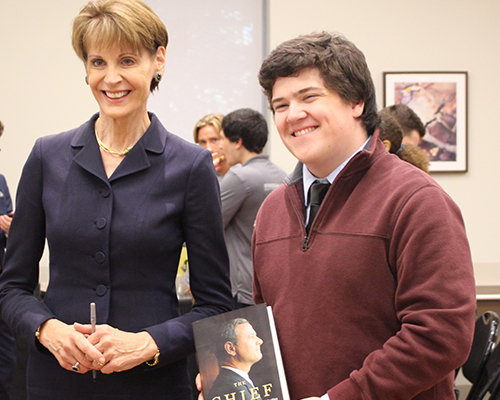 "We can speculate, but to get in on TV or in print, you have to have the sources," she said.
Biskupic has a law degree from Georgetown Law School and said she loves doing archival research. She will take the time to read amicus briefs to gain greater understanding of both sides of a case.
"I have had my eyes opened," she said.
She said reporting requires persistence, noting that Justice Roberts initially declined to be interviewed for her book, but after she spent time going to his hometown, interviewing friends and colleagues, he heard about it and agreed to meet.
On the other hand, Justice Scalia sat for 12 lengthy interviews. Biskupic noted she takes two tape recorders to important interviews, just to be safe.
"Interviewing people at length is exhausting," she said. "You have to be 'on' the whole time. You have to prepare ahead of time and anticipate questions."
# # #
Contact:
Diane D'Amico
Director of News and Media Relations
Stockton University
Galloway, N.J. 08205
Diane.DAmico@stockton.edu
609-652-4593
609-412-8069
stockton.edu/media