Local Students are College Bound in New Program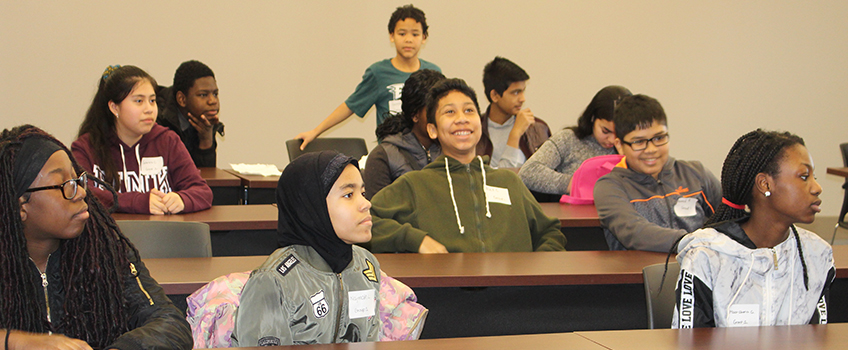 Atlantic City, N.J. –Some 60 middle and high school students from Atlantic City and Pleasantville got a head start on their futures Saturday at the kickoff for Stockton University's new College Bound program.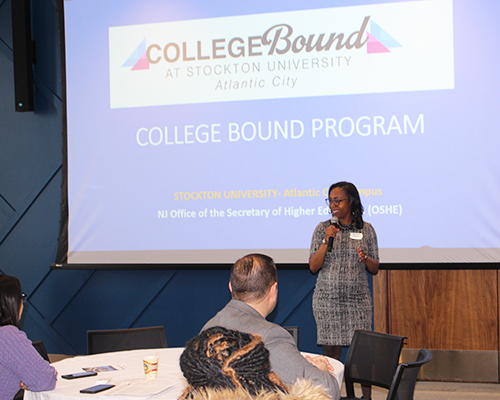 Based at the new Stockton Atlantic City Academic Center, the students will get classes, mentoring and field trips designed to prepare them to attend and succeed in college.
"You are here because you understand the importance of planning for your future," program assistant director Destiny Talley told the over 100 students in grades 7-12 and family members who attended the kickoff program on March 2
Talley said she was the first in her family to graduate from college, and she wants students in the room to be able to say the same.
Stockton Chief Enrollment Management Officer Robert Heinrich welcomed the students and their families to the Stockton family.
"This program will immerse you in real-life opportunities," he said. "A college degree opens doors. It is more vital now than ever."
Students will attend the program for 10 Saturdays and also participate in a summer program. The program is free to eligible students who will attend the Rowan Youth Empowerment Conference, and take field trips to Stockton's Marine Field Station and Rutgers University.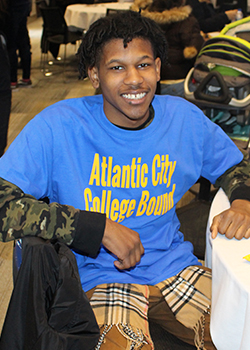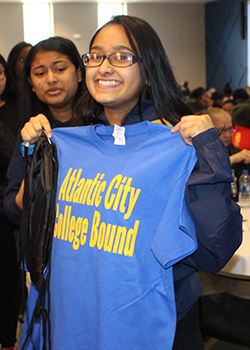 While students were introduced to Saturday classes, parents met with Stockton personnel to talk about applying to college, special programs and financial aid.
"I want to plant a seed about how college can be affordable," said Maralyn Mason, executive director of Educational Opportunity and Success Programs at Stockton.
Kristina Cruz, 16, a freshman at Pleasantville High School said she wants to get all the experiences she can to be prepared for college.
"I want to broaden my horizons about school," she said. "I'm determined to go to college."
She said she hopes to study nursing or law, and that her high school counselor recommended College Bound.
Cruz's grandmother, Sondra Reed, said Cruz is very motivated, and she believes College Bound will help her reach her goals.
"This is great," she said. "I wish they has something like this when my son went to college."
During a classroom survey of the high school students, some said other family members have attended college, while others said many relatives never finished high school. A majority, but not all, said they do have someone they can go to for advice and academic support. Program coordinators and teachers said they would also provide that support to help them succeed.
View a gallery of photos from the event.
# # #
Contact:
Diane D'Amico
Director of News and Media Relations
Stockton University
Galloway, N.J. 08205
Diane.DAmico@stockton.edu
609-652-4593
609-412-8069
stockton.edu/media