Club Connect: Meet the ... Vegan and Vegetarian Group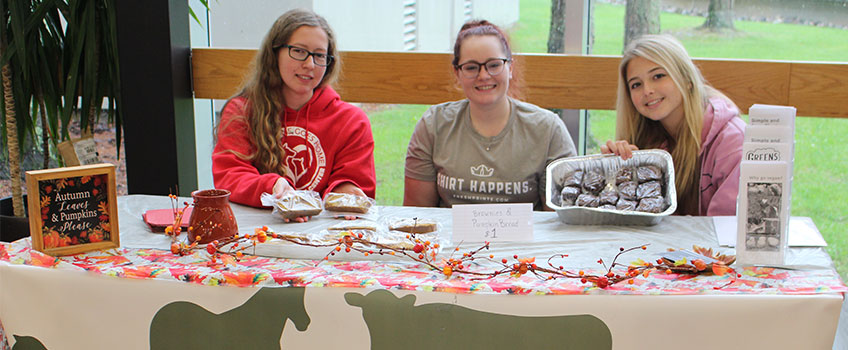 Galloway, N.J. - Whether you are vegan, vegetarian, or just interested in the lifestyle, pay a visit to the Stockton Vegan and Vegetarian Group.
Club President, Tamaraty Robinson, said that there are now over 20 members in the club, which started in 2015. She is proud of all the events the group has hosted this semester, and encourages all students to join them.
"All people are welcome even if you are not vegan or vegetarian, but just interested in the food and lifestyle," said Robinson.
During club meetings, students talk about ways to help transition someone into becoming vegetarian and/or vegan. They include recipe guides to help maintain a healthy and sustainable diet. They also have food tasting events, where students can try vegan food that members of the group have cooked themselves.
The SVVG hosts vegan bake sales, vegan pot luck, and visits animal sanctuaries. Their bake sales help raise money for the animal sanctuary, Funny Farm, located in Mays Landing, where they often do volunteer work.
The group also host themed tabling events around campus. Some themes they are working on are "For the Animals," "For the People," "For the Planet," and "For Your Health." Each theme is meant to educate students on the reasons behind a vegan lifestyle.
Partnering with other campus clubs is another fun aspect of the group. This past November, they held a Zumba dance class with Stockton's SET to promote a healthy lifestyle by exercising in a fun and exciting way.
Club meetings are every other Thursday at 4:30 in room F-203. If you are interested in joining, sign up on Osprey hub or email SVVG@stockton.edu to get more information.
Reported by Chelsea Doherty.
# # #
Contact:
Diane D'Amico
Director of News and Media Relations
Galloway, N.J. 08205
Diane.DAmico@stockton.edu
609-652-4593
609-412-8069-cell
stockton.edu/media