Club Connect: Meet ... Stockton Student Television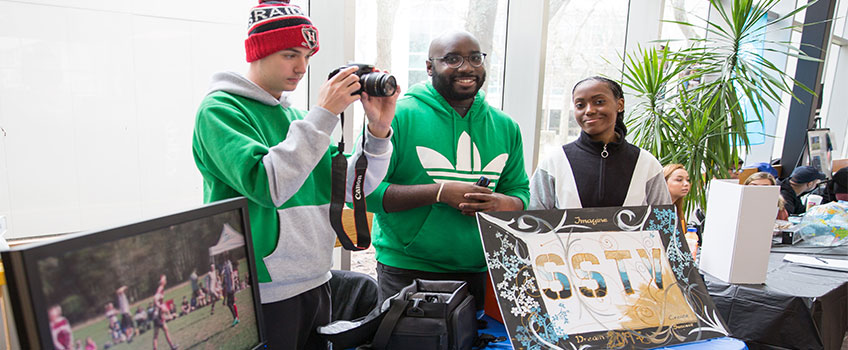 Galloway, N.J. – Stockton Student Television, better known by its acronym SSTV, is the university's hub for broadcast TV and film production. Members of SSTV videotape Stockton events, produce their own movies, and even create and host frequent talk shows and other related content.
On Tuesday, Feb. 26, SSTV will unveil its newest program: Stockton Night Live. A collaborative effort with the Theater Club, and heavily inspired by the hit show Saturday Night Live, Stockton Night Live will consist of three comedy sketches by a diverse cast of students of all majors chosen from a series of auditions.
This free show will be held in the Campus Center Theater at 9 p.m., is open to the public, and is anticipated to last around an hour. The goal of this program is to introduce a new form of entertainment that has yet to grace Stockton's campuses.
"Stockton Night Live is going to be something that students have never seen before," said Colton Van Cleave, one of the coordinators of the program. "It's going to be really high-energy and fun."
One of the most popular SSTV programs is "The Nest," a politically-driven talk show hosted by other SSTV member Jackson Boisvert and Van Cleave. During the show, Van Cleave and Boisvert discuss current hot legislative and bureaucratic topics, as well as cover current local affairs highlighted in the Argo, Stockton's independent newspaper.
All majors are welcome to join SSTV. No previous experience in this field is required; club managers offer training sessions to new members upon entry. The only membership stipulation is attending meetings, which occur every Friday at 5 p.m. in suite 206 of the Campus Center. Meetings are crucial; there, SSTV managers often highlight upcoming events that need coverage, lead collaborative discussions, and assist with members' current projects.
Anyone interested in joining SSTV can reach out on Ospreyhub or the club's social media accounts, or shoot an email to sstv@stockton.edu.
Reported by Kat H. Wentzell.
# # #
Contact:
Diane D'Amico
Director of News and Media Relations
Stockton University
Galloway, N.J. 08205
Diane.DAmico@stockton.edu
609-652-4593
609-412-8069
stockton.edu/media