Club Connect: Meet the ... Aquarium and Aquaculture Club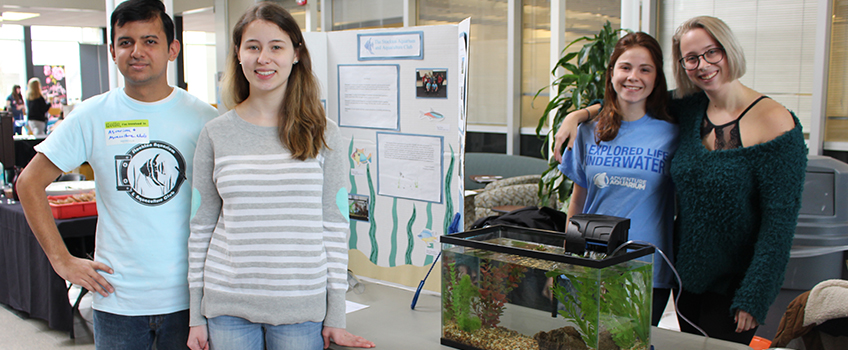 Galloway, N.J. – The members of the Stockton Aquarium and Aquaculture club (SAAC) have made big strides on campus since being founded in February 2018. With about 60 members, they all share one common passion: aquatic conservation and fishkeeping.
Members of the SAAC are very active on promoting aquaculture on Stockton's campus. They explore their hobby in the industry by setting up aquariums.
Currently, there is an aquarium set up in the office of the School of Natural Sciences and Mathematics (NAMS). The NAMS staff reached out to the club last year, and at the beginning of the Spring 2019 semester club members worked together to set up the current tank.
President Usama Chaudhri, a senior Marine Science major, also is leading a new initiative to present aquaculture to the Stockton community. The SAAC is working toward building a coral farm at the Stockton Marine Field Station in Port Republic, about 15 minutes from Stockton's main campus. The "farm" will consist of two tanks. A 120-gallon tank will house coral frags from mother corals and a 66-gallon tank will house corals they group is growing to continue fragging or to be used for research projects.
The farm will allow members who are interested in coral aquaculture, husbandry and general saltwater systems to grow aquacultured corals for the aquarium trade. Members will get hands-on experience maintaining saltwater aquaria as well as learning about coral husbandry. The farm will also be used for coral conservation awareness, education and outreach programs, class instructions and will also be available to faculty and students for any research requiring live coral specimens.
"Our goal is to reach $5,000," said Chaudhri. "This project requires a very high-tech system."
In order to help reach this goal, the club holds an annual Community Dinner and Fundraiser Meeting. The date for this year's event has not yet been determined.
The SAAC has also set up a donation page which is now active in order to help raise awareness about this large project. So far they have raised almost $1,000. The page can be accessed at https://elevate.stockton.edu/project/14407.
Club meetings are every Thursday at 4:30 p.m. in B-012. Anyone is welcome to join. For more information about the SAAC please email saac.stockton@gmail.com.
Reported by Julia Sus.
# # #
Contact:
Diane D'Amico
Director of News and Media Relations
Galloway, N.J. 08205
Diane.DAmico@stockton.edu
609-652-4593
609-412-8069-cell
stockton.edu/media