Class Creates Exhibit on Opioid Addiction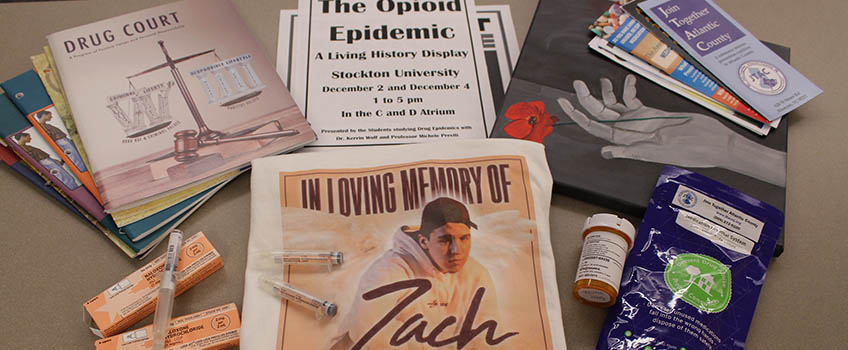 Galloway, N.J. – Stockton University student Cordell Irving of Woodbridge had a friend named Zach who died of a drug overdose.
Classmate Maxwell Young of Moorestown works as an emergency medical technician and firefighter and has responded to calls about drug overdoses "on more runs than I'd like to admit."
The two are both taking a new class at Stockton "Drug Epidemic" that looks at the opioid epidemic through a variety of academic disciplines, including health sciences, social sciences, and the law. The students in the class also spend time considering the people it affects.
"I took the class because I see it happening," Irving said.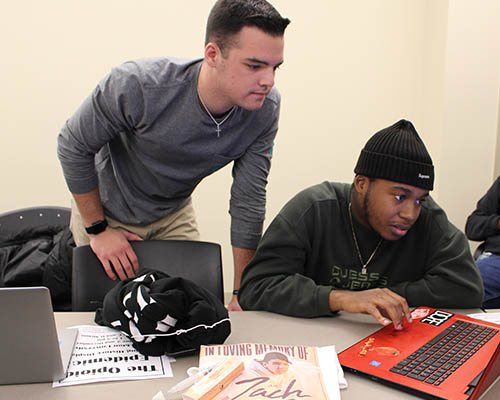 For their final project, students are presenting an "opioid museum" exhibit with posters and artifacts on key aspects of the epidemic.
The 25 students in the class will present their projects in the C-D Wing Atrium at the Galloway campus from 1-45 p.m. on Monday and Wednesday Dec. 2 and 4. The exhibit is free and open to the public.
Young has boxes from the naloxone he administers.
Irving has a t-shirt made in memory of his friend.
"He got started in social setting and just had one bad time," Irving said. "You don't have to be an addict to overdose. It just takes one time."
Irving and Young are also working on a poster that outlines the stages of addiction, from receiving a prescription for an opioid to becoming addicted to heroin.
"I see it at work, and now I am learning about the academic view in the classroom," Young said.
Student B. Hunter Rosen of Gilette took a more artistic approach, painting a portrait of a hand holding a flower, with an emergency vehicle shadowed in the background.
"I want to show how hopeless people can feel, but also that there is hope," she said. "There is someone there to help."
Rosen Elizabeth Appaluccio of Sparta are presenting a poster on the LGBTQ population and the opioid epidemic.
The class is taught by Assistant Professor of Law Kerrin Wolf and Assistant Professor of Health Science Michele Previti who collaborated to bring multiple views to the course.
"We have been teaching about this in our own classes and realized there was enough content for a course of its own and it was a topic students are interested in," Wolf said.
View a gallery of photos on Flickr.
# # #
Contact:
Diane D'Amico
Director of News and Media Relations
Galloway, N.J. 08205
Diane.D'Amico@stockton.edu
609-652-4593
609-412-8069
stockton.edu/media