Career Fair Matches Students with Businesses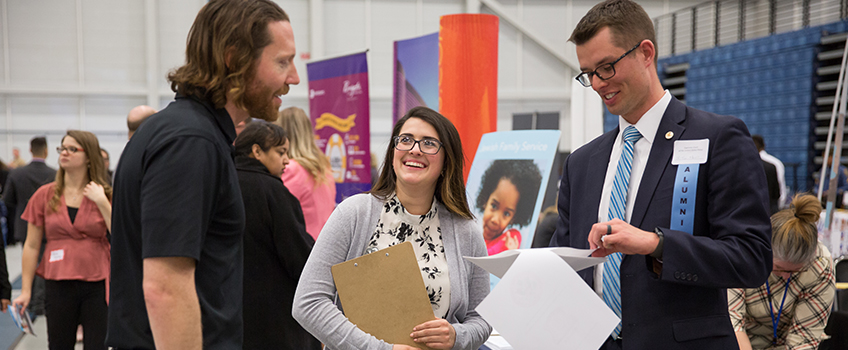 Galloway, N.J. – Representatives from more than 100 businesses came to Stockton's Spring Career and Internship Fair on Feb. 28 looking for students to fill jobs and internships.
Among them were multiple casino hotels from Atlantic City, including Ocean Resorts, Tropicana Casino and Hard Rock Hotel & Casino.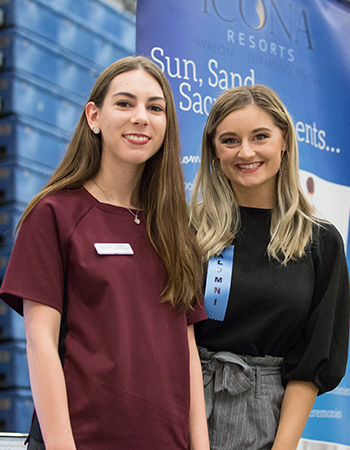 "I think Stockton students get looked at more because they're from the area," said Michelle Russo, a recruiter from Ocean Resorts. "It's a great area for great opportunities."
Global Furniture Group was excited about their first experience at Stockton's Career Fair. They are looking to fill positions in design jobs, customer service, sales, HR, and internships.
Vanguard went virtual to add students to their recruiting system, providing a tablet for students to type their name and email and be drectly added to Vanguard's system.
"We love coming to Stockton," said Sara Gettings representing ICONA Resorts. Gettings and alumna Theresa Messina were at the Career Fair searching to fill summer team member positions.
A Stockton graduate and Area Rental Manager for Enterprise Rent-a-Car, Joseph Ewald said his degree from Stockton helped him develop professional skills that he uses today.
"Stockton's Business program taught me how to manage all kinds of people," said Ewald. "I learned how to manage people who are the opposite of me."
Current Stockton student, Hana Nammour, received an internship at Enterprise last summer. They kept him on the job and plan to hire him full-time after he graduates in May.
"I received this internship at Stockton's Career Fair last year," said Nammour. "I used my communication and networking skills and it all worked out."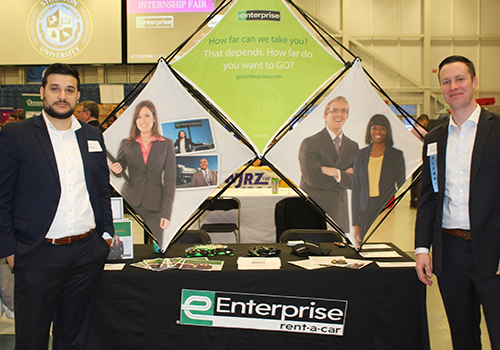 Another current Stockton student, Brandon McCleery, was looking for multiple people to fill internship roles at the Casino Reinvestment Development Authority, just as he did.
"Networking was really important," said McCleery. He learned a lot about networking and personal branding from his business classes here at Stockton, which he said "helped me a lot."
Several alumni participated in the event as well. Sarah Snell graduated from Stockton in 2005 and now works as Holman Frenia Allison, P.C.'s Chief Operating Officer.
"I love Stockton," said Snell. "They do well ensuring students have opportunities at local businesses."
Snell said Stockton helped set her apart from others when seeking internships and jobs, because of the help she received from her professors.
"I felt very connected to my professors here," she said. "We were able to have open and honest conversations about questions I had."
Anthony Pruneau, HR Generalist for Connect Plus, is another Stockton alumni who credits his courses for developing professional skills.
"Dr. (Ronald) Caplan's writing class gave me skills that I use every day," said Pruneau. "He taught me how to write correctly and professionally."
The Career Center provides services to students, alumni and employers. Director Terri Carr said the Center hosts the Career Fair to connect students to employers.
"This event helps students build relationships with organizations and explore opportunities that excite them," she said. "Whether part-time or full-time employment; or, semester-long or summer internships, students and employers have an opportunity to meet face-to-face and explore the possibilities of working together."
- Reported by Julia Sus
# # #
Contact:
Diane D'Amico
Director of News and Media Relations
Stockton University
Galloway, N.J. 08205
Diane.DAmico@stockton.edu
609-652-4593
609-412-8069
stockton.edu/media