More than 200 Attend First Cannabis Expo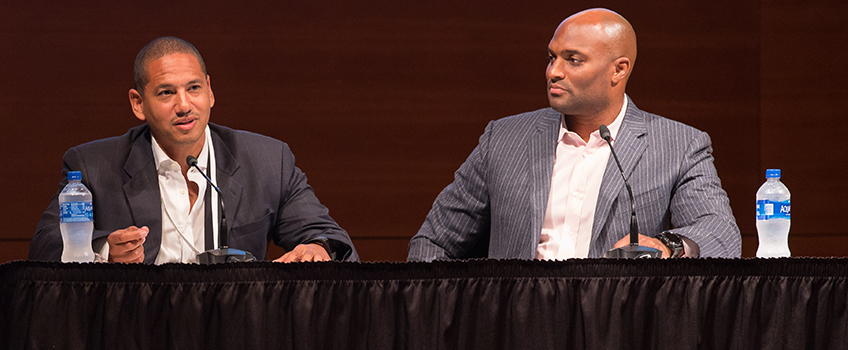 Galloway, N.J. _ From a state Senator, to a former N.Y. Giants football player and a host of students, more than 200 people interested in the future of the cannabis industry came to the Stockton University Campus Center Sept. 13 for the first N.J. Cannabis Career Fair and Business Expo.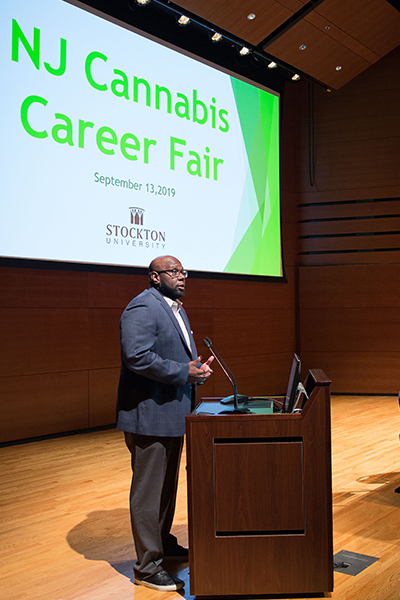 Keynote speaker state Sen. Troy Singleton told participants that advocates and supporters of legalizing recreational marijuana in New Jersey must make their voices heard quickly if action is to be taken on legislation this year.
"We need voices raised to make things happen," said Singleton, the morning keynote speaker at the daylong event. He urged supporters to contact their legislators, especially in the Senate, where there are currently not enough votes to pass a bill. He said if it is not done by the end if the legislative session in early January, the issue could languish indefinitely.
The event was sponsored by Stockton's Cannabis Studies program and the New Jersey CannaBusiness Association. NJCBA president Scott Rudder said there are already almost 220,000 cannabis-related jobs in the U.S. and there could be more than 40,000 in New Jersey if recreational cannabis is legalized.
NJCBA Vice president Marianna Bay said the event was an opportunity for those in the business to network and learn from each other about the rapidly growing industry.
Stockton Professor of Biology Ekaterina Sedia, coordinator of the Cannabis Studies minor program, said the event gave students the chance to learn, and to meet potential employers.
"Cannabis will bring jobs, but also challenges," she said.
Business and vendors ranged from Shore Grow in Ocean, N.J. to Stewart Rose Farms in Vermont and Women Grow, a national company that supports women in cannabis, met with participants.
A series of speakers throughout the day discussed issues surrounding cannabis, including legalization, jobs, competition from other states, access to medical marijuana, and the science of cannabis manufacturing and extraction.
Speakers said New Jersey stands to benefit economically from cannabis legalization.
"This is a global industry now," said Hugh Giordano, from United Food and Commercial Workers Local 152 which has a cannabis workers program. "The best way to compete is to have the most highly trained workers possible."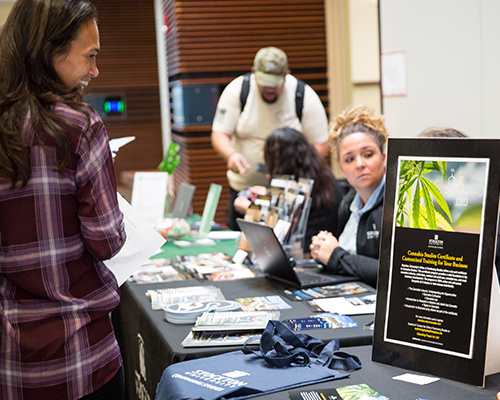 Stockton's Office of Continuing Studies offers a Cannabis Studies online certificate program, which covers issues including cannabis law, cannabis cultivation and running a business and dozens of participants registered to receive information.
Speakers Todd Johnson and former N.Y. Giant Amani Toomer talked about their efforts with their start-up cannabis business Community Greenhouse.
Toomer said he joined with the company because he wants to do something that can benefit under-represented communities. He said he's invested in Colorado, but wants to make an impact that helps communities in New Jersey.
"We want to do something bigger than just create a company," he said. "We want to give back to the community. This is the time to get in."
Johnson said it's very difficult to get a medical marijuana license in New Jersey because it is very heavily regulated. But, he said, that makes a N.J. license valuable nationally.
"New Jersey's license is the gold standard," Toomer said. "They are limited and competitive."
Both said they recognize not every community wants a facility, but there are enough that do.
"They have to need us, and want us," Toomer said, adding that building relationships is crucial to success.
# # #
Contact:
Diane D'Amico
Director of News and Media Relations
Stockton University
Galloway, N.J. 08205
Diane.DAmico@stockton.edu
609-652-4593
609-412-8069
stockton.edu/media