Business School Honors Internship Partners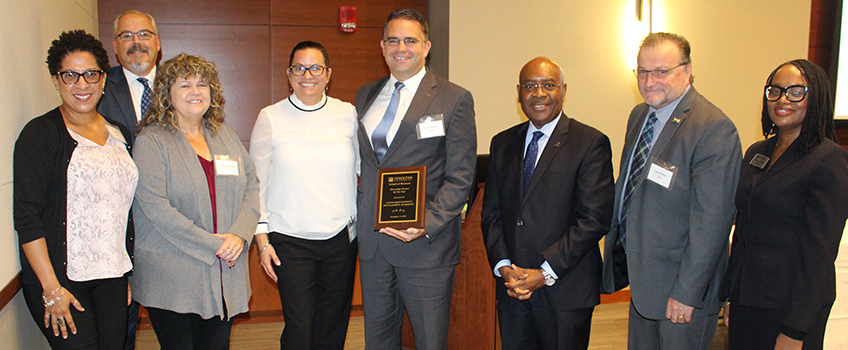 Galloway, N.J. – From learning about marketing techniques to financial strategies and social media campaigns, students in the Stockton University School of Business have benefitted from internships with area businesses.
Stockton honored those businesses at the 5th Annual Internship Partner Appreciation Breakfast held in the Campus Center.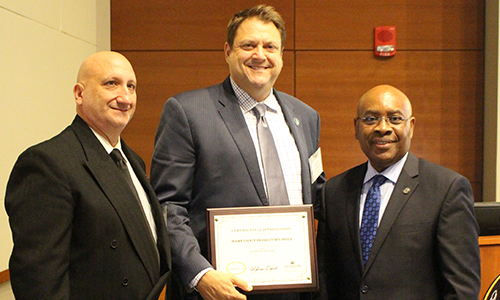 "Business is ever changing," said Dean Alphonso Ogbuehi. "They are creatures of the environment, regulations and the marketplace. For students to get out and experience that is vital."
The Casino Reinvestment Development Authority in Atlantic City was recognized as the Internship Partner of the Year. Ogbuehi said the CRDA has taken interns from all of Stockton's different business majors.
CRDA Director Matthew Doherty said they value the enthusiasm and ideas students bring to their internship.
"There is a dual benefit," he said. "They get valuable career experience, but we benefit too. It helps them build confidence."
The Ocean County Prosecutor's Office, Spencer Gifts and Richard Malesich CPA were also recognized. The prosecutor's office has had 25 Stockton student interns since 2015 and the largest number of their interns have come from Stockton prosecutor Bradley Billhimer said.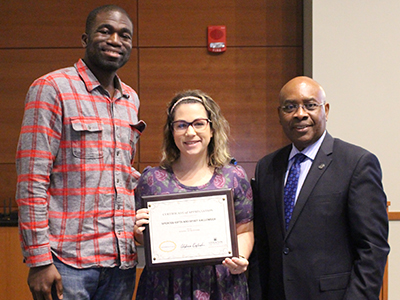 A Stockton alumnus, Billhimer '94, said Professor Alan Arcuri encouraged him to intern with then Sen. Frank Lautenberg, which changed his career path.
Current intern Joseph Mitchell from Lacey Township will graduate in May 2020. A business and finance major, he has been working with narcotics investigators at the prosecutor's office and will have a job there after he graduates.
Ogbuehi said many interns are offered jobs after graduation, but some also learn from their internship that a job is not what they thought it would be. Interns said they learned more than they thought they would.
"I really learned communication skills on the job," said Charles Sinodon, who interned at the Tuckerton Seaport and Baymen's Museum and is now working there as a marketing assistant. "You don't get that kind of experience just as a student. But I was also able to apply what I learned in class to the work."
Ali Rivkind interned with PNC Bank and said the company gave her the opportunity to learn about different jobs by spending time with field examiners and underwriters.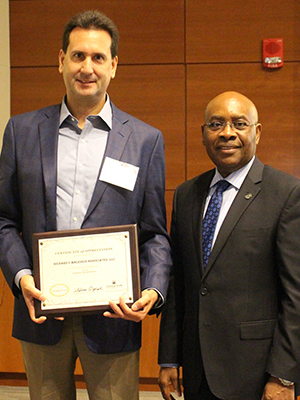 "I'm taking a cost accounting class now and I understand it and have a better appreciation of what it is because of the internship," she said. She has been offered a job at PNC.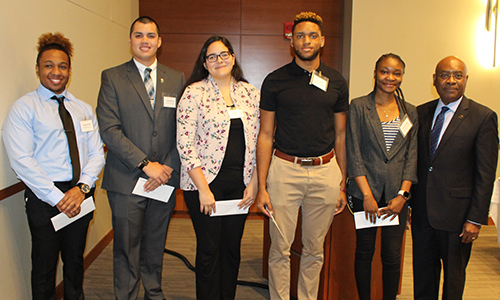 Maria Baldino worked on the Stockton University summer marketing campaign, and said it was really rewarding to see the results of the work.
"I remember in my freshman year I had to create a marketing plan, and my grade wasn't great because I really didn't understand what it was," she said. "Now I do. I learned how important marketing is and I also have a lot of pride in Stockton and what we do here."
Most of Stockton's business internships are paid. A few students who worked for free at a non-profit agency were awarded $300 stipends by the Business School. They were Aishat Adepoju, Eric Lima, Daysarah Negroni, Joseph Mitchell and Jayhahn Boker.
Lima, of Newark interned at Shore Medical Center where he worked with marketing director Brian Cahill and was able to develop a company-wide memo on the importance of getting a flu shot.
Lima would like to get a job in sports marketing and Cahill said Lima's experience taught him the different types of marketing and how to use them.
"He's learning how to be a complete marketer," Cahill said.
# # #
Contact:
Diane D'Amico
Director of News and Media Relations
Galloway, N.J. 08205
Diane.D'Amico@stockton.edu
609-652-4593
609-412-8069
stockton.edu/media