Two Honored for Efforts to Combat Faith-Based Terrorism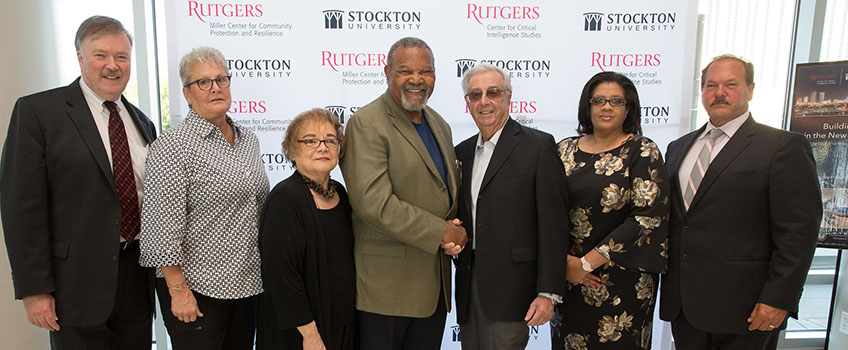 Atlantic City, N.J. - Atlantic City attorney Lee Levine and Rabbi Francine Roston from Whitefish, Montana were honored for their support of the fight against terrorism at the Building Resilience in the New Threat Paradigm summit on faith-based terrorism held at Stockton University June 11-12.
Stockton President Harvey Kesselman said Levine, who helped fund the international summit, was integral in developing a successful event and generating interest in future programs.
"When we met with Lee and Bill (Gormley), he was all in to being part of it," Kesselman said.
"You are a very real human being who cares," he told Levine. "This would not have happened without your generosity."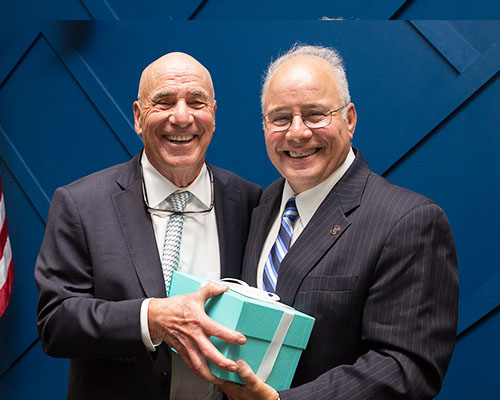 Kesselman also thanked Gormley for his role in bringing the conference to Atlantic City.
Levine said he had told Gormley that he wanted to do something in philanthropy, and when the former state senator told him about the conference, he knew that's what he wanted to support.
"The light went on," he said. "What this project wants to do is eliminate genocide when it's happening."
Levine also spoke at the opening of the conference, saying he hoped the gathering could help reduce prejudice and eliminate genocide.
"As long as it exists, we need to prepare law enforcement and others to minimize the impact," Levine said.
The event also honored Rabbi Francine Roston of Glacier Jewish Community/B'nai Shalom Congregation, a speaker at the conference who shared the story of her community standing up to terrorism and harassment when a white supremacist began cyberattacks on her family and other Jewish families in the community.
"Rabbi Francine Roston experienced hatred first hand," Kesselman said, "and she chose a message of hope and kindness. Uniting the community showed the hate groups that they could not divide the community. We honor her for her bravery in the face of hatred."
"It is difficult to be honored for being attacked," Roston said. "I just did what I had to do to make sure my family was safe and the community was safe."
She said it was hard to follow the advice to stay silent and not engage the attackers, which would only inflame the rhetoric.
"It was frustrating," she said. "But I called a friend, and she said to look at it like a boxing match, and you're just ducking the punches until the time is right."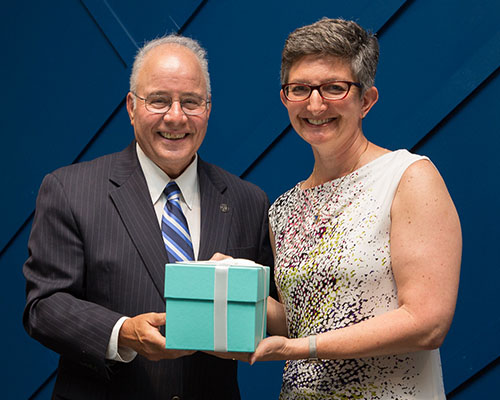 She is speaking out now, and said she hopes it will encourage more people to take cyberterrorism more seriously.
"We have to have the hard conversations," she said.
The international summit was sponsored by the Miller Center for Community Protection and Resilience at Rutgers, the Rutgers Center for Critical Intelligence Studies, and Stockton University in partnership with the New Jersey Office of Homeland Security and Preparedness.
Presenting sponsors of the reception, which will help fund future programs, include ACDevco, Calvi Electric, William and Virginia Gormley, and Levine Staller Attorneys at Law. Gold sponsors were John F. Scarpa and Atlantic City Electric, an Exelon Company. Thomas and Peg Sykes were Silver Sponsors. AtlantiCare was a bronze sponsor.
Community partners were Howard and Margaret Goldberg, Jonathan and Michael Goldberg, The Charles and Lynn Kramer Family Foundation, Ken and Sandi Mackler, Steve & Cookie's, and Steven and Barbara Perskie.
Reception committee members were: David and Terri Castellani, D'Arcy Johnson Day, Roy Goldberg, Sean Gormley, Robert and Helene Hordes, Jewish Federation of Atlantic and Cape May Counties, Alex and Gail Kiejdan, Susan and Bob Mayer, and Milton & Betty Katz Jewish Community Center.
# # #
Contact:
Diane D'Amico
Director of News and Media Relations
Stockton University
Galloway, N.J. 08205
Diane.DAmico@stockton.edu
609-652-4593
609-412-8069
stockton.edu/media