Trustees Recognize Students, Staff, A.C. Officials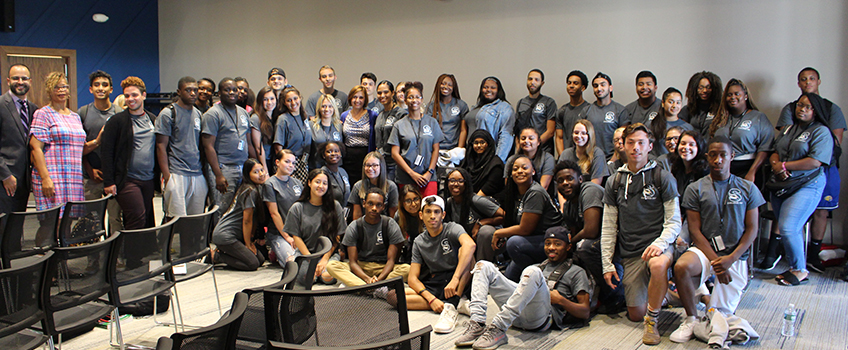 Galloway, N.J. - The Stockton Board of Trustees and President Harvey Kesselman honored students, staff and the Atlantic City Police at the July Board meeting held at the Atlantic City Academic Center.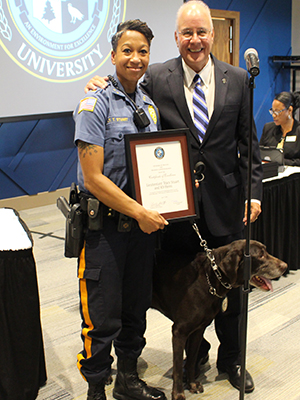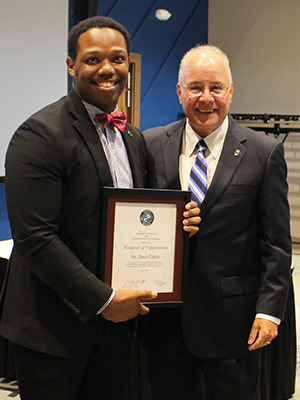 The trustees also approved plans to offer a new Bachelor of Arts Degree in Digital Studies, an M.B.A. in Healthcare Administration and Leadership and a Master of Science, Professional Science Masters and Credit-Bearing Certificate in Coastal Zone Management. The programs will now be reviewed at the state level.
Stockton University Police Department Lt. Tracy Stuart and her canine partner, Hemi, were recognized for their first-place victory in the 2019 National Explosives Detection competition.
Kesselman noted that the pair had won the competition last year when it was held at Stockton.
"There were some who thought maybe they had a home field advantage last year," Kesselman said. "So she went to Albany (N.Y.) this year and won a second championship."
Stuart said Hemi got a porterhouse steak as a reward on the way back from Albany. She thanked her colleagues for their support of her and Hemi's training.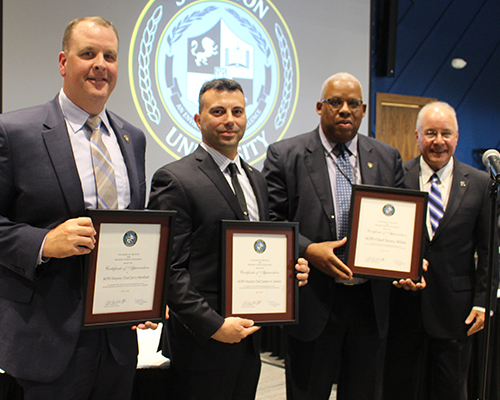 Atlantic City Police Chief Henry White, Deputy Chief Jerry Barnhart, and Deputy Chief James Sarkos were recognized for the successful opening of the Stockton AC campus.
Kesselman said they had been with Atlantic City Police many times as they coordinated the opening of the new campus, but that he knew they would have a good relationship when he saw the support the university received when they held the first commencement at Jim Whelan Boardwalk Hall three years ago.
"The efficiency and support you showed to parents and students left an indelible mark," Kesselman said.
Police Chief Henry White said Stockton has been an outstanding neighbor and partner in improving life in Atlantic City. He cited the work done by the Center for Community Engagement, which operates a homework program with the police, and the leadership of Stockton Police Chief Adrian Wiggins.
"We are excited at what Stockton is brining to Atlantic City," White said.
Deputy Chief Jerry Barnhart said the first beat when he joined the department 24 years ago was the Chelsea neighborhood where Stockton is located.
"The transformation has been incredible," he said. "We look forward to having more students in town."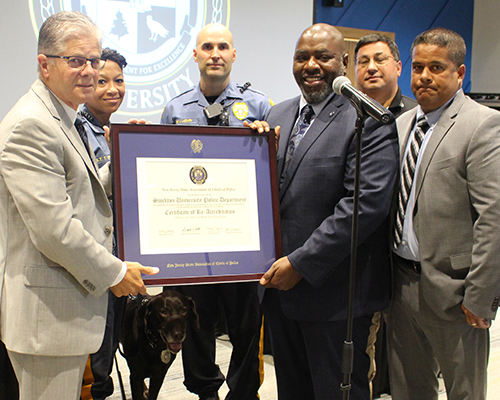 Deputy Chief James Sarkos said they appreciate Stockton coming back into the city and the opportunities it will provide for residents.
Student Trustee Deon Davis was recognized for his work on the board. He completed his term on June 30. Kesselman praised Davis, an Atlantic City native, for his ability to balance his work as a trustee and also a student advocate. Board chairman Leo Schoffer said it is important to have a student perspective on the board, and Davis had done the job well.
Davis thanked the board and his fellow students for giving him the opportunity to serve on the board.
"I have learned to advocate for myself and others," he said.
Dr. Harry Delgado, Accreditation Program Director, presented Director of Campus Public Safety Adrian Wiggins with the Certificate of Accreditation, for fulfilling the requirements set by the NJ State Association of Chiefs of Police.
Delgado said the Stockton Police is among the fewer than one percent of departments in the state that have been accredited four times.
"There is a culture of high achievement here," he said.
Wiggins thanked everyone in the department for their hard work and assistance, including the support staff that performed a lot of behind-the-scenes work required of the accreditation.
Student Sophie Murray was named to serve a two-year term as student representative on the Board of Directors of Stockton Affiliated Services, Inc.
Students and staff in the EOF Atlantic City program attended the meeting. Trustee Nelida Valentin said she was an EOF student. She praised the students for deciding to attend college and said and she looks forward to one day seeing one of them sitting in a trustee chair.
"As an EOF student myself I know the challenges," she said. "Everyone in this room cares about you and your experience here."
# # #
Contact:
Diane D'Amico
Director of News and Media Relations
Stockton University
Galloway, N.J. 08205
Diane.DAmico@stockton.edu
609-652-4593
609-412-8069
stockton.edu/media