Eight Students Receive Trustee Research Fellowships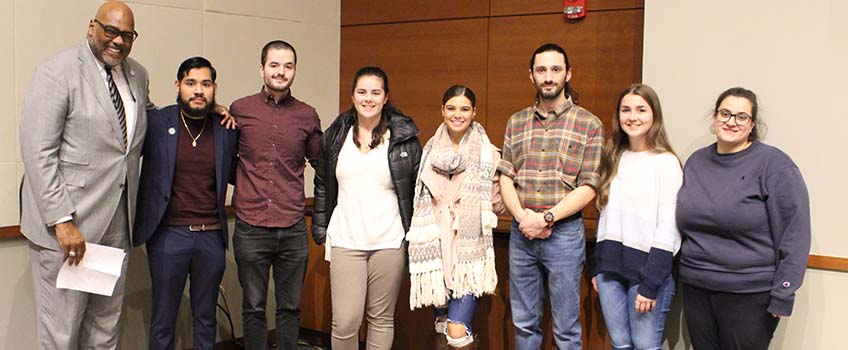 Galloway, N.J. – Eight students have been awarded Stockton Board of Trustees Fellowships for Distinguished Students for projects of a research or creative nature.
The recipients of the awards for the winter break/spring 2020 semester were recognized at the Dec. 4 board meeting. They are:
Christian Adams, a junior majoring in Languages & Culture and Political Science received $1,000 for a project titled "A Lost History: South Jersey's Huguenot Settlers." Faculty advisor is Associate Professor of French Kory Olson.
Vivian Cho, a senior majoring in Geology, received $750 for a research project titled "Rare Earth Elements (REEs) in New Jersey and New York Iron Mines." Faculty advisor is Associate Professor of Geology and Environmental Sciences Matthew Severs.
Donald T. Fuorry, a senior majoring in Geology, received $750 for research titled "Geochemical and Magmatic Relationships of Late Cretaceous to Late Tertiary Igneous Rocks from Southeast Arizona." Faculty advisor is Associate Professor of Geology and Environmental Sciences Matthew Severs.
Kevin Gil-Clara, a junior majoring in Business Accounting, received $600 for a project on the development of a Latino Entrepreneurship Organization. Faculty advisor is Roxana Nieves-Perez, Lead Academic/Career Advisor for the College Bound Program.
Four students, Shannon Asta, Brooke Galliano, Jalynn Pagano and Christina Triantafillou, all juniors majoring in Mathematics, each received $600 for research projects titled "SURFER in the Geometry Classroom." Faculty Advisor is Professor of Mathematics Chia-Lin Wu.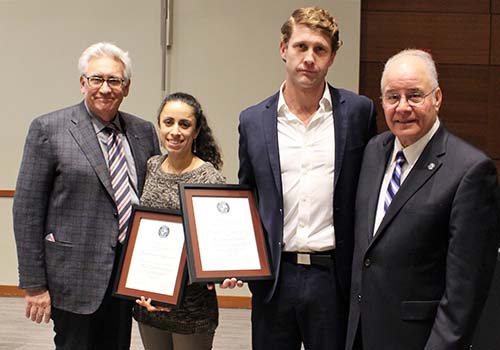 President Harvey Kesselman and the Board of Trustees also honored two members of the Stockton community who assisted victims at the shooting at the Pleasantville High School football game last month.
Adriana Rodriguez-McAllister and Dr. Damon Greene were both working the game when the shootings occurred. Both ran toward the stands to assist both Micah Tennant and Ibn Abdullah, helping to get them stabilized and to waiting ambulances.
Rodriguez-McAllister is an athletic trainer at Pleasantville High School who also works at Stockton. Dr. Greene treats Stockton athletes.
"The heroism displayed by Adriana ad Dr. Greene in running toward the danger that evening and providing aid is laudable and inspirational," Kesselman said. "Stockton University and the Board of Trustees salute and thank you for your courage and selflessness."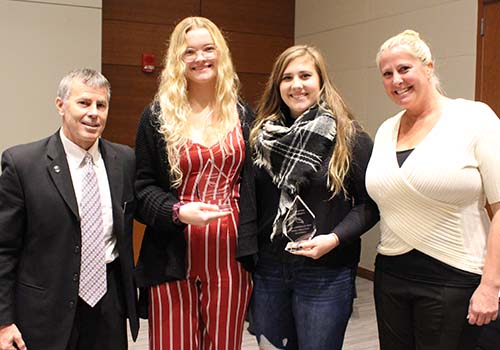 The board and Executive Director of Athletics Kevin McHugh recognized two volleyball players and coach Allison Walker for their outstanding season.
Juniors Julie Kohlhoff and Emily Sullivan led the Ospreys to a 31-4 record, the NJAC championship and the second round of the NCAA Tournament. Both received All-America Honorable Mention recognition from the American Volleyball Coaches Association (AVCA).
In other business, the board approved a discounted tuition program for the summer 2020 session.
Trustees also approved the financing of the property at 421 Chris Gaupp Drive through the issuance of bonds by the New Jersey Educational Facilities Authority. The amount borrowed cannot exceed $6.5 million to be paid off in a maximum of 16 years at a rate not to exceed 3.5%.
Vice President for Facilities and Operations Donald Hudson said settlement on the property is expected by the end of December. The facility had been leased for student housing and will continue to operate as student housing under Stockton's ownership.
The board approved a merit pool of up to 3% for managerial salary increase and a pool of 1% for equity increases. The increases will be based on performance, equity and/or a reclassification of duties and are subject to the approval of the president. An implementation date was not announced.
Four people were appointed to three-year terms on the Board of Directors of the National Aviation Research and Technical Park. They are: Douglas Oliver Stanley, David E. Sweet, Lauren H. Moore, Jr. and Stockton student Ian Maul. Stockton trustee Meg Worthington was also reappointed to a two-year term as the Stockton representative on the board .
Stanley is president and executive director or the National Institute of Aerospace in Hampton, Va. Sweet is a retired executive at The Boeing Company and current consultant to Boeing in research, technology and analytics for complex aviation systems operations. Moore is executive director of the Atlantic County Economic Alliance. Maul is a math major who is also in the dual degree aerospace engineering program with Rutgers University.
Contact:
Diane D'Amico
Director of News and Media Relations
Galloway, N.J. 08205
Diane.D'Amico@stockton.edu
609-652-4593
609-412-8069
stockton.edu/media