Aspiration Wall Exhibit Offers Hope, Solidarity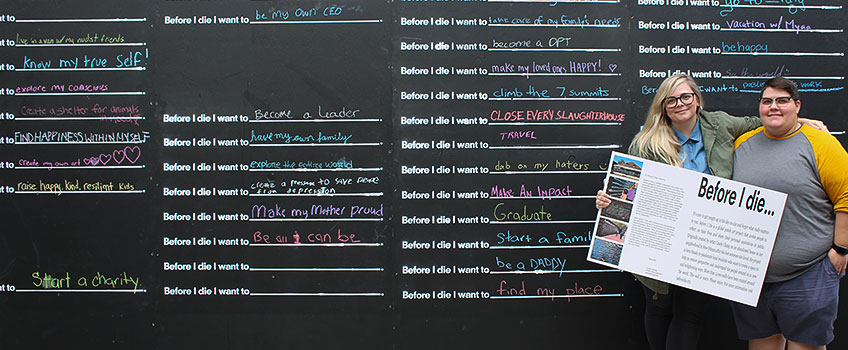 Galloway, N.J. – On Wednesday, September 11, a giant chalkboard wall was perched in the F-wing atrium. It was decorated with the phrase "Before I die I want to …" numerous times in white stenciling, followed by blank spaces that invited students to fill in their own thoughts.
Some students wrote down their career goals, and others wrote personal aspirations. Some even wrote goals that benefit someone else, rather than themselves.
The wall is not just a wall, but an art piece; it is an extension from an exhibit currently running in the Art Gallery. The responses further the purpose of the wall, which, according to the artist, Stockton Adjunct Professor Ryann Casey, is to "allow individuals to reflect collectively, together."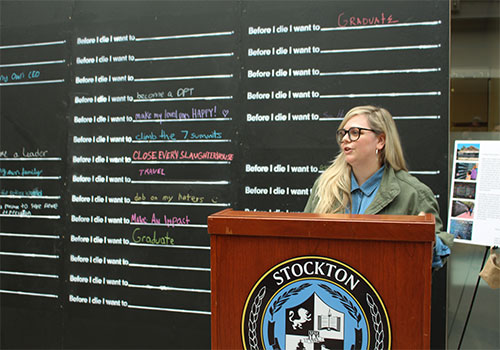 "The wall provides a snapshot of desired hopes and values, and can show people that they are not alone in how they feel," she said.
Casey came up with this idea after tragedy; five years ago, she lost her best friend. For about a year, she recalled feeling lost and unable to create. She began investigating how other artists handle grief, and came across Candy Chang's "Before I Die" wall project, which has now been recreated in over 5,000 different locations in over 78 countries. Casey found the wall to be a great, positive way to unify people through emotion and aspiration, and made her own.
Casey curated this piece also as a memorial to 9/11, and held a short reception in front of the wall in memoriam.
"Eighteen years ago today, I was a Stockton student," she said. "I saw the towers go down on TV. This is a very important day, and together, we can reflect."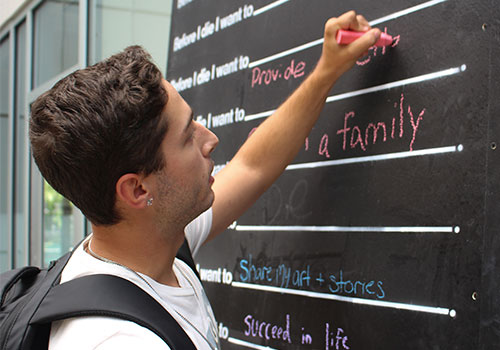 Many students did. Steven Palmerson, a junior accounting major, wrote that before he dies, he wants to start his own family.
"I want to give my children everything I never had growing up," he said. "I had a difficult childhood. I don't want that for my kids."
Harley Jarrett, a Stockton TES, wrote that before they die, they want to finish their gender transition.
"It's a part of my five-year plan," they said. "Growing up, I was always told how I was 'supposed to look' as a female, especially by kids in public school. When you don't perform as your gender 'should,' people often point that out to you. I refused to allow them to make me hate myself, so I began trying to figure out who I am. I began dressing in boy's clothes and giving myself facial hair, and I soon felt this boyish energy within me that I liked; my soul began to glow. I am now seeking to become androgynous and comfortable in my own body."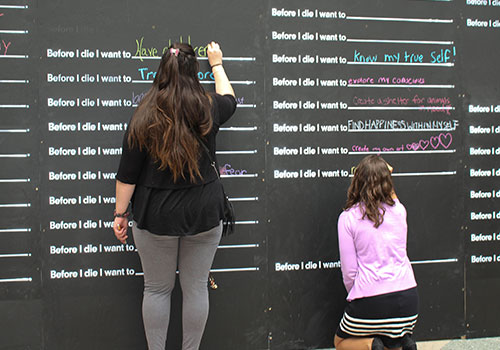 By the reception's end, over 25 students and staff posted a line on the chalkboard.
Alana Reichfeld, a senior visual arts major, attended the event to support Casey and the message she is sending with the wall.
"I've known [Casey] for a long time," she said. "I know this is something that she's passionate about, and I think it's super important to support these types of things. Grief is real. These kinds of things can really bring people together. I would love for this piece to stick around after the exhibition; I hope it stays up around campus for everyone to experience."
As previously mentioned, Casey also curated an exhibit currently in the Stockton Art Gallery titled "No Cure for Mourning," which is on display through Nov. 12. It features the works of more than 20 artists. Casey will give a walking tour of the exhibit at 4 p.m. Oct. 16. She will also participate in a roundtable discussion with Norman Chazin and other participating artists at 2:30 p.m. Nov. 7. Both events are free and open to the public.
Contact the Art Gallery at 609-652-4214 for more information.
Reported by Kat H. Wentzell.
# # #
Contact:
Diane D'Amico
Director of News and Media Relations
Stockton University
Galloway, N.J. 08205
Diane.DAmico@stockton.edu
609-652-4593
609-412-8069
stockton.edu/media