Museum Tour an Emotional Visit to the Past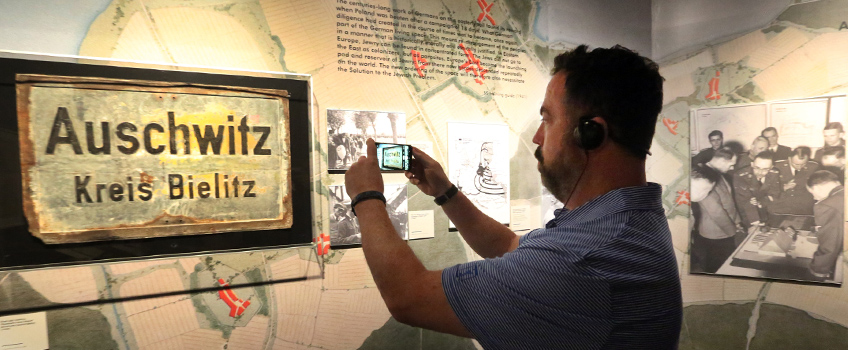 New York N.Y. _ Some watched in awe. Others stared and listened. Some wept.
Fifty participants on a Stockton University trip traveled a few hours up the Parkway on July 23 then journeyed back some 75 years. What they saw and heard was the most comprehensive exhibit dedicated to the history of Auschwitz and its role in the Holocaust ever presented in North America, according to the Museum of Jewish Heritage - A Living Memorial to the Holocaust, in New York City, where it is on display.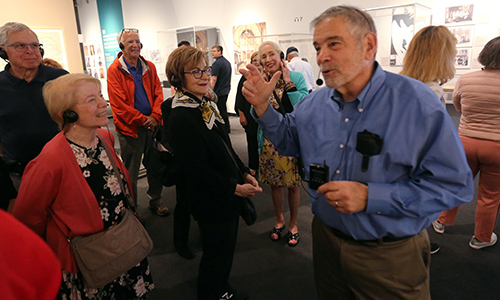 The exhibit, "Auschwitz. Not long ago. Not far away," is more than a display, it is a pilgrimage that uses 700 original objects and 400 photographs to tell the story of a town that became infamous for the atrocities that took place there during the Holocaust.
Many who made the bus trip, organized by the Sara and Sam Schoffer Holocaust Resource Center at Stockton, were children of Holocaust survivors. For them, the experience carried a deeper meaning.
"(It was) painful to see how they were treated," said Dr. Pam Feld-Randel, whose parents and in-laws were Polish survivors. "I am outraged and disgusted at how people can treat others so horrifically."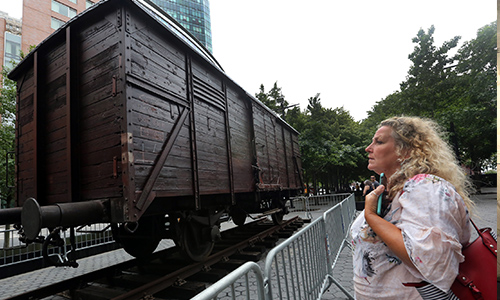 Photographs of the victims, along with their belongings, clothes and shoes, give them a personal identity. Visitors listened to video testimonials by survivors of the camp that are saddening and sometimes disturbing. Stockton's tour guide, Holocaust scholar Michael Berenbaum, told the story of Auschwitz from its beginnings as a small town in German occupied Poland to a concentration camp that was the site of over a million deaths.
"Stockton University went on a pilgrimage today," Berenbaum said. "We went back 75 years in time, and a continent away. We went back to a time in which we were exposed to the nature of evil in its most absolute form."
Berenbaum, who was a consultant on the exhibit and has also worked with Stockton's Holocaust Center, said everyone sees the exhibit through their own experience.
"My parents went through Auschwitz," said Barbara Roth of Linwood, "My in-laws went through Auschwitz. And this tied it all together. It was so moving. I gained so much knowledge. It was life changing."
Roth said she wants all people to visit and learn from the exhibit.
"We are still here, and we accept everybody," she said. "I want the community to feel loved. When I see people of other faiths studying this, it gives me hope."
"My dad talked about (the Holocaust), but my mom did not," Henry Roth said. "We had very happy childhoods but there's an element of truth to the damage and anxiety that imprints on you. My family is from Czechoslovakia and they never thought anything would happen to them there. They never believed something like that would come to them."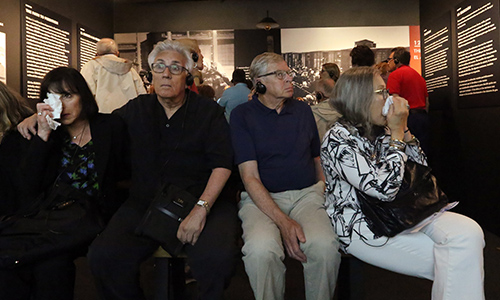 Stockton Board of Trustees Chairman Leo Schoffer said the photographs have the most power for him because they show how the victims were just regular people.
"I feel like I know them," he said. "They're just like me, they're just like all of us. Because I'm the child of a survivor I always think about what I would have done, how I would have reacted. Would I have been strong enough? That's a question everyone needs to ask themselves."
The exhibition is unique because it brings together artifacts from all over the world, said Stockton's Holocaust Center Director Gail Rosenthal. She said the exhibit is a platform for stories of despair, resilience and hope, and an opportunity for those stories to continue and be told to groups like the community members on the Stockton trip. For the children of Holocaust survivors, it was an opportunity they may never have again to pass the story on.
"This exhibit is a very good version of how to tell this story," said Gary Mednick.
"This trip is so meaningful because it brought together artifacts about an atrocity that happened in the 20th Century that we hope will never happen again," said Jane Stark, Executive Director of the Sam Azeez Museum of Woodbine Heritage. "And why now? Why not?"
_ Story by Vern Ogrodnek with Morgan Everman. Photos and video by Vern Ogrodnek
View a gallery of photos of the trip.
# # #
Contact:
Diane D'Amico
Director of News and Media Relations
Stockton University
Galloway, N.J. 08205
Diane.DAmico@stockton.edu
609-652-4593
609-412-8069
stockton.edu/media