'A.C. Lives' Tells Stories With Poems and Art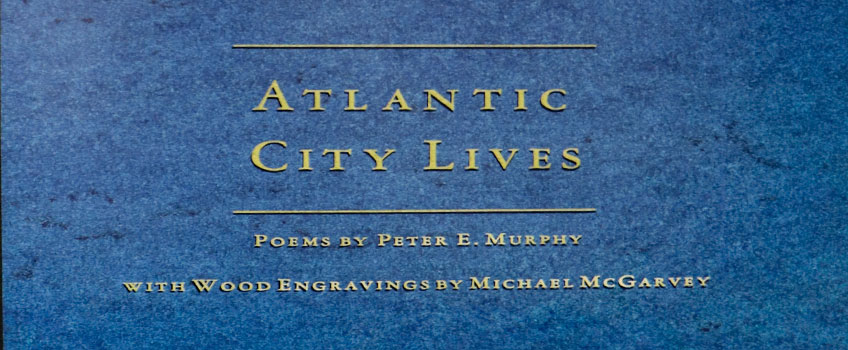 Galloway, N.J. – Atlantic City Lives, a mixed-media novel showcasing common economic and social hardships of Atlantic City inhabitants throughout history, is on display in the commons area of the Richard E. Bjork Library through April. The book includes stories burnt onto woodcuts by Stockton Professor of Art Michael McGarvey, paired with poems written by Stockton Murphy Writing founder Peter Murphy.
"I wrote most of the poems in Atlantic Cit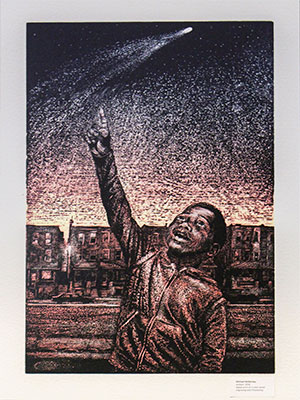 y Lives when I was teaching at Atlantic City High School in the 1990's, when the casinos were booming and making a lot of money and my students and their families were hurting," said Murphy. "I wrote these poems, and others, to try to understand their lives and the lives of those who visited the resort. I think that Michael's woodcuts have helped me do that."
Atlantic City Lives is limited to one hundred copies, numbered and signed by Murphy and McGarvey. It was designed and printed at the Port Press – of which McGarvey is the proprietor – with the assistance of specialists Yujin Song and Cody Alexander. McGarvey chose every element of the book methodically to enhance the experience of the reader: the type is hand-set ATF Garamond, the paper is Arches Book, printed damp on a Hoe Washington iron hand press, and the edition is hand-bound by the Campbell-Logan Bindery Inc. in Minnesota.
"Peter's poems gave me so much imagery to work with that in the end, the hardest part was deciding what was most essential for the imagery," said McGarvey. "I experienced Peter's poems as portraits of Atlantic City lives, and how the boardwalk empire has affected these lives. I tried to make images that were additional visions of other experiences of the characters in his poems, rather than illustrating the poems themselves."
Full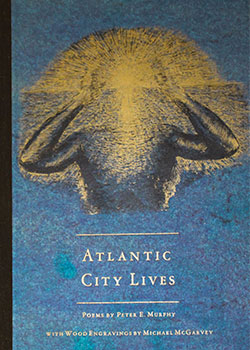 -size, blown up text and images from the novel are hung in the Bjork Library. Two copies of the book itself are also out on display, along with one of the original wood blocks, and a few wood engraving tools used in the process. These exhibits are free and open to the public; check the Bjork Library hours of operation here.
The novel itself is available for purchase on the Port Press website for $250.
"This book exists as a verbal and pictorial testimony to its subject matter, and accomplishes what good art does: casts a light that allows us to see in fresh ways what is there," said Distinguished Stockton Professor Emeritus and poet Stephen Dunn in his introduction included in the exhibit. "In this sense, it is beautiful, perhaps even restorative."
Reported by Kat H. Wentzell.
# # #
Contact:
Diane D'Amico
Director of News and Media Relations
Stockton University
Galloway, N.J. 08205
Diane.DAmico@stockton.edu
609-652-4593
609-412-8069
stockton.edu/media