Hughes Center Co-Hosts 2nd District Assembly Debate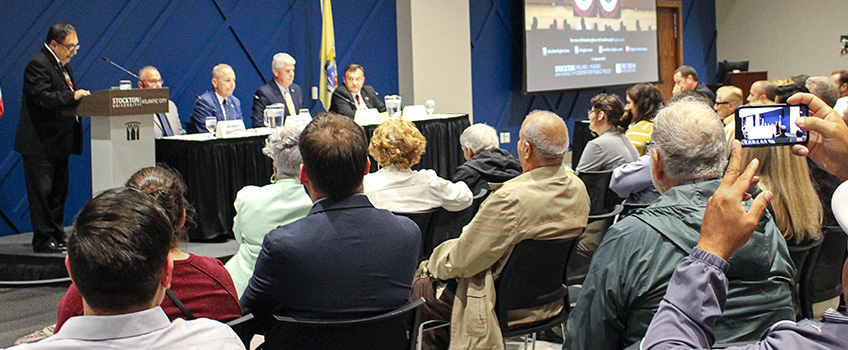 Atlantic City, N.J. _ The William J. Hughes Center for Public Policy at Stockton University and The Press of Atlantic City co-sponsored a debate on Oct. 23 among the four candidates for the New Jersey Assembly from District 2, which includes most of Atlantic County.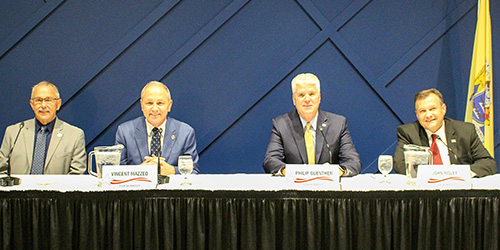 Incumbent Assemblymen Democrats Vincent Mazzeo and John Armato and Republican challengers Philip Guenther, a former Brigantine mayor, and John Risley, and Atlantic County freeholder answered questions on topics relating to the local district and statewide issues.
More than 100 people attended the debate, held at in the Fannie Lou Hamer Event Room at the Stockton Atlantic City Academic Center. The debate was also livestreamed on The Press of Atlantic City website.
The candidates were questioned on 15 topics during the hourlong debate moderated by Hughes Center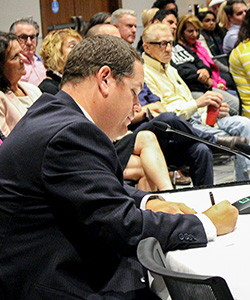 Interim Director John Froonjian. Nicholas Huba from The Press presented the questions, which included both local and statewide issues.
Of local interest were questions about the state takeover in Atlantic City, funding Boardwalk repairs, the future of the Atlantic City airport and the NJ Transit rail line. Issues of statewide concern included climate change, state employee pensions and benefits, school consolidation, marijuana legalization, opioid abuse, immigration.
Froonjian thanked the candidates for their thoughtful responses, noting that a goal of the Hughes Center is to promote public policy discussion in a manner that promotes civic engagement. # # #
Contact:
Diane D'Amico
Director of News and Media Relations
Stockton University
Galloway, N.J. 08205
Diane.DAmico@stockton.edu
609-652-4593
609-412-8069
stockton.edu/media