Holocaust Center Hosts Anne Frank Exhibit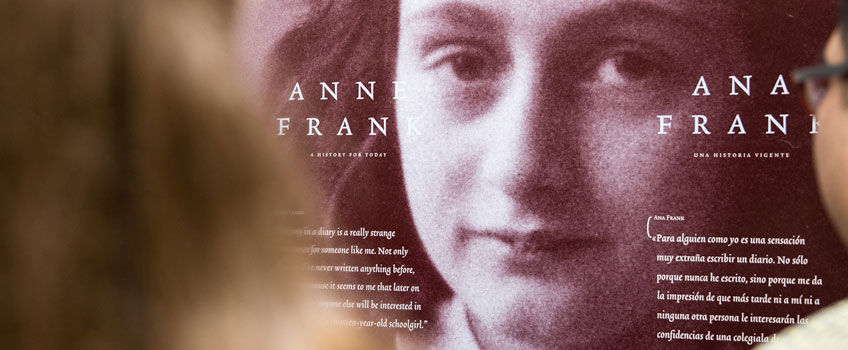 Galloway, NJ - Stockton University's Sara and Sam Schoffer Holocaust Resource Center is hosting its 36th Annual Holocaust Awareness Program through Friday Feb. 22. This year's program is an exhibit, "Anne Frank: A History for Today" created by the Anne Frank House in Amsterdam, Netherlands and sponsored in North America by the Anne Frank Center for Mutual Respect. It is funded by the Anne Frank Foundation in Basel, Switzerland, which provided a grant to cover the cost of the docent training.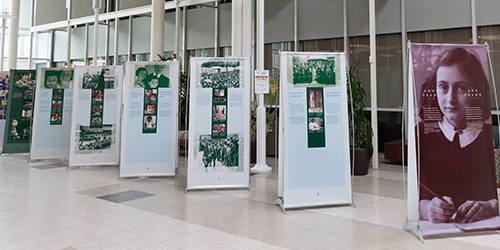 Located in Building C/D, Lower Level Atrium, the exhibit consists of two rows of pop-up panels filled with information about the Holocaust and the story of Anne Frank. The panels provide a chronological progression of World War II and how it coincided with the life of Anne Frank.
Stockton University is the first school in the United States to offer the peer-to-peer docent training that teaches students how to guide the tours of this exhibit to others. Nine peer guides received training from Bryan R. Caine, associate director of education-exhibitions for the Anne Frank Center for Mutual Respect.
"Anne Frank's story is incredible," said Adrienne Mingo, a student tour guide. She said people should come to see this exhibit because Frank's story is relatable and teaches different human experiences.
"This exhibit will teach empathy," she said.
The students have been trained to be prepared for visitors to view the pictures in the exhibit and not necessarily read every word. Students will use context clues and knowledge from their Holocaust and Genocides studies minor to supplement the exhibit.
Taylor Fuchs became a peer guide to gain more experience in giving tours.
"I have a lot of experience in the science field, but I wanted to get involved in a history opportunity," she said. "Anne's story is a part of history, we can all learn from it. History can repeat itself so learning about it can help change that and help us think twice."
Gail Rosenthal, executive director of the Holocaust Center, said the exhibit will also travel to Hammonton, Middle Township and Lower Cape May Regional high schools as well as Atlantic Cape Community College. The Stockton guides will help set up the exhibits and train guides at the schools.
"We are very excited to be the first school in the country to offer this training" said Gail Rosenthal, Director of the Sara and Sam Schoffer Holocaust Resource Center.
The exhibit is free and open to the public. Guided tours for schools or groups can be arranged by calling the Holocaust Center at 609 652-4699.
# # #
Contact:
Diane D'Amico
Director of News and Media Relations
Stockton University
Galloway, N.J. 08205
Diane.DAmico@stockton.edu
609-652-4593
609-412-8069
stockton.edu/media