Ammon Foundation Gives Scholarships to Students in Recovery
Galloway, N.J. - Two Stockton University students in recovery from addiction have each received a $3,000 scholarship through a new partnership between the Stockton Foundation and the Ammon Foundation where the two are matching dollar-for-dollar. This partnership extends Stockton's commitment to helping people in recovery rebuild their lives.
John Pelikan of Ventnor, and a second student who asked to remain anonymous, received their awards at a luncheon on campus last week. Both students expressed tremendous gratitude for the scholarships and credited each Foundation with having a role in their success.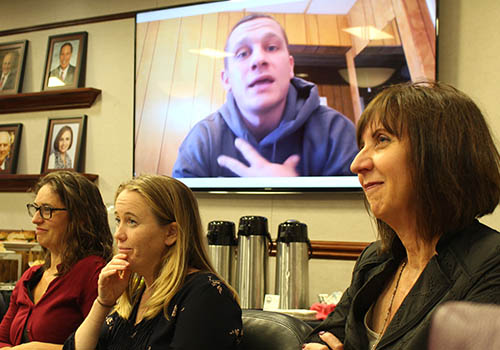 Mariel Hufnagel, executive director of the Ammon Foundation, said college campuses can be a 'recovery hostile environment' and unfortunately due to stigma, many colleges deny having students in recovery on their campuses. But, she said, Stockton not only acknowledged that they have students in recovery, but has taken intentional steps to support those students - one of which is embracing this partnership to provide scholarships.
"No student should ever need to choose between education or recovery!" Hufnagel said.
Pelikan, who has been in recovery for three years, will graduate with his social work degree in May 2020. He is already working in the field of addiction treatment and plans to continue on to get his master's degree.
"It is very empowering to be a student," he said. "I am overcome with gratitude. Addiction took everything from me. I never thought I would be in college again."
The second student said the funds will mean less worry about money so she can focus on her studies.
"This is what hope looks like," she said. "I am grateful for all Ammon is doing to remove the stigma of addiction and give those in recovery the opportunity to move forward."
Stockton President Harvey Kesselman said the agreement continues Stockton's commitment to supporting all students. He said Stockton was among the first colleges in the state to provide specialized recovery housing for students. The university has also partnered with the Atlantic County Recovery Court to provide jobs and scholarships to participants in that program. Stockton was honored by the court in 2019 as its Partner of the Year.
"The Ammon Foundation, based in Linden, was founded in 2016 to empower people in addiction recovery by combating stigma and providing strategic support. To date more than $200,000 has been awarded to more than 100 scholarship recipients. Visit www.ammonfoundation.org for more information."
# # #
Contact:
Diane D'Amico
Director of News and Media Relations
Stockton University
Galloway, N.J. 08205
Diane.DAmico@stockton.edu
609-652-4593
609-412-8069
stockton.edu/media