Graduate Students Present Research at American Studies Conference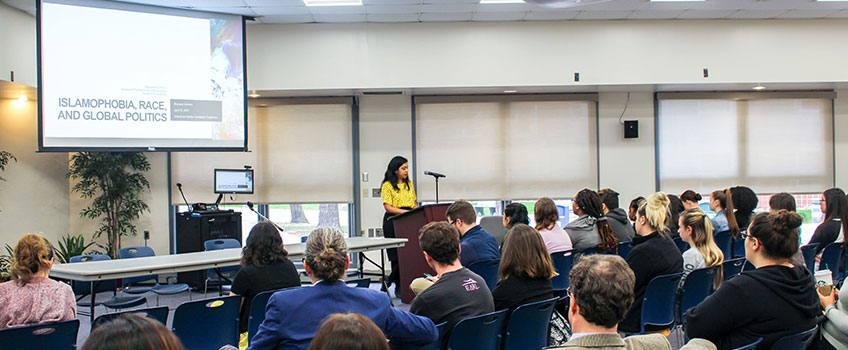 Galloway, N.J. – Students enrolled in the Stockton University Masters in American Studies program, as well as other local graduate students pursuing interdisciplinary fields, showcased personal research projects for Stockton students and faculty at the Student Conference in American Studies hosted in the TRLC Multipurpose Room at Stockton University on Tuesday, April 9.
The Master's in American Studies program, in collaboration with the American Studies Society, developed the conference to give graduate students taking on personal research projects an outlet to present their work. The conference theme was "The United States and its Global Impact," and students presented research on topics ranging from American Zionism to Hollywood.
Stockton Assist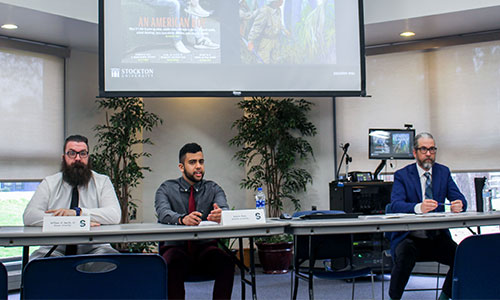 ant Professor of Anthropology Nazi Kazi was the event's keynote speaker, and she discussed her recently published book, Islamophobia, Race, and Global Politics. Kazi read a short passage from the book about immigration, stimulating group conversations about the obligation of global powers to help migrant individuals, immigrant vetting processes, and other related issues.
Students involved in the conference said it was highly beneficial and rewarding.
"I have been working on my research for three semesters," said Edwin Rosa, who is studying American big game hunting culture in Africa. "I have worked really hard researching a topic I have been interested in since I was little. I am glad that I participated in the conference because I was given the opportunity to share my work and discuss a topic that isn't really talked about much, but should be."
For more information about American Studies, visit the program website.
Reported by Kat H. Wentzell.
# # #
Contact:
Diane D'Amico
Director of News and Media Relations
Stockton University
Galloway, N.J. 08205
Diane.DAmico@stockton.edu
609-652-4593
609-412-8069
stockton.edu/media