Two Students Receive First Alan F. Arcuri Fund Awards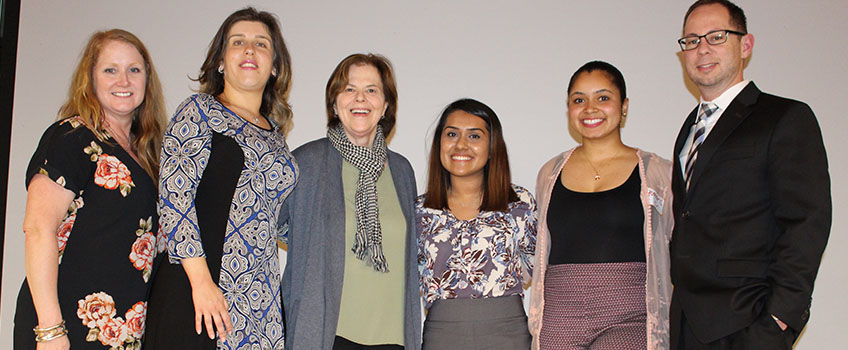 Galloway, N.J. - Stockton University students Nabila Sudha of Egg Harbor Township and Yomaris Acosta of Mays Landing were awarded the first Alan F. Arcuri Pre-Law Fund Awards in a ceremony at the Lakeside Lodge on April 23.
The fund, started in memory of Arcuri, a former Stockton professor known for his tireless efforts in advising pre-law students, will assist students by providing a stipend to cover the cost of a prep program for the LSAT exam and providing mentors for them as they apply to and attend law school.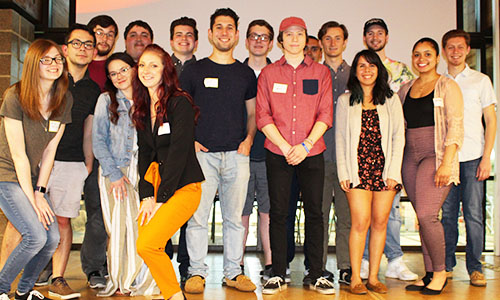 Sudha is a junior majoring in Political Science with a minor in Global Studies who has been involved with the Model UN. She will be mentored by Inna Pokrovnichka, a 2010 Stockton graduate who attended Rutgers Law School and is currently Atlantic County Counsel.
Sudha said she is interested in corporate or international law, but is already taking the advice of her mentor to keep her options open.
"I'm going to work to give her guidance, ease her fears, and make the process less scary," Pokrovnichka said.
Acosta is a senior Criminal Justice Major with a minor in Political Science. She will be mentored by Dan Solt, a 2008 graduate of Stockton who attended Widener Law School and works as Assistant Counsel for Atlantic County.
Acosta said he became interested in law when a friend was arrested and spent time in jail, though he was eventually found not guilty. She said she may be interested in being a defense lawyer, but is also keeping her options open.
Professor of Political Science Linda Wharton said the mentors had Arcuri when they attended Stockton and experienced his dedication. She recalled a time when Arcuri came to work on Christmas Day to help a student with a law school application.
Wharton said they hope to expand the fund to assist more students in the future. Arcuri's widow, Kris and niece Claudia also attended the event,
Eighteen students were also inducted into the Alpha Zeta Rho chapter of the Pi Sigma Alpha, the National Political Science Honor Society. They are: Yomaris Acosta, Ryan Alcott, Flynn Altomare, Maria Castaneda, Bertilio Correa, Bryan Gonzalez-Mejia, Aden Hochran, Tashea Jackson-Medley, Ryan Lewandowski, Taylor Pagano, Johnathan Perry, Kady Ridgway, Nicholas Savarese, Lauren Schack, Allison Uhrick, Sabrina Varga, James Vicari and Ryan Webster.
# # #
Contact:
Diane D'Amico
Director of News and Media Relations
Stockton University
Galloway, N.J. 08205
Diane.DAmico@stockton.edu
609-652-4593
609-412-8069
stockton.edu/media