Celebrate '48 Blocks Atlantic City' June 21-23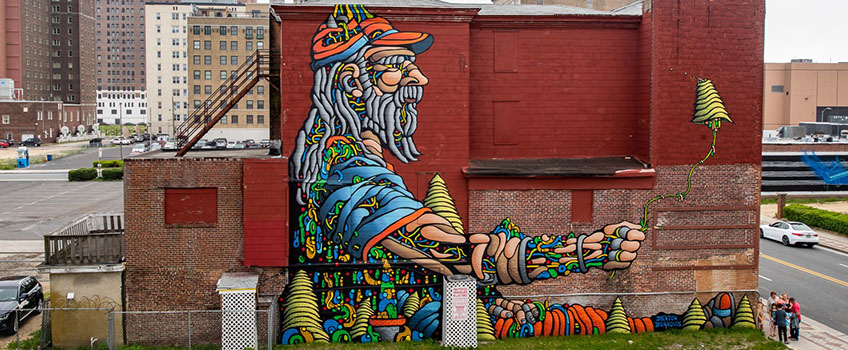 Atlantic City, N.J. – New jitney mural tours and interactive projects will be part of the third annual "48 Blocks Atlantic City," a 48-hour community celebration of the arts & culture of the city encompassing 48 projects within the 48 blocks of Atlantic City.
The celebration begins with a kick-off party at Bourré, 201 S New York Ave., from 6-9 p.m. Friday, June 21. Artist Billy Joe Michel will live paint musician Bakko as she performs during the party. Attendees will get a first look at 48 Stories, a photo book about the people and projects that have helped build 48 Blocks AC. Tickets are $15, including a Cajun BBQ buffet and cash bar.
The 48 Blocks AC weekend will feature the debut of Mural Jitney Tours – hop on to view 20 of the over 50 murals currently in Atlantic City, including five new murals completed in May during 48 Blocks AC Mural Week. Tours are free with donations accepted.
Saturday and Sunday programming is free, and will feature performances and interactive workshops at several sites in the city, including Venice Park, Brighton Park, O'Donnell Park, Brown's Park, the Noyes Arts Garage, and Dante Hall. Programming runs from 9:30 a.m. to 5 p.m. on Saturday and 10:30 a.m. to 6:30 p.m. on Sunday.
Some of the featured projects include:
"Dance-in-Paint Mashup" by Jodee Clifford, a local artist and dancer. The interactive project will feature dance performance & invite viewers to join in, creating an abstract art piece from their dance steps.
"Drag Queen Story Hour 2.0" presented by Laurie Greene & Brittany Lynn. DQSH gives kids glamorous, positive, and unabashedly queer role models and imagines a world where people can present as they wish, where dress up is real.
"Korean Lanterns" presented by Saskia Schmidt of Stockton University. Korean paper lanterns have been decorated by local students and will be hung in O'Donnell Park. There will also be a make & take prior to the lantern lighting.
The event will also feature live music, dance performances, bike tours, improv workshops, yoga & tai chi classes, and garden tours. In partnership with the Special Improvement District of the Casino Reinvestment Development Authority, 12 newly decorated Adirondack chairs created by 48 Blocks Atlantic City participants will be placed on the Boardwalk, joining 12 chairs from the past two years.
Joyce Hagen, executive director of the Atlantic City Arts Foundation (ACAF), said: "The purpose of 48 Blocks Atlantic City is to celebrate the city and promote a new story about Atlantic City that celebrates Atlantic City's creativity, culture and rich history."
48 Blocks Atlantic City is a program of the Atlantic City Arts Foundation, in partnership with Stockton University. ACAF programming is funded in part by the NJ State Council on the Arts, a partner Agency of the National Endowment for the Arts.
More information, including a schedule of events is at 48blocksac.com.
MEDIA CONTACT:
Loryn Simonsen at loryn@atlanticcityartsfoundation.org, 609 226-8011
# # #
Contact:
Diane D'Amico
Director of News and Media Relations
Stockton University
Galloway, N.J. 08205
Diane.DAmico@stockton.edu
609-652-4593
609-412-8069