'100 Faces of War' Shares Stories of Those Who Served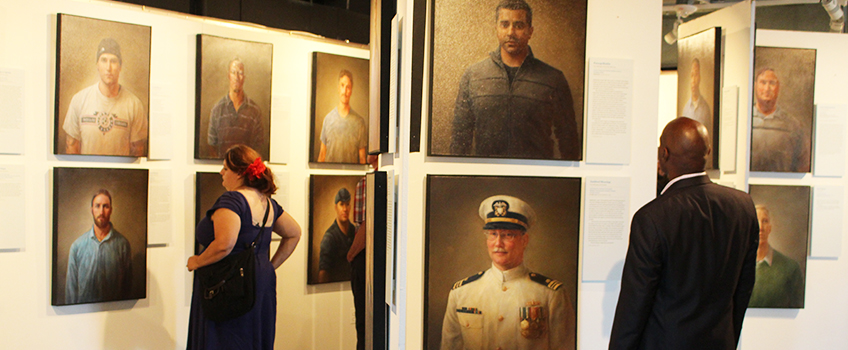 Atlantic City, N.J. – Discussions of war typically focus on the politics, referring to the men and women who serve in generic terms of troops and military.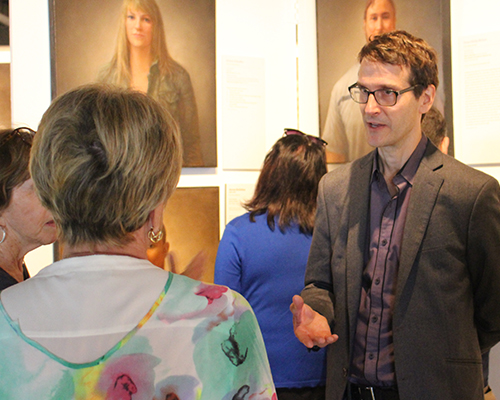 Boston, Massachusetts artist Matt Mitchell wanted to focus on the people themselves, their stories and the lessons they had to share. Over a period of nine years he painted the portraits of 100 members of the U.S. Military who served in Iraq and Afghanistan.
Those portraits, along with the stories the participants shared, are on display in the Smithsonian 100 Faces of War exhibit at the Noyes Arts Garage of Stockton University in Atlantic City through Oct. 6.
"It is a very human experience to go to war," Mitchell said at a reception for the exhibit. "I hope that this project, these stories, are about that humanity."
The 100 portraits are displayed in three galleries at the museum. Two of Mitchell's subjects, former Air Force Master Sgt. Chris Miller of Sicklerville, N.J. and former Army Staff Sgt. Gabriel Fierros of Long Pond, Pa., attended the reception with their families.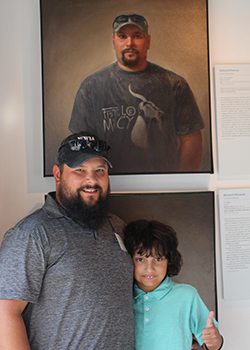 "I'm not fond of helicopters anymore," said Fierros, who suffered a head injury when the chopper he was in was hit by enemy fire in Iraq, where he did three tours while in the Army and was also stationed in Alaska.
He said his wife heard about the project, and when he got a job in Pennsylvania, he agreed to take the trip to Boston to sit for the portrait.
His written message is about leadership, including both those who led him and in turn, taught him to lead.
"There are different styles of leadership, and not everyone can lead," he said.
The background of each portrait is the same, but the portraits are very distinctive. Some subjects are in dress uniform, others in casual clothes.
Fierros laughs at the t-shirt for the band "Fistful of Mercy" he wore for the sitting, saying Mitchell said to wear whatever he wanted, and he wanted to be comfortable for the long trip.
"I'm a t-shirt and jeans type of guy," he said.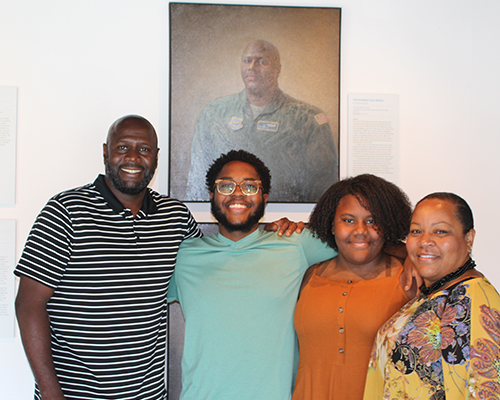 Miller retired from a career in the Air Force in 2014, and now teaches the JROTC program at Highland Regional High School in Blackwood. Originally from Mississippi, he heard from a friend that Mitchell was looking for people from different states to sit for portraits. He brought his family to see the exhibit, and said he also hopes to bring his JROTC cadets.
"Matt had already been at the project for a while, and we just talked," Miller said. "It was interesting. The portraits are beautiful.
Miller's message shares the value of service he learned from his mother.
"That's why I joined," he said. "I went to school first, and joined at 21. By then I was mature enough to appreciate it."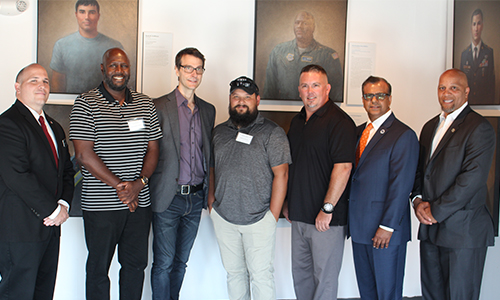 Jason Babin, director of Stockton University's Office of Military and Veteran Affairs, which is helping promote the exhibit, said he hopes the exhibit gives some insight into the experiences of those who serve.
"We are proud to be among the few chosen to show this exhibit," said Brian Jackson, COO of Stockton University Atlantic City.
Atlantic City Mayor Frank Gilliam called the exhibit an opportunity to get into the hearts and minds of soldiers.
"This is an opportunity to be thankful to those who have served," he said, adding that he was proud to host the exhibit in the city.
Museum executive director Michael Cagno said his father was a superintendent at a Veterans Home, and he grew up around veterans, and appreciates their service and sacrifice.
State Assemblyman John Armato said his father and three uncles served, setting the example for him when he went into the Air Force.
"This exhibit tells a story that needs to be told," he said.
Dr. Mukesh Roy of Mays Landing helped underwrite the cost of the exhibit and worked with the Smithsonian to bring it to Atlantic City.
"I had gotten an email about it and just wanted to bring it to South Jersey," he said. "It's such an opportunity for the area."
100 Faces of War is organized for travel by the Smithsonian Institution Traveling Exhibition Service (SITES) in collaboration with artist Matt Mitchell.
SITES connects Americans to their shared cultural heritage through a wide range of exhibitions about art, science and history, which are shown wherever people live, work and play. For exhibition descriptions and tour schedules, visit sites.si.edu.
Admission to the Noyes Arts Garage is free. The 100 Faces of War exhibit may be viewed during Noyes museum hours, 11 a.m. - 6 p.m. Wednesday through Sunday. Schools and other groups are invited to schedule free tours of the exhibit.
More information is available from the Noyes Arts Garage at 609-626-3805, Saskia Schmidt, Noyes Director of Education, at 609 626-3420 or at artsgarageac.com.
View a gallery of photos from the exhibit.
# # #
Contact:
Diane D'Amico
Director of News and Media Relations
Stockton University
Galloway, N.J. 08205
Diane.DAmico@stockton.edu
609-652-4593
609-412-8069
stockton.edu/media