'100 Faces of War' Featured at Noyes Arts Garage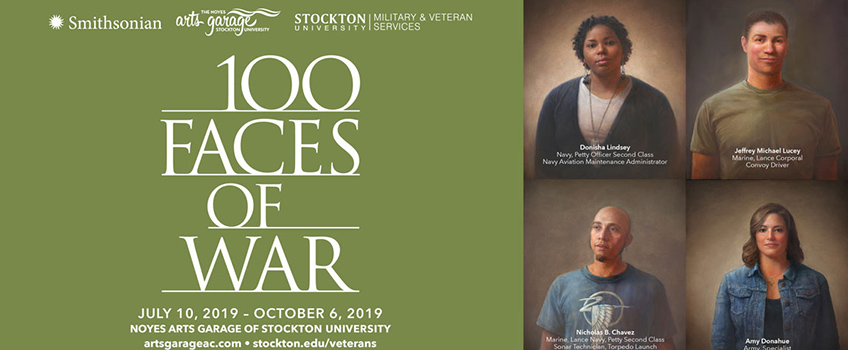 Atlantic City, N.J. - The American military in the 21st century is diverse and reflects the complexities of the country and the current times.
100 Faces of War, a traveling exhibition from the Smithsonian, presents the stories of those who served the U.S. in the Iraq and Afghanistan wars. The free exhibition will be on view at the Noyes Arts Garage of Stockton University, 2200 Fairmount Ave. in Atlantic City, from July 10-Oct. 6.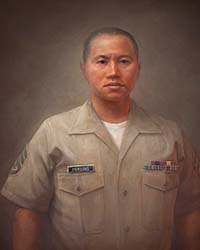 100 Faces of War, organized in collaboration with artist Matt Mitchell, features 100 oil portraits of Americans representing a cross-section of home states, military branches, jobs and backgrounds.
This is the first time the exhibit has been shown in the Northeast. Included are portraits of military members from Orange, New Jersey; Philadelphia, Freedom, and Reading, Pennsylvania; Queens, Syracuse, Depauville and Somers, New York; Newark, Delaware; and Millington and Thurmont, Maryland.
Each painting includes a candid, unedited, firsthand account of war. The statements take many different forms, including emails and letters to loved ones and poems and words written specifically for this exhibition.
The portraits symbolize 100 different and highly personal ways of looking at valor, sacrifice and the human experience of war. From 2005 to 2014, Mitchell, who did not have any connection to the military, felt compelled to connect with veterans in a meaningful way when he read an article in a local newspaper about an Iraq veteran coming home. He started painting the portraits of those who served and collecting their personal statements.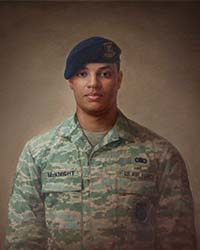 "Through these paintings viewers will come to know the stories of men and women from across the country who represent them in all branches of the United States military," said Noyes executive director Michael Cagno. "The exhibit is a uniquely personal view of those who serve."
More than two million Americans have served in the theaters of war in Iraq and Afghanistan from 2001 through 2014. Through this exhibition, visitors will come to know the veterans' courage, fears, warmth and humanity.
"We are proud to co-sponsor an exhibit that highlights the work and sacrifice of our military," said Jason Babin, Director of Military and Veteran Affairs at Stockton University. "We invite the public to come celebrate the men and women who continue to protect the freedoms Americans hold dear."
100 Faces of War is an exhibition organized for travel by the Smithsonian Institution Traveling Exhibition Service (SITES) in collaboration with artist Matt Mitchell.
SITES has been sharing the wealth of Smithsonian collections and research programs with millions of people outside Washington, D.C., for more than 65 years. SITES connects Americans to their shared cultural heritage through a wide range of exhibitions about art, science and history, which are shown wherever people live, work and play. For exhibition descriptions and tour schedules, visit sites.si.edu.
100 Faces of War is an exhibition organized for travel by the Smithsonian Institution Traveling Exhibition Service in collaboration with artist Matt Mitchell.
The exhibit may be viewed during museum hours, 11 a.m. - 6 p.m. Wednesday through Sunday. Schools and other groups are invited to schedule free tours of the exhibit. The exhibit will be featured at the July 12 Second Friday event at the Arts Garage.
More information is available from the Noyes Arts Garage at 609 626-3805, Saskia Schmidt, Noyes Director of Education, at 609 626-3420 or at artsgarageac.com
# # #
Media Contact:
Diane D'Amico
Director of News and Media Relations
Stockton University
Galloway, N.J. 08205
Diane.DAmico@stockton.edu
609-652-4593
609-412-8069
stockton.edu/media