Students, Faculty, Staff Learn Healthy Lifestyle Tips at Wellness Day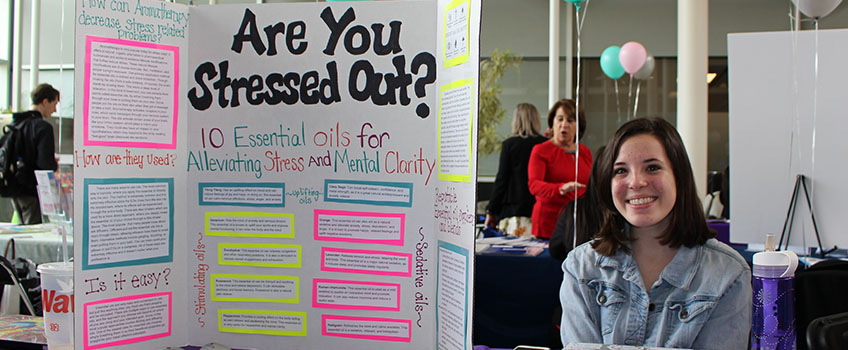 Galloway, NJ– Can you really keep people healthy without supporting them mentally, emotionally and physically?
This is a critical question Nate Morell, assistant director of Counseling Services asks himself and the main cause for initiatives like Wellness Day at Stockton University.
The Wellness Center welcomed the Stockton and local communities to Wellness Day on March 29, where dozens of students, faculty and staff connected with resources and vendors tabling in the C-D Atrium, promoting positive lifestyles and emotional, physical and mental well-being.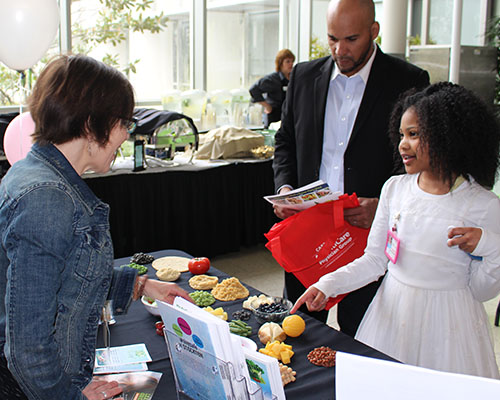 "Wellness Day is a wave of the future," said Morell. "It's about raising the energy of the campus instead of waiting for something to happen, for the community to be in suffering. It's about going after root issues, finding those on the ground who can promote wellness, kindness and love to people proactively."
Some of the local organizations in attendance the annual event include the Cape May Honey Farm, Grow Yoga, Couch to 5k Program, Cape Atlantic Coalition for Health, AtlantiCare Medical Center and The Honey Tree Health Food Store among others.
Drew Anderson, an alumnus from Stockton's class of 1984, came to the event from Pennsylvania to promote N.J. Well, a wellness program offered to active employees of the public sector who participate in the State Health Benefits Program (SHBP) or School Employees' Health Benefits Program (SEHBP) and their covered spouses/partners.
"This event gets everyone together for a day with a variety of vendors, and allows me to promote topics like insurance wellness," said Anderson.
Ashley May, a freshmen health science major hailing from West Deptford, spent time tabling during the event.
"I got involved through my aromatherapy class, which focuses a lot on stress," said May. "I wanted to take part in Wellness Day because it's a great platform for me to promote essential oils and how they help people."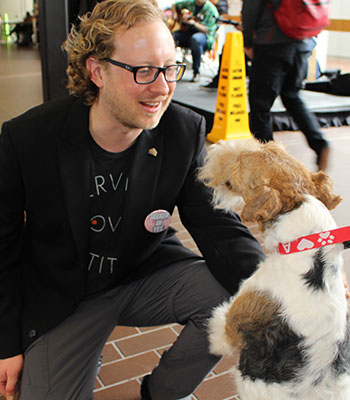 Tressa and John Hauser, owners of On the Go Café' LLC, sell organic Ganoderma infused products. The Hausers support their three children diagnosed with Asperger's and Attention Deficit Hyperactive Disorder (ADHD) through their hands-on Life Skills Program and homeschooling. According to their program, every interaction with each customer helps teach their children social and communications skills, critical thinking, eye contact and much more.
In addition to the organizations tabling and a free lunch, the event featured a Holistic Health Conference, where attendees were able to learn techniques including mindfulness, breath work and grounding.
The mission of the Wellness Center is to encourage the pursuit of healthier lifestyles, balancing study, family and life commitments, interacting in an environment that fosters positive changes and integrates wellness into the community culture. Guiding students through their academic careers and helping them to make the most of their experience on campus is one of the many goals of the Wellness Center. The center also offers services associated with alcohol and drug education, disabilities and suicide prevention.
"I'm all about health given my field. It's a great opportunity for students across different fields to come together and promote this cause," said May.
"A lot of individuals suffer from anxiety and depression, and we don't want to wait to help," said Morell. "We want to give help now."
For more information on The Wellness Center, please visit stockton.edu/wellness-center
_ Reported by Jessica Jacob & Marielena Dottoli
# # #
Contact:
Diane D'Amico
Director of News and Media Relations
Galloway, N.J. 08205
Diane.D'Amico@stockton.edu
609-652-4593
stockton.edu/media