Students Learn While Helping Residents File Tax Returns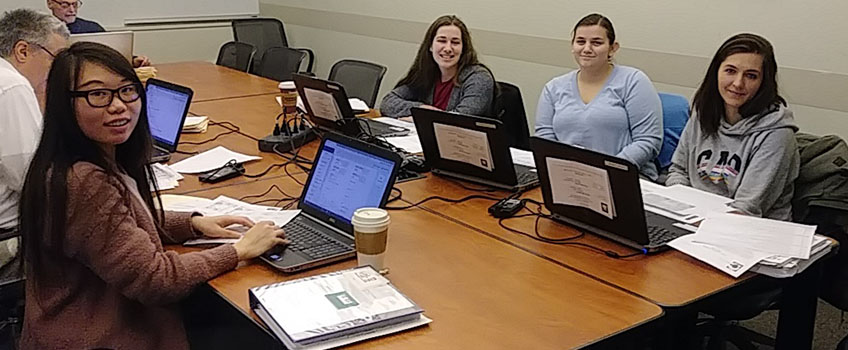 Galloway, N.J. – Student Erdenekhishig Badarch heard about Volunteer Income Tax Assistance, or VITA, last year, but it was too late for her to get involved as a volunteer tax preparer. This year, she not only is volunteering, but brought some friends with her.
"Friends from class had told me what was interesting about VITA" said Badarch. "I decided to gain experience by volunteering to help people file their taxes."
Stockton University's Office of Service Learning and the Campaign for Working Families are offering free income tax return preparation for eligible residents through the VITA program.
Assistance will be available from 10 a.m. to 2 p.m. on Fridays through April 13 in the Campus Center on the Galloway campus. The deadline to file income taxes this year is April 17, 2018.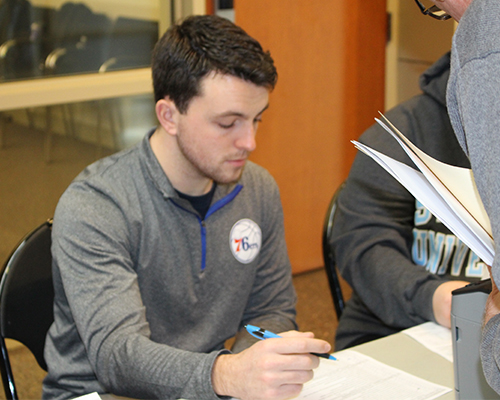 VITA is provided by IRS certified volunteers. To be eligible, you must have an income up to $20,000 for single filing status and up to $57,000 for married or head of household filing status. People are accepted on a first-come, first-serve walk-in format.
Nicholas Tiberio, Atlantic County Site Coordinator for VITA has been working with this program for seven years. He has worked for the Campaign for Working Families for six years.
"We normally see about 15-20 volunteers every year" Tiberio said during the Feb. 9 session at the Stockton Campus Center. "We've done roughly 36 tax returns today alone, and we are still not done."
Other volunteers that day included Anastasia Gorobey, Lucia Dudo and Aleece Errico, who are accounting majors, and the Office of Service-Learning's Bonner Leaders, Kevin Gill-Clara and Kenneth Jones.
"Since I learned about VITA through other classmates, I wanted to volunteer to get the experience" said Dudo "My friends and I thought it would be fun to do it together."
Errico learned learned about Vita through the accounting program, and thought it would be a good idea to get involved and help out.
"This opportunity gives me real practice with tax returns and helps people for free" said Gorobey.
Individuals and couples interested in getting assistance must bring the following documents: original Social Sercurity cards for themselves and all dependents, valid state-issued photo ID, income documents including W-2 and 1099s, voided check for direct deposit, child-care co-paymets and provider Social Security or EIN, education credit form 1098-T, last year's tax return, health insurance form 2095-A (if applicable) and identity theft protection pin (if applicable).
VITA does not file complicated and advanced schedules C&E employee business expenses, moving/relocatoin expenses, minor's investment income, joint business returns or partnerships and international and non-resident returns.
Appointments are not necessary but those interested are asked to register at stockton.edu/vita where they can select a date and provide contact information. After signing-up, reminders, parking passes and campus maps will be e-mailed to those driving to campus. Walk-ins are also welcome. For more information, call the Stockton Office of Service-Learning at 609-652-4256.
_ Reported by Jessica Jacob
# # #
Contact:
Diane D'Amico
Director of News and Media Relations
Galloway, N.J. 08205
Diane.D'Amico@stockton.edu
609-652-4593
stockton.edu/media