Military & Veteran Services Welcomes New Students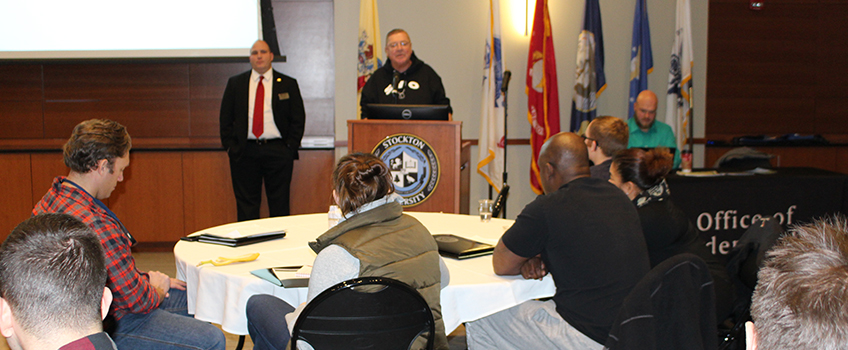 Galloway, NJ – Rodrigo Pimentel, 29, of Egg Harbor Township, may be an Army veteran, but he's a brand new student at Stockton University, enrolling for the spring semester.
"I do need some help with the integration into college," he said. "I need somebody to hold my hand right now."
He got that help and more at the special Military and Veteran Orientation, coordinated by the Office of Military & Veteran Services and the Student Veterans Organization, or SVO at Stockton on Jan. 9.
More than 45 new veterans, active military or their family members registered for the spring semester, joining more than 425 student veterans who already study at Stockton.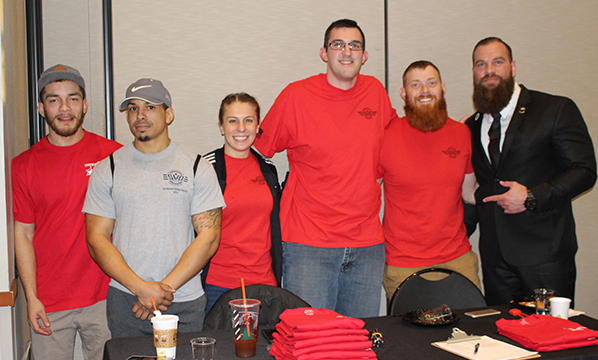 "Our service members have given so much," said Jason Babin, an Army veteran and director of Stockton's Office of Military & Veteran Services. "This orientation is something we can give back to them to make sure they are successful in their academic endeavors."
Latoya Reynolds of Egg Harbor Township said when her husband was transferred to the area, she had to leave college in Tennessee. An English and literature major, she got the chance to meet with Stockton staff and work out transferring credits.
"This helped a lot," she said of the orientation.
Students learn about the services offered to veterans at Stockton, including the SVO and the special veterans lounge. They get to meet fellow veteran and military students, and learn about courses that target their interests.
Stockton offers about a dozen courses specifically geared to student veterans, and this year will again offer a special course just for veterans that studies Homer's Odyssey and includes a trip to Greece.
Tom O'Donnell, who retired last year as assistant dean of students/veterans affairs, will teach a course on veterans and the global vision that will include military speakers and address the role of the military today.
"By being here you make a difference and help educate others," he told the new students. "This is about veterans and civilians being in the course together."
Assistant Professor of Critical Thinking and First-Year Studies Robert Blaskiewicz will teach on course on World War II in film and literature. He said half of the class is reserved for veterans.
"I want to see conversations between students who were in the military, and those that were not," he said.
The SVO signed up new members and promoted the benefits of participating. The group just returned from a national Student Veterans of America convention in San Antonio. SVO President Frank Attwood said while talking to representatives of other colleges they realized that Stockton offers veterans more support than even many larger colleges.
Among Stockton services are a Veterans Advisory Board, the special orientation, specialized counseling, and a designated veterans lounge.
The veterans lounge is especially popular because it gives students a place to go where they know the issues they may face are understood.
"In class, you can't always tell who's a veteran and who isn't," SVO vice president John Erlandson said. "In the lounge you always know."
For more information on Military and Veteran Services at Stockton, click here.
VIDEO: Devent Raposo, a Marine and #StocktonU freshman, shares his advice for the new students on twitter.
# # #
Contact:
Diane D'Amico
Director of News and Media Relations
Galloway, N.J. 08205
Diane.D'Amico@stockton.edu
609-652-4593
stockton.edu/media