Veterans Honored at Coining Ceremony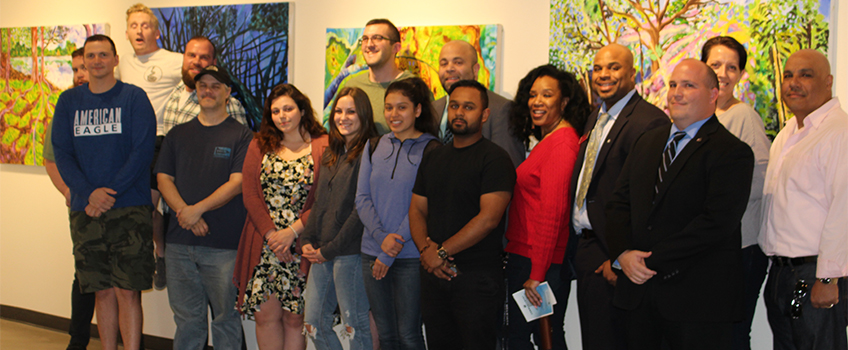 Galloway, N.J. –Graduating seniors with ties to the military were presented with special Stockton coins at a ceremony in the Art Gallery.
Fifty seven seniors are eligible for the coin this year. Jason Babin, director of the Office of Military and Veteran Services, Dean of Students Pedro Santana and Vice President of Student Affairs Christopher Catching made the presentations.
Babin explained the coining ceremony tradition: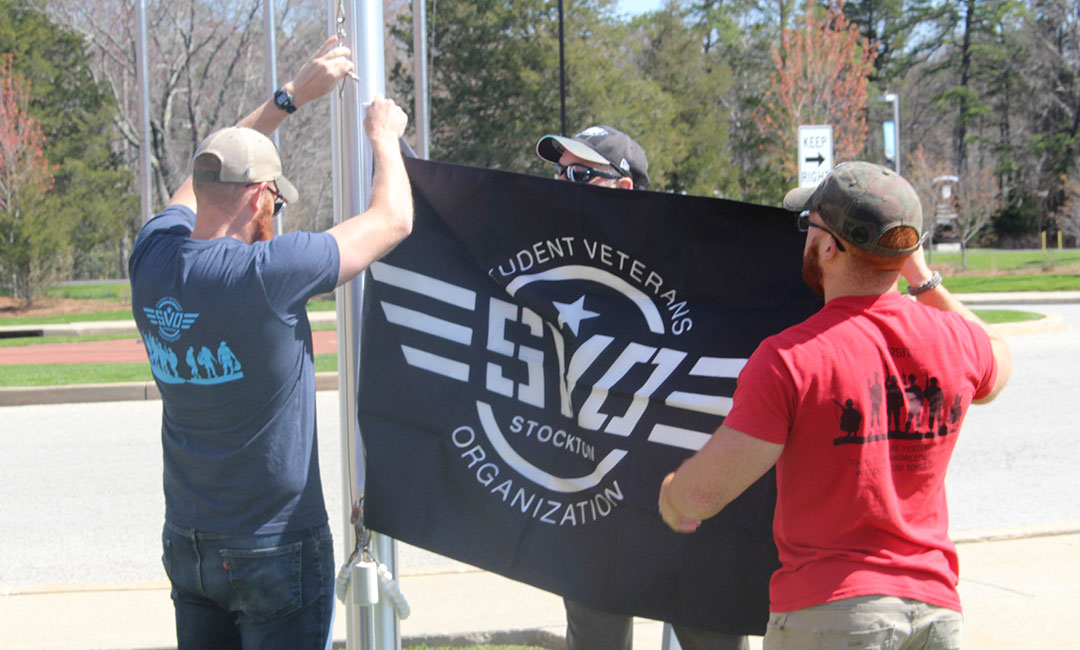 "Members of the U.S. military have a long-standing tradition of carrying a special coin symbolizing unit identity and esprit de corps. With bonds forged in battle thousands of miles from home, these custom coins minted for military units – each bearing their own revered symbols and mottos – capture the essence of their affiliation and their fierce pride. Known to generations of American military personnel as challenge coins, they are a vital part of military life today and are revered by troops in every branch of service.
Today, challenge coins are carried by soldiers, sailors, airmen, and Marines, as well as lawmen and firefighters. These coins identify the bearer as a member of a particular unit with a well-defined history and mission. And, wherever warriors gather, they challenge each other by "coining." The group's unique coin is slammed on a bar to challenge all in the group to display their own coins; he who is last must pay a penalty.
The tradition of challenge coins can be traced to World War II when American forces deployed to the far reaches of the globe securing the nation's freedom. Soldiers back to World War I and the Civil War left for battle with a coin from home in their pocket and kept it after the conflict as a lasting remembrance of their wartime experiences.
A challenge coin is not merely a token. Challenge coins today are a tangible source of pride for America's warriors at every level in the chain of command. Today we will be presenting our graduates with one such coin to symbolize our commitment to them and their commitment to us."
The Student Veteran Organization also held a ceremony to dedicate and raise the SVO flag in the Arts and Sciences Circle May 1. The SVO flag will remain on display with the flags of other student organizations.
View a gallery of photos from the Coin Ceremony.
View a gallery of photos from the flag raising.
# # #
Contact:
Diane D'Amico
Director of News and Media Relations
Galloway, N.J. 08205
Diane.D'Amico@stockton.edu
609-652-4593
stockton.edu/media