Speakers promote discussion, awareness at Unite Against Hate Day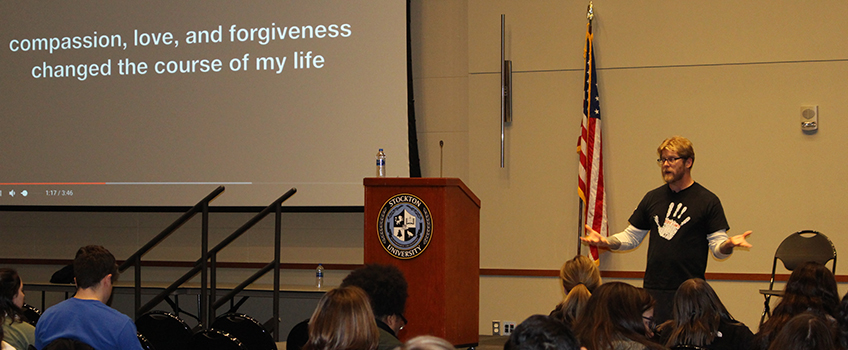 Galloway, N.J. - Whether through bullying in the classroom, or kneeling on a football field, Americans today are grappling with hate, bullying and aggression on a national scale and in their personal lives.
Stockton's first Unite Against Hate Day on Feb. 6 gave faculty, staff and students the chance to examine and discuss how they view others, how others view them, and how their lives are affected by the behavior and beliefs of others.
The day was coordinated by a committee chaired by Stockton's Chief Officer for Diversity and Equity Valarie Hayes. It grew out of a student rally in fall 2017 opposing white supremacist fliers posted on campus.
The theme for the day was "Studying and Deconstructing Hate and Terror" and the 21 workshops featured presentations by faculty, students and guest speakers who offered a variety of views on human interaction in the world today.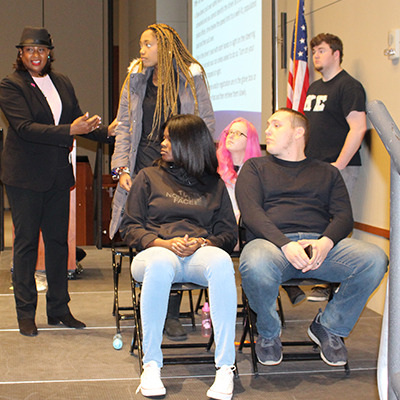 Montclair Police Department Detective Kim Nelson-Edwards addressed public and police relationships. She brought students up on stage in a simulated traffic stop to explain both what they should do in case they are stopped by police, and how police are trained to respond.
Joseph Levin, co-founder of the Southern Poverty Law Center, addressed the resurgence of extremists in society, noting the SPLC identified more than 900 hate groups in 2016. He said hate groups are emboldened by President Donald Trump and that college campuses are prime recruiting grounds because college students are open to different perspectives.
He said social media can help identify hate groups, but it also helps them recruit and grow. In response to a question he said a hate group is not defined by race, and that opinions alone do not define hate groups unless they use lies to justify their views or actions.
"What can we do to mitigate hate?" he said. "It's about community, working in the community and not letting hate go unanswered."
On a more local level, four professors shared their experiences and concerns dealing with hate speech in the classroom.
Assistant Professor of Writing Emily Van Duyne said she wants to foster open dialogue in her classes, but she wants students to feel comfortable and not threatened.
"What is troubling to me is that there is speech that is intended to harm," she said. "Where is the line? It can be hard to define."
Associate Professor of Biology Ekaterina Sedia said questions will be raised about genetics and she sometimes has to wonder if a question is legitimate, or just looking to promote a specific viewpoint.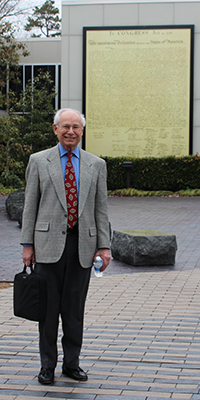 "We have to distinguish between what can be allowed for education, and what is really not okay," she said.
Students learned about Bill Moyer's Movement Action Plan to promote advocacy, and discussed microaggressions and how they are used to insult or demean a person or group.
Stockton Provost Lori Vermeulen discussed with students the role of higher education in developing empathy, compassion and resilience.
Students told their own stories of resistance in a Coffee House Story Slam led by Activist-in-Residence Travis Love.
A panel that included student athletes and coaches talked about the National Anthem protests, saying they raised issues about the treatment of minorities that should be discussed.
Senior Omar Dogbey recalled his father sitting him down when he was 16 and got his driver's permit to explain that as a black man, he would be treated differently.
"He was fearful of my driving," he said. "But I didn't understand profiling until I got older. I love America, but we have problems and we have to talk about it."
Coach Greg Ruttler said he was first angry when football player Colin Kaepernick refused to stand for the National Anthem, but it made him wonder why he was doing it, and to take the time to learn.
"If he hadn't knelt, I'd be far less informed," he said.
The day ended with Arno Michaelis, a former white supremacist, talking about how "compassion, love and forgiveness," changed his life after 20 years as a skinhead who drank too much and thought getting into brutal fist fights was a good time.
He said he finally left because people, including his Jewish employer and minority friends, did not give up on him.
"It was exhausting when people I was supposed to hate treated me with kindness," he said. "They treated me with kindness when I least deserved it and needed it most. It was exhausting knowing I was a hypocrite."
Michaelis said he grew up in a suburban household with a family who loved him, but he was an adrenaline junkie who just kept looking for ways to feed his need for excitement.
"I was a bully," he said. "I got into vandalism and fights. I was an angry kid looking for ways to piss people off. I needed an enemy."
Having a daughter gave him the excuse he needed to leave in 1994 and change his life.
Today he brings people together, through the organization serve2unite, though he said he still grapples with self-forgiveness for the hurt he caused.
"But the seed was planted by brave people who refused to capitulate to my hatred," he said.
# # #
Contact:
Diane D'Amico
Director of News and Media Relations
Galloway, N.J. 08205
Diane.D'Amico@stockton.edu
609-652-4593
stockton.edu/media