Unidos Celebrates Latino History, Culture at Stockton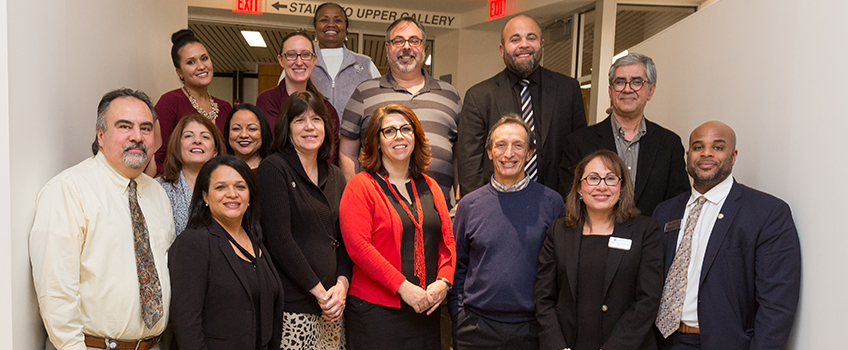 Galloway, N.J. _ It was the Cinco de Mayo holiday, and Stockton Assistant Vice President Pedro Santana was leaving work and reflecting on his time at Stockton.
"I thought back to when I came here and how welcomed I was by the Council of Black Faculty and Staff," said Santana, who is a native of the Dominican Republic and grew up in the Washington Heights area of New York City. "I always felt like I fit in with the Council because of where I grew up and the common experiences that we have in the African-American and Latino communities."
"I saw all the work that had been done by the Council as a community of loving, caring and compassionate professionals committed to the developent of our sutdents, and I realized we really didn't have anything similar for Latinos to feel connected the Stockton and celebrate the culture and history we share," Santana said.
So at almost midnight on May 5, he sent out an email inviting the Stockton community to a meeting to discuss forming such a group.
"I knew there were others willing to reach out," he said.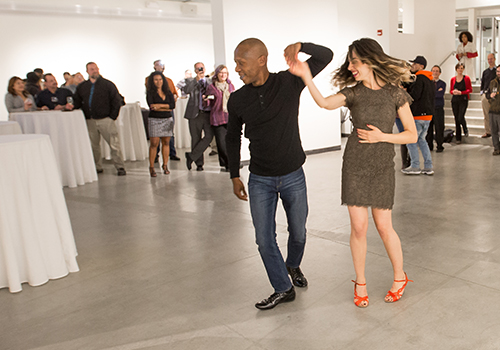 The result was Unidos, and the group wasted no time getting involved at Stockton. Unidos, which means United, sponsored a lecture series during the fall semester featuring six members of the Stockton faculty, Associate Professor of Social Work Robin Hernandez-Mekonnen, Associate Professor of Political Science Michael Rodriguez, Assistant Professor of Health Luis Garcia, Associate Professor of Biology Daniel Hernandez, Associate Professor of Spanish Arnaldo Cordero-Roman, and Associate Professor of Spanish Javier Sanchez.
At a closing reception, Associate Professor of Environmental Science/Sustainabilty Tait Chirenje gave a demonstration and history of the dances salsa and bachata.
In December the group hosted a Latin America Theater featuring one-act plays in Spanish.
Unidos also held socials at different sites, and welcomed members of the community who want to learn more about Stockton.
"The response has really been a blessing," said Santana at a reception in the Art Gallery marking the end of the lecture series. "People have been doing this out of love and to celebrate their culture and give back."
Unidos has a web page on the Stockton web site at Stockton.edu/unidos, which lists the mission and events. Officers are Santana, who is president, Rosa Perez-Maldonado, vice president, Yubi Peña, recording secretary, Jessica Grullon, corresponding secretary, Madeline Perez, treasurer, Robert J. Castillo, public relations officer, and Dianne Stalling, parliamentarian.
Perez-Maldonado thanked all of the departments and schools that have supported the group and provided funding for programs.
Members have also reached out to Los Latinos Unidos, making sure the student voice is heard at Stockton.
Plans are already in development for next semester, including programs on Afro-Latinos for African-American History Month in February.
There are also some long-term goals.
For Stockton's 50th anniversary celebration in 2021 Santana wants to develop a retrospective on Latinos at Stockton.
"We are reaching out to the community," he said. "We want to capture their voices. I've already started talking to people and I've been blown away by their stories. There is a lot of history to be told."
The group also wants to start an annual scholarship fund raising event.
"There is a need for us, as a community, to support each other and celebrate our rich history and traditions," Santana said. "Here, everyone is family. Todos somos familia. Pa'lante. (Let's go forward). "
# # #
Contact:
Diane D'Amico
Director of News and Media Relations
Galloway, N.J. 08205
Diane.DAmico@stockton.edu
609-652-4593
609-412-8069-cell
stockton.edu/media