Students Welcomed at First TRANSFERmation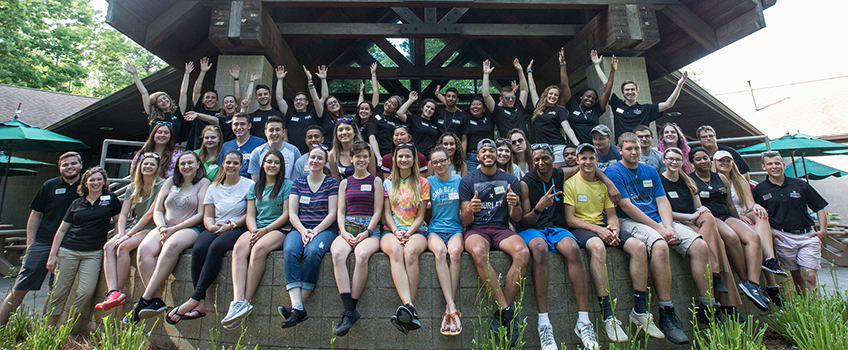 Galloway, N.J. – Thirty transfer students got a warm welcome to Stockton with three days of bonfires, team-building activities at Camp Ockanickon and leadership presentations from June 17-19.
The new pilot program, TRANSFERmation, provides transfer students with the opportunity to begin their Stockton career with a community of new friends while developing teamwork and leadership skills.
"We have a freshmen leadership program but with the development of the New Student and Family Office, we thought it would be great to create something similar for transfer students," said Jennifer Radwanski, director of New Student & Family Programs.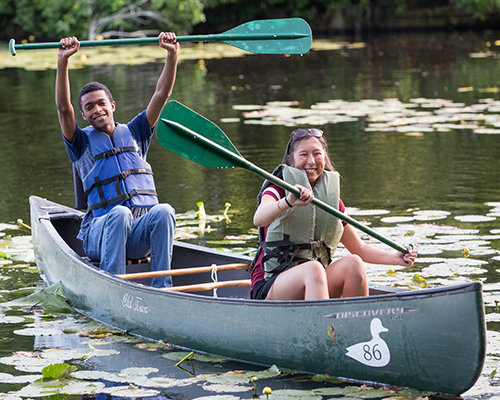 TRANSFERmation is modeled after the S.O.A.R. and T.A.L.O.N.S. programs at Stockton, which encourage students to get involved on campus and take on leadership roles Students who participated got the chance as new transfer students to get acclimated to their new environment and meet others with shared interests and transfer experiences.
"One of our head T.A.L.O.N.S. and intern, Brandon (Cheatham) wrote the program proposal for TRANSFERmation," said Radwanski. "We wanted to make sure this had a different criteria then T.A.L.O.N.S. and that it would be special and unique just for our transfers."
The Office of New Student & Family Programs provides programs to all incoming first year students including freshmen and transfers.
"The program was awesome. As soon as the students met, they were engaging, willing, and ready to jump right in immediately," said Cheatham '18 of Mullica Township.
Participants said they enjoyed the experience.
"At first, I was nervous because I didn't know what to expect," said Michelle Mardis of Mendham, a Liberal Arts transfer student. "It turned out to be a great experience. I met new people and even got roommates out of it. The staff were helpful throughout the entire program and the courses were fun. It gave us a head start in knowing what leadership at Stockton is like."
"I didn't know it was leadership based when I signed up, but everything was well-organized. It was a great opportunity to meet new people here at Stockton," said Gina Maccia of Sykesville, Maryland. Maccia is pursuing an undergraduate degree in Marine Science with a concentration in Oceanography at Stockton this fall.
"It was well-organized and helped everyone transition," said Brandon Spinner of Neptune. "We made really great connections and, in the long run, will help with reducing stress and feeling welcomed here at Stockton."
Spinner will be pursuing his degree in Exercise Science.
"TRANSFERmation was like a fresh start to getting to know Stockton," Cheatham said. "It exceeded my dream of how I thought it would work out.
View a gallery of photos from TRANSFERmation.
_Reported by Jessica Jacob
# # #
Contact:
Diane D'Amico
Director of News and Media Relations
Galloway, N.J. 08205
Diane.D'Amico@stockton.edu
609-652-4593
stockton.edu/media