Stockton Welcomes Guests from Taiwan University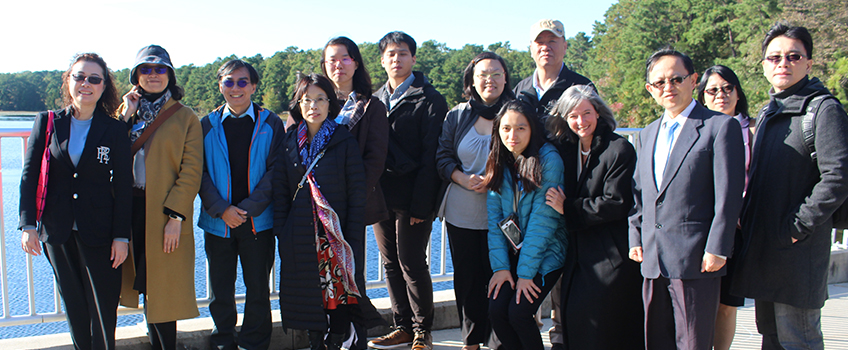 Galloway, N.J. - The language may be different, but based on the themes of the 2018 International Mathematics and Education Symposium held at Stockton Oct. 22, educators in Taiwan face many of the same issues as their counterparts in America.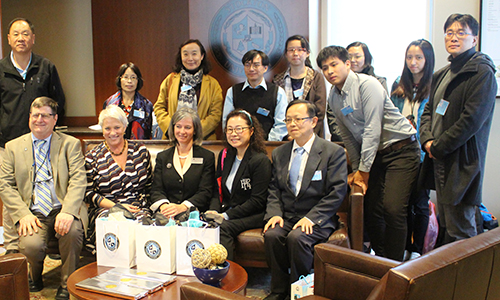 In her keynote talk, Yueh-Chun Huang, dean of Teachers College at National Chiayi University in Taiwan, talked about gender differences among teachers and principals in primary and junior high schools in Taiwan, Japan, Korea and the U.S.A.
Huang's research found there are far more female than male teachers in those countries, but far more principals were male The United States had by far the largest proportion females.
"There is a ceiling for women," Huang said.
The visit by the 11 guests from Taiwan followed a trip to Taiwan in 2017 by a dozen Stockton faculty, staff and students arranged by Professor of Mathematics Chia-Lin Wu. The Stockton trip included visits to schools in Taiwan, and the Taiwanese visitors also visited several schools in Atlantic County during their week-long visit. They also took trips to the Statue of Liberty and Philadelphia.
The one-day mathematics and education symposium at Stockton featured presentations by Stockton faculty and the guests from National Chiayi University.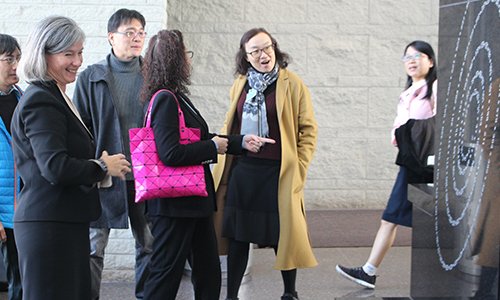 Chih-Hung Yen from the Department of Applied Mathematics at National Chiayi University spoke about students having different learning styles and why they should not all be taught the same way. He showed how they are using art exhibits to increase interest in math.
Norma Boakes, Associate Professor of Education at Stockton spoke about using origami to explore math, science and art.
Other presentations addressed the use of technology in class, and music therapy for a child with autism.
Peter Straub, dean of the school of Natural Sciences and Mathematics at Stockton, said many schools of education and science do not collaborate, but at Stockton they do, which enhances both departments.
Stockton hopes to continue an exchange program with National Chiayi University.
"International cooperation leads to better global understanding," said Michelle McDonald, Associate Vice President for Academic Affairs.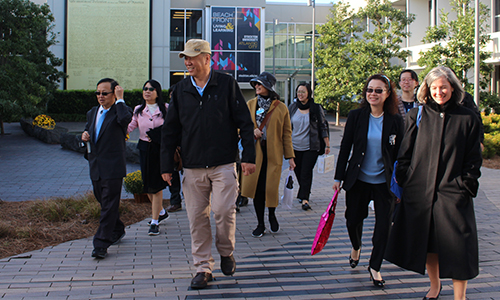 The symposium was coordinated by Wu and Stacey Culleny, instruction of education at Stockton, who received a Global Perspectives 2020 Stockton grant to support the visit. They were assised by Dean of the School of Education Claudine Keenan, Straub, student hosts Jessica Kelleher, Mark McKee and Christina Patella; and student volunteers Shannon Asta, Lucy Martinez, Samantha Hickey, Christina Triantafillou, Gustavo Ortega, Edward Chang, Emily Keller, and Nicole Graf.
Other faculty participants from Stockton were Associate Professor of Mathematics Simon Quint, Professor of Mathematics Juan Tolosa, Associate Professor of Mathematics Brad Forrest, Associate Professor of Mathematics Judy Vogel, and Associate Professor of Education Priti Haria.
Several area high school mathematics teachers also participated, including Nicholas Brennan from Charter Tech High School, Sandy Brown of Cedar Creek High School, Sean Olson from Oakcrest High School and Connie Stoklosa from Absegami High School.
Participants from National Chiayi University also included graduate students Meng-Chin Shih, Yu-Ru Tseng, Ying-Hua Tai and Ching-Hoa Ma. Other guests on the trip were Distinguished Professor Der-Ching Tang, Professor Ju-Fen Yao, Professor Shu-Sheng Lin and Associate Professor and Chair of the Department of Special Education Yu-Hsia Lin.
A gallery of photos from the symposium is on flickr.
Click here for a gallery of photos of the weeklong visit.
# # #
Contact:
Diane D'Amico
Director of News and Media Relations
Stockton University
Galloway, N.J. 08205
Diane.DAmico@stockton.edu
609-652-4593
609-412-8069
stockton.edu/media