Students Take Sustainability to 'The Office'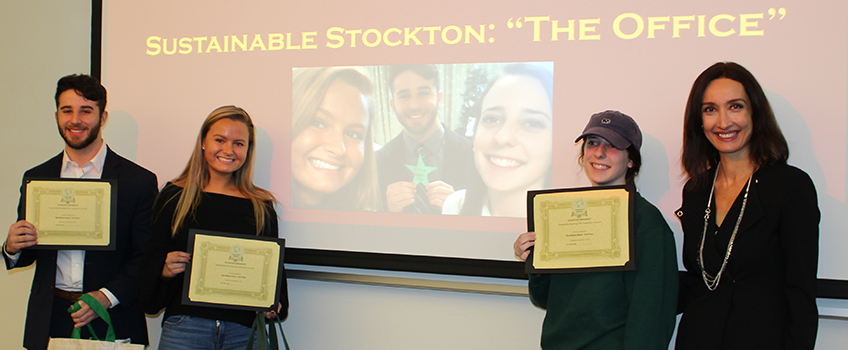 Galloway, N.J. _ A takeoff on the TV show "The Office" took first place in the sustainability video class project and competition in Associate Professor of Business Studies and Marketing Naz Onel's Sustainability Marketing class.
"We just like the show," said team member Theresa Evoy, who along with Amanda Klapatch and Christian Dugan made the winning video which depicts members of "The Office" wasting water and electricity and littering, only to reform their ways and earn green stars.
The second place winner was the team of Lamart Bazile, Melanie Manangan, and Charles Sinondon with their animated video titled "Earth Savior" about a superhero who comes to save Stockton and the Earth by educating about pollution, energy consumption and wasting resources.
Third place went to Jee Choi, and Tina Notaro with the video titled "Minimalism" which humorously contrasted a student who lives as a "minimalist" with one who does not.
"The students had to create storyboards and work step by step, and the topic had to be based on something we had covered in class," Onel said. Students were judged on creativity and the information they presented.
The course is interdisciplinary, and includes students who are majoring in marketing, sustainability, business and finance.
All 10 films were show in class and the winners were chosen by the students. The winning team got a certificate and a reusable goodie bag of treats.
# # #
Contact:
Diane D'Amico
Director of News and Media Relations
Galloway, N.J. 08205
Diane.DAmico@stockton.edu
609-652-4593
609-412-8069-cell
stockton.edu/media