Trustees Approve Summer Tuition Discount
Galloway, NJ – Undergraduate students will again be able to get a discounted tuition rate from Stockton University for summer 2019 courses.
The Stockton Board of Trustees approved the rates at the Dec. 5 meeting. Under the summer tuition plan, one four-credit course will cost $1,680 tuition and fees. If students take either two or three courses for a total of 8-12 credits they will pay $3,360, in effect getting one course free if they take three courses. Each additional course would cost $1,680.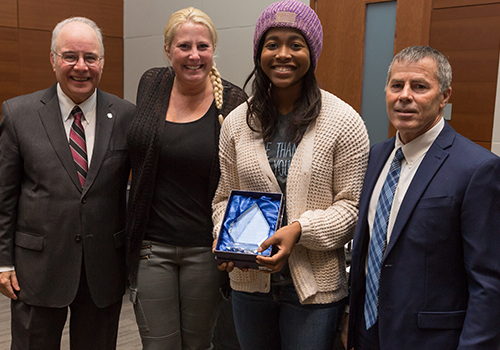 To get the special rate, students must take at least one face-to-face or hybrid class at one of Stockton's instructional sites in Atlantic City, Woodbine, Manahawkin or Hammonton.
The plan is modeled after the flat-rate tuition used during the academic year, when students can take 12-20 credits for the same price. The goal is to promote a competitive rate that will encourage students to take courses over the summer. The summer rate is available to Stockton students and to students attending other colleges.
In other business, the trustees authorized the sale of a retail condominium at the Ocean Club Condominiums in Atlantic City. The property was donated to Stockton in 2017 under an agreement that allows Stockton to use or sell the site.
The board also approved a merit pool of up to 2 percent for managerial raises.
The board also recognized Stockton University senior Allie Desmond, who received AVCA All-America Honorable Mention from the American Volleyball Coaches Association. Desmond's selection marked the ninth straight year that at least one Osprey has received AVCA postseason honors.
Desmond also was voted NJAC Player of the Year, NJAC First Team and AVCA Northeast Region First Team this season. She is pictured with Stockton President Harvey Kesselman, volleyball coach Allison Walker and Athletic Director Kevin McHugh.
# # #
Contact:
Diane D'Amico
Director of News and Media Relations
Galloway, N.J. 08205
Diane.DAmico@stockton.edu
609-652-4593
609-412-8069-cell
stockton.edu/media