Students Sharpen Skills, Network at FAA Internship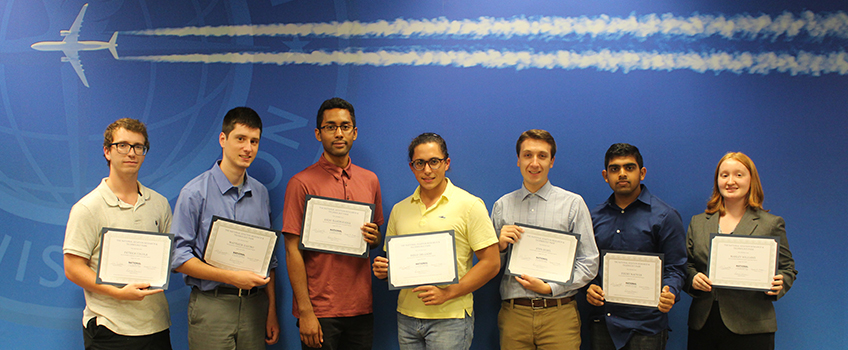 Egg Harbor Township, N.J. - Eight Stockton University students who interned with the National Aviation Research & Technology Park (NARTP) at the Federal Aviation Administration's (FAA) William J. Hughes Technical Center presented their research at the 2018 NARTP Summer Internship Debrief on August 28 at the center.
Interns in the pilot program were placed in a number of departments, including the Unmanned Aircraft Systems Engineering Branch and the last FAA Technical Library within the United States.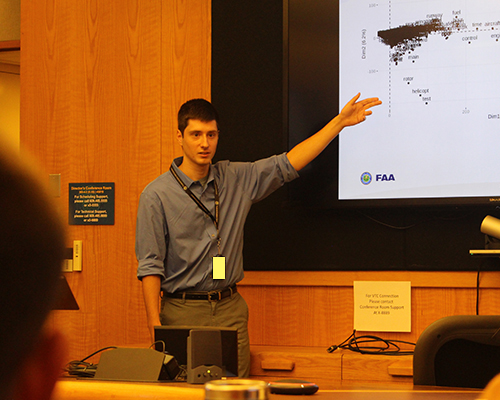 Their work focused on topics like creating lab capability tools, control input studies, data collection and analysis, development of text mining and text analysis tools, producing codes to determine UAS engine and battery health, packing research to be shipped to the Smithsonian, and storyboarding.
"Not only did they gain from us, but they were a huge benefit to us," said Carla Hill, one of the FAA's student program managers. "Students are our future. I'm looking forward to the enhancement of the program and the program's progress after this pilot."
Computer Science major and Mathematics minor, Matthew Davino of Westwood, got to do a literature survey of statistical and machine learning methods for text mining use in the National Transportation and Safety Board (NTSB) Database.
"On a nationwide scale, data gathered is so broad that words emphasized lack context," he said. "I found more useful data when analyzing and testing with more regional data of accident reports."
What Davino found was that regional data of the Southeastern United States accident reports were more associated with fuel issues, while the Northwest mountain regions showed accidents due to engines stalling at higher altitudes.
Jeremy Macwan of Galloway, a computer science and information systems major, updated a spreadsheet with point of contact information for companies and vendors. The initial spreadsheet of 80 companies had about 1,500 when Macwan was done.
"I went through a lot of databases of small, large, regional and local vendors to catalogue them," said Macwan. "Future interns and staff will be able to easily access the information they're looking for now."
Macwan also got the chance to take the Tech Center shuttle to Washington D.C. where he attended a meeting at the United States Department of Transportation (DOT) Headquarters regarding human factors work in DOT divisions. He also toured the 10A FAA Headquarters building mobility center.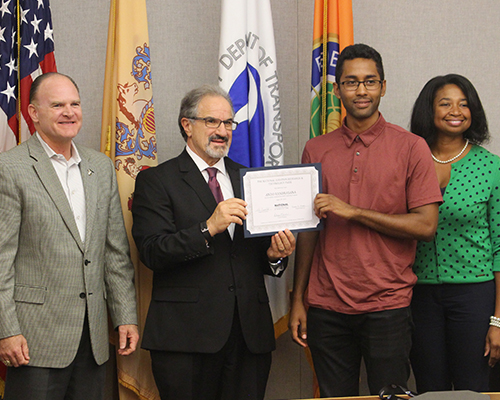 "Working in the FAA Technical Center, I never thought I would be able to visit DOT headquarters and experience how to work on IT project management teams," Macwan said.
When asked about the internship, the students said they valued the experience and lessons they learned.
"It's great to learn all of these new skills and to see where you lack and need to improve," said Computer Science major, Diego Delgado of Galloway.
Macwan appreciated being able to apply what he had learned in class.
"Time management and communication are crucial in collaboration," he said. "It's important to ask questions. Everyone here is really friendly and supportive in your work."
Ando Randrasana of Somers Point, a Computer Science major, said it was a really a relaxed atmosphere and a good and even fun environment to learn in.
"There's always negatives and positives to these experiences, but this one was definitely positive," said Patrick Cocola of Egg Harbor Township, an Applied Physics major.
John Bebel of Manahawkin, a dual engineering and physics major, valued the networking opportunities.
"It's always good to have a point of contact who knows your work ethic," Bebel said. "It's a valuable asset to have, especially on the inside of a place you hope to work at one day."
Computer Science major, Anuj Patel of Galloway, was unable to attend the briefing, but his mentor presented his work for him.
"I encouraged networking around here, and Patel was very interested in that," said Dan Fumosa, Patel's internship mentor. "You want to get to know people around here. That's how you move up."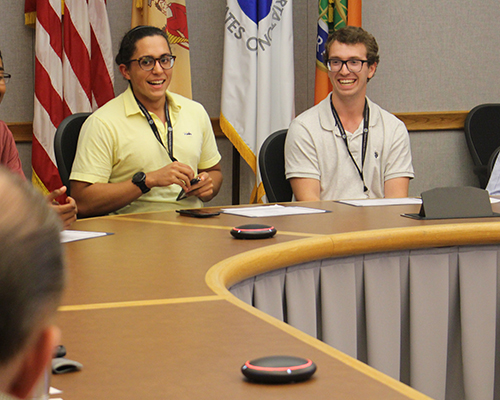 Bebel said it helps to be open to learning things outside of your major.
"Being an applied physics major, learning programming definitely helped advance me in the internship," he said.
"Come here with an open mind and be willing to try new things," said Computer Science and Mathematics double major, Marley Williams of Vineland.
"You have something going for you, and we see you being successful. We're really excited for your future." Said Jon Schleifer, the manager of the Outreach and Partnerships Division of the FAA Technical Center.
Ron Esposito, consultant for the NARTP and former acting director of the FAA William J. Hughes Technical Center thanked everyone for their role in establishing the program at the center.
"It's a one-of-a-kind research facility and this intern program leads to rewarding experiences for the future," he said.
The NARTP, located at the world-renowned FAA Technical Center, is an industry, academia, and government collaboration focused on research, innovation, and commercialization of emerging technologies for aviation.
The FAA Technical Center is the nation's premier aviation research, development, test and evaluation facilities of the National Airspace System. Its world-class laboratories and top-notch engineering place the Technical Center at the forefront of the FAA's challenge to modernize the U.S. air transportation system.
_ Reported by Jessica Jacob
# # #
Contact:
Diane D'Amico
Director of News and Media Relations
Galloway, N.J. 08205
Diane.D'Amico@stockton.edu
609-652-4593
stockton.edu/media