Student Multicultural Month Brunch Celebrates Diversity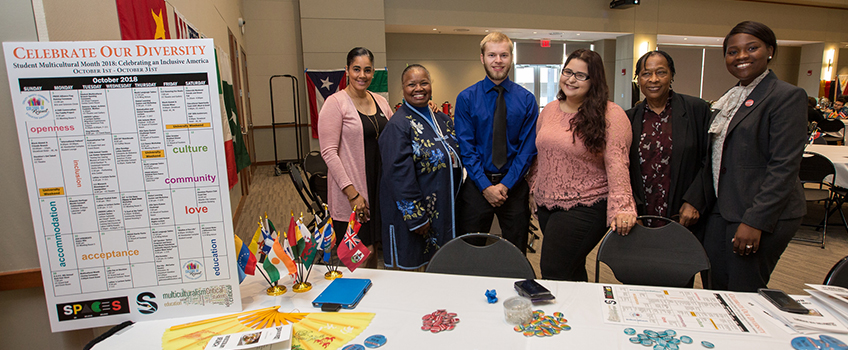 Galloway, N.J. – Some enjoyed the savory Asian vegetable stir fry, while others satisfied their sweet tooth with a German apple cake. But most importantly, the Multicultural Month Brunch on Oct 2, brought students together to celebrate diversity in an inclusive America.
"This month we use words like openness, inclusion, accommodation, love, acceptance, and community," said Janice Joseph, Distinguished Professor of Criminal Justice, during her welcome speech.
Joseph said that embracing all of our cultures unite us. Whether someone is black, Hispanic, an immigrant, part of the LGBTQ community, or anything else that makes them multicultural, this month Stockton recognizes and celebrates all differences to bring the Stockton community closer together.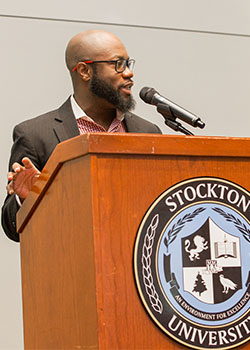 Christopher Catching, Vice President for Student Affairs, said creating a type of space and sense of belonging for students, as well as acknowledging all different backgrounds and experiences, is important for the Stockton community. Catching said he works to promote a school full of diversity and inclusion, as well as culture and respect.
In a passionate speech about the melting pot that is America, Rev. Willie D. Francois III, Senior Pastor of Mount Zion Baptist Church, told students that their obligation as American citizens is to make sure everybody has a voice. He urged everyone to register to vote in order to be part of the democracy of America.
"Embrace others and learn about those others, because they are not as other as you think," said Jeff Wakemen, Director of Student Development.
Wakemen reminded students to push themselves outside of their comfort zone, and to be open to learning about other cultures even if they may feel uncomfortable at first. He added that people need to increase their uncomfortableness in order to have more of an open mind.
Katie Coburn, Student Senate President, said she is proud to be a part of Stockton because of the university's atmosphere. Her goal is to create a more inclusive Stockton. She shared that she is learning and growing every single day, and is lucky to be a part of a college that has conversations about diversity and inclusiveness of all cultures and minorities.
Reported by Chelsea Doherty
# # #
Contact:
Diane D'Amico
Director of News and Media Relations
Galloway, N.J. 08205
Diane.D'Amico@stockton.edu
609-652-4593
609-412-8069
stockton.edu/media