Exhibits Showcase Spanish Flu in N.J., Civil Rights Project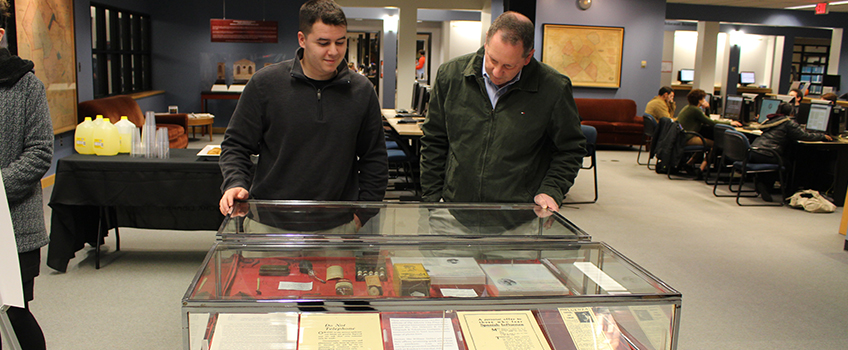 Galloway, N.J. – Exhibits on the history of the Spanish flu in New Jersey and the civil rights work of Atlantic City attorney James Cooper, developed by student curators Brianna DeCicco and Brendan Honick are on display at the Richard E. Bjork Library at Stockton University.
During a "Meet the Curators" exhibit opening Nov. 14, the students shared the history behind the displays they developed from Stockton's archives, and why they thought it was important to share them with the public.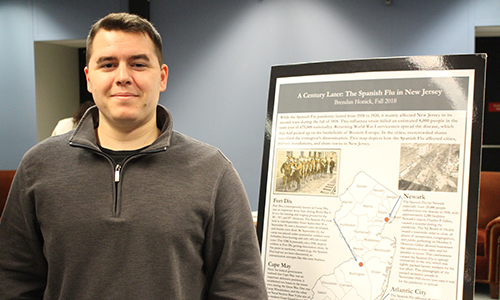 Brendan Honick is a junior who is part of the LIBA program in which he individualized his own major. As an analytical writing student, he had an internship with Special Collections Librarian, Heather Perez over the summer.
His exhibit, "A Century Later: The Spanish Flu in New Jersey," explores how people in New Jersey lived a century ago, and the challenges they faced when affected by the Spanish flu.
Honick studied four different regions of New Jersey that were affected by the Spanish flu including Fort Dix, Newark, Cape May, and Atlantic City. One of Honick's biggest resources was the Atlantic City Public Library because of the Atlantic City Heritage Collections containing microfilm dating back to the 19th century.
As a Linwood native, Honick originally focused his research on how the Spanish flu impacted the people of Cape May and Atlantic City only. In his findings, Honick realized the Spanish flu was so widespread in New Jersey that it was impossible to only focus on one region.
"I found that there was so many different anecdotes and stories that I had to include more," said Honick.
Brianna DeCicco's curated exhibit was titled, "Remembering James Cooper's Civil Rights Activism." DeCicco is an American Studies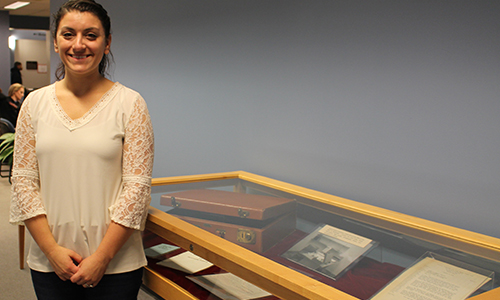 graduate student from Barnegat.
After talking to Heather Perez and being shown the special collections archives, DeCicco knew that's where to do her internship. Attorney James Cooper's briefcase, which was donated to Stockton by Cooper's family after he passed away in 2017, was the focus of DeCicco's project.
James Cooper was an attorney from Atlantic City who spent two weeks in Mississippi in 1966, representing African-Americans during the height of the Civil Rights Movement. Cooper saw first-hand the discrimination and violence African-Americans were facing in the state 50 years ago.
The exhibit includes original copies of Cooper's notes and other court documents that were in his briefcase. Viewing the exhibit is like getting a personal tour of Cooper's experience in Mississippi during an often frightening time in American history.
DeCicco says that honoring impactful historical figures like James Cooper is important because society needs to remember the bigotry people in America have faced since the birth of the United States.
"The issues prevalent then are still relevant now," she said. "There is still racism and violence against African-Americans today, and that needs to change."
DeCicco added that James Cooper was a true civil rights hero. Cooper knew the dangers of going to Mississippi as a civil rights lawyer, but fighting for the rights of the discriminated was more important than the risks.
Both exhibits will be on display through the end of the fall semester, and are open to the public during library hours.
Reported by Chelsea Doherty
# # #
Contact:
Diane D'Amico
Director of News and Media Relations
Galloway, N.J. 08205
Diane.D'Amico@stockton.edu
609-652-4593
609-412-8069
stockton.edu/media