Stockton Research Could Shed Light on Predatory Dinosaurs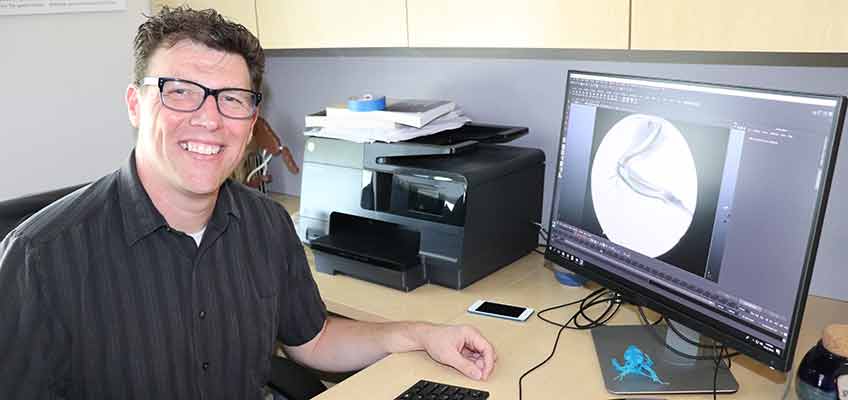 What do turkeys, alligators and prehistoric beasts have in common? More than you may think according to two years' worth of ongoing research conducted by Matthew Bonnan, professor of Biology and resident paleontologist at Stockton University and Christopher Langel '18.
Using cutting-edge technology in Stockton's Unified Science Center, Bonnan of Hammonton, and Langel of Brick, were able to determine for the first time how the bones in the elbows of the American alligator and domestic turkey move in relation to the shoulder. Their discovery might be able to provide better understanding of how predatory dinosaurs, such as T. rex and Allosaurus, used their forelimbs. Caitlyn Braunschweig '17, Joe Citro '17, Andrew Smythe '18, and current students Elizabeth Douglas and Dianna Marinelli also contributed to these findings.
"As the results of our data came in we saw that the bones in both alligators and turkeys showed a great deal of movement as their arms flex and extend; though the turkey does this to a far greater degree. However, I wasn't expecting to see the same patterns of movement from both animals. They both showed long axis rotations of the radius and ulna and the amount of movement side to side that they display was unexpected," explained Langel, who graduated from Stockton last May with a Geology degree. "Because of this, we concluded that it was these two movements that help turn the palms of their hands to their chest as the limb flexes. These findings will help to shed light on the forelimb range of motion of non-avian theropod dinosaurs like Allosaurus."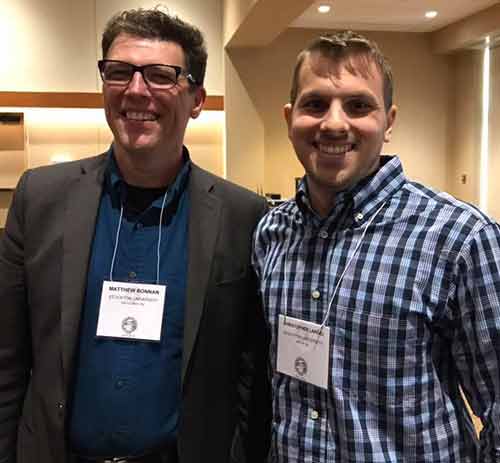 Bonnan and Langel presented their findings at the 78th annual Society of Vertebrate Paleontology meeting on Oct. 17 in Albuquerque, N.M., that garnered national attention.
"What you find in paleontology is that you often have a question that's difficult to answer with just a fossil. So, you go and look at what's happening with the living relatives and then you come back to your original question. Hence the turkey and the alligator," Bonnan said.
Bonnan and Langel used a 3-D imaging technique called XROMM (X-ray Reconstruction of Moving Morphology) to visualize the rapid skeletal movement in living creatures in addition to a veterinary CT-scanner. This equipment and laboratory were made possible by an Equipment Leasing Fund (ELF) state grant that was awarded to Stockton in 2013 through the efforts of Justine Ciraolo, executive director of Academic Science Labs and Field Facilities.
"Stockton, to my knowledge, is the only undergraduate-focused college in the world that has this type of equipment available that undergrads can actually use on site and work directly with a faculty member on this sort of research," Bonnan said.
The Stockton team also used Autodesk Maya animation software, a 3-D computer graphics application, that transformed their data into computer images in order to better understand the function and form of the forelimbs. Maya has been used to create 3-D elements for movies including Walt Disney productions, television, game development and architecture.
Bonnan said the research could potentially open windows in veterinary science relating to how frequently birds dislocate their wings to even possibly better understanding prosthetics.
"Whether we repair bird wings or whether this is prosthetics or whether we even find out about T. rex, I think ultimately what is really good about this is that were involving undergraduates in research­ – many of whom go on to medical and veterinary careers – and they're getting a firsthand opportunity to do things like use X-ray equipment that they're going to be using in the future. This is a way for them to practice science and that's invaluable," Bonnan said.
Langel, who is currently working at Brick Town Veterinary Hospital, hopes to become a professor conducting further research on the functional morphology of dinosaurs and other archosaurs.
"As an undergraduate I feel very grateful to be given the opportunity to talk at this recent event and as a result I have gotten to meet other people in my field. I feel confident that this research has helped me make a name for myself in the paleontological community, and I hope to continue my education," Langel said. "In the meantime, our next step is to have our paper peer reviewed and have it published. We have another research project in the works that will utilize what we've learned in this study, so stay tuned."
The turkeys used during the research were provided by Guy Barbato, associate professor of Biology at Stockton and the alligator specimens were courtesy of Ruth Elsey at the Louisiana Rockefeller Wildlife Refuge.
Reported by Mandee McCullough
# # #
Contact:
Diane D'Amico
Director of News and Media Relations
Stockton University
Galloway, N.J. 08205
Diane.DAmico@stockton.edu
609-652-4593
609-412-8069
stockton.edu/media