Stockton University Hosts Youth Employment Symposium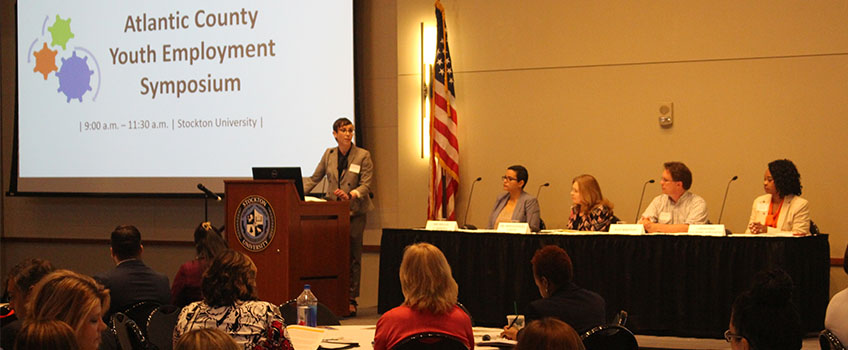 Galloway, N.J. – Youth unemployment, if not addressed, can lead to long-term unemployment and higher poverty rates speakers said at a Youth Employment Symposium on May 21 organized by the Atlantic County Workforce Development Board in collaboration with JEVS Human Services and Stockton University.
The symposium was a convening for local stakeholders to discuss trends and national best practices in youth employment. Presenters on Youth employment included Michelle Carrera, CEO for the Atlantic City Boys & Girls Club, Dr. Merydawilda Colón, Executive Director of the Stockton University Center for Community Engagement, Dan Rhoton, Executive Director of Hopeworks N' Camden, and Chekemma Fulmore-Townsend, President and CEO of Philadelphia Youth Network.
Topics discussed at the symposium included high-risk communities and youth employment as a protective factor, navigating social and logistical issues with families, trauma-informed services providing best opportunities for youth and uniting partners for career development.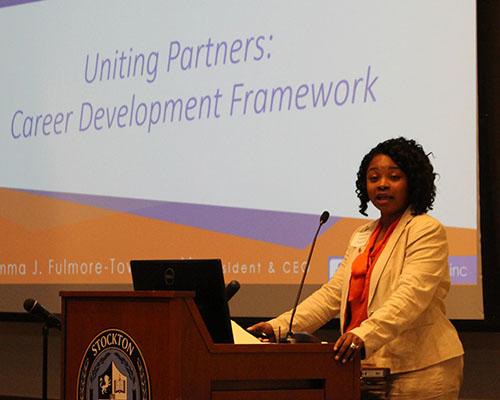 "Poverty is wrecking cities across the nation and Philadelphia is no different. Thirty-two percent of unemployment is young people," said Fulmore-Townsend. "When you ask youth about the life they want to live, the way that is answered determines the steps that need to be taken. As adults and translators for these youth, we are responsible for helping them on their path."
"Living in and growing up in poverty means everything is stacked against these young people. Not being able to find a job to survive means working becomes unimportant to youth," said Carrera. "We don't want to wait until the youth become disconnected to do something. We want to keep them connected throughout."
The symposium also included a panel discussion facilitated by John Colborn, Chief Operating Officer for JEVS Human Services. JEVS Human Services provides services focusing on individuals with physical, developmental, and emotional challenges as well as those facing adverse socio-economic conditions including unemployment and underemployment.
Hugh Bailey, Assistant Commissioner for the New Jersey Department of Labor and Workforce Development, touched on the importance of these discussions in the future of communities.
"It is important to discuss how valuable this kind of meeting is for the work we do helping to engage young people to be successful," said Bailey. "These are lessons they will take with them their entire lives, particularly disconnected youth with challenges that can be built on and added to the conversation to create new services and programs."
"That's why we encourage this exchange. It is our responsibility to look for and identify those pathways to their first job and their best jobs," said Bailey.
Eric Gilberson, Director of Human Resources Operations for Einstein Health Network, discussed employer-driven models for youth employment. Gilberson stressed the importance of empowering youth, connecting organization missions with jobs and providing internships to young adults to ensure mentorship in the process towards full-time positions.
Rhonda Lowery, Executive Director of the Atlantic County Workforce Development Board made the closing remarks for the symposium.
"We need to think about our youth and breaking these cycles. I hope that you learned something to help you move forward in helping youth in your community. We can't do it alone."
_Reported by Jessica Jacob
# # #
Contact:
Diane D'Amico
Director of News and Media Relations
Galloway, N.J. 08205
Diane.D'Amico@stockton.edu
609-652-4593
stockton.edu/media