Stockton Holds MLK Day of Service Activities with Area Schools

The Office of Service-Learning coordinated a weeklong celebration last week in honor of Dr. Martin Luther King, Jr., which also included activities where Stockton collaborated with area schools.
Nearly 100 participants from several area high schools attended Stockton's Third Annual MLK Day of Service Panel Discussion on Jan. 18 in the Campus Center Event Room (pictured above). This year's topic was "Free Speech vs. Hate Speech, What's the Difference from a Students Perspective."
Chief Operating Officer, Atlantic City Campus and MLK Day of Service Co-Chair Brian K. Jackson, welcomed the guests; Provost and Vice President for Academic Affairs Lori Vermeulen provided remarks; and Professional Services Specialist and MLK Day of Service Co-Chair Diana Strelczyk gave closing remarks.
The Stockton students who participated on the panel included Stockton Student Trustee Ike Ejikeme, Stockton Vice President of Student Senate Stephanie Hanvey and Stockton student veteran Arz Nammour.
Community Engagement Liaison Patricia W. Collins and Assistant Director of Residential Life Facilities & Student Retention Brian Pluchino served as the co-chairs for panel's planning committee. Other committee members included Associate Provost for Strategic Planning, Academic Planning & Assessment Carra Hood, Samantha Glasser of Event Services, Recruitment Manager Sharon Hunt, Assistant Director of Student Development Dianne Stalling and Professional Services Specialist Dawn Watkins.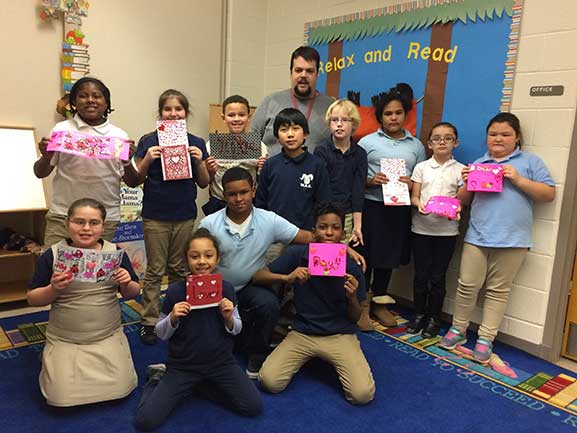 Stockton's Sam Azeez Museum of Woodbine Heritage collaborated with Woodbine Elementary School for a day of service honoring the legacy of Dr. Martin Luther King Jr. as part of Stockton University's MLK Week of Service. The third, fourth and fifth grade students (pictured right) and museum staff created Valentine's Day cards which will be distributed to the patients at the Woodbine Developmental Center and local nursing homes next month. The day included a presentation to the students about the meaning of King's impact on the world and the need to follow his example. Each student was asked to express their understanding of why a national holiday is celebrated in his honor and how they are impacted by his teachings.