Stockton Encourages STEM Careers for Local Students
Steven Kalman, assistant professor of Chemistry, was recently accepted to participate in the Research and Engineering Apprenticeship Program (REAP), funded through the research offices of the U.S. Army.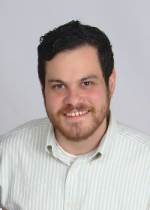 Through the grant-funded program, higher education institutions in the United States and Puerto Rico are able to provide talented local high school students, from historically under-represented and underserved communities, with the opportunity to work on a hands-on research project with a mentor.
Under the direction of Kalman, the selected student will work on a research project developing nickel catalysts for transfer hydrogenation, a chemical reaction with applications in the pharmaceutical and fine chemical industries.
The funding from the program will allow Stockton to host one local high school student, who will be selected from a pool of applicants. The student will be commuting to and from Stockton and will work for about 6-8 weeks, starting at the end of June.
The program provides a unique opportunity for a high school student, who may not normally have many opportunities available to him or her to work on a real-life research project in chemistry.
"This is not a common experience for high school students," Kalman said. "There are many high school students who live so close to an institution of higher education and, for a variety of reasons, may not know or understand the opportunities they may have by going to a college or university like Stockton."
The program is designed to encourage the selected student to pursue his or her interests in a STEM field and provide him or her with a valuable experience performing authentic research.
"As a mentor, I will be able to make the student aware of other opportunities in STEM and to hopefully be a valuable resource to them in the future," Kalman said.
Kalman said his own research experience at the undergraduate level had such a significant impact on him, and he wants to help provide that impact to someone else.
"I know that research can be an excellent learning experience, both from a science education perspective but also on a personal level," Kalman said. "It would be great if we were able to continue to get funding in future years, so that more of our local high school students will be able to have this opportunity to pursue their interests in STEM in a research setting."
Kalman is very excited for the opportunity to participate in such a program.
"One of the reasons I like working at a place like Stockton is that I don't just teach or do research, but I have the opportunity to mentor students on an individual level," he said. "The School of Natural Sciences & Mathematics has been doing excellent STEM outreach programs for a while now," Kalman said. "I believe REAP is an excellent addition."
-Reported by Marielena Dottoli