Stockton Shares Service-Learning Opportunities with Community Partners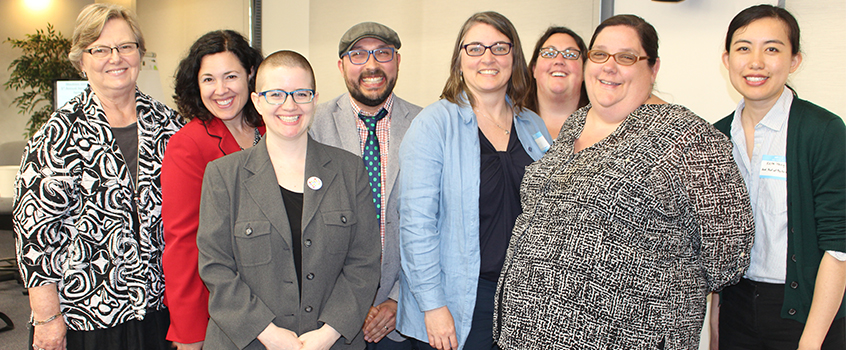 Galloway, N.J. – Stockton University faculty, staff and community members shared how both can benefit from service learning opportunities at the first Annual Service-Learning Symposium held on Wednesday, May 16th at the Townsend Residential Life Center.
Jessie K. Finch, Assistant Professor of Sociology said the symposium grew out of the Service-Learning and Civic Engagement Teacher's Circle she ran with Associate Professor of Psychology Kaite Yang.
"This is our crown jewel to be able to have this symposium," Finch said. "I'm very excited to say we have a number of community partners and elected officials registered today."
The symposium was sponsored by the Service-Learning and Civic Engagement Teaching Circle, Office of Service-Learning, Institute for Faculty Development and the New Jersey Campus Compact.
"This began as a
n end-of-year reflection," said Daniel Fidalgo Tomé, Director of Service-Learning at Stockton. "This is our seventh year bringing together faculty and community partners to discuss service-learning opportunities and experiences and recognize their work in the community."
Yang said the event is a team project.
"When I was in college, my classes at Dartmouth had a robust service-learning program," she said. "For me, this event represents a closed circle and brings me back to my roots."
Finch said the event is a great opportunity to connect with different community partners.
"To have such a multi-faceted group interested in our event and representing our community really represents Stockton's standards," she said.
Michelle McDonald, Associate Vice President for Academic Affairs, and Saul Petersen, Executive Director of the New Jersey Campus Compact, welcomed attendees and spoke on the importance of service-learning.
McDonald said Stockton now offers over 100 service-learning courses.
"In the beginning, we had 30 faculty participating in service-learning," she said. "Seventy is the number of faculty we have now. One in eight students gets to participate in service-learning here at Stockton. That is equal to 50,000 hours of cumulative service, and $1.5 million being invested into our work and the community."
Workshops held at the symposium included topics on making service-learning engaging to students while supporting research, and implementing teamwork within group projects into courses and agency work. Christina Jackson, Assistant Professor of Sociology, Margaret Slusser, Associate Professor of Health Science, Jessica Fleck, Associate Professor of Psychology, and Finch were presenters for the workshops.
Organizations attending the symposium included Repair the World: Philadelphia, Montclair State University, Atlantic Prevention Resources, Join Together Atlantic City, New York University, City Year and more.
"We're looking into available projects to bring in to the mayor's office so it's good to form that sy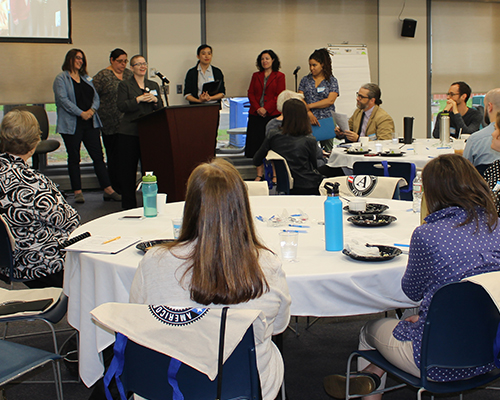 nergy of teamwork before volunteers come to us," said Christina Bevilacqua, Deputy Chief of Staff for the City of Atlantic City. "Previous administrations have worked with a few service projects, and I personally have worked on projects with nonprofits. This is a great opportunity."
Tomé said attendees came from North Jersey, Montclair, Pennsylvania and New York.
There's support for the community that you don't see a lot at other universities," said Finch. "Our hope for today is that we can create a bigger network for the community as a whole."
Alumni participating in the event included 2013 Business Studies and Education graduate and Executive Director at David's Dream & Believe Cancer Foundation, Danielle Corso, and David Calderetti, Impact Manager at Community FoodBank of New Jersey and 2008 Business and Communication Studies graduate.
"I started working in the nonprofit sector obtaining grants for organizations, programs combating obesity in children and the YMCA," said Calderetti "This was a true snapshot of information on what service-learning has to offer that I can take back to my interns and provide to my organization."
"This is an enormous opportunity for faculty, community partners and staff to learn what service-learning truly is directly from the people organizing in the department," said Corso.
Tomé said they hope to create professional development opportunities for community partners, faculty, students, alumni and more.
"This is a great example of support the university continues to offer for service-learning, our students and our community partners," he said.
"Together you have ensured that service stays at the heart of who we are. None of that would be possible without our students, faculty, alumni and community partners," said McDonald.
Members of the Service-Learning and Civic Engagement Teaching Circle supporting the event include Yang, Finch, Tomé, Erin O'Hanlon, Margaret Slusser, Christina Jackson, Betsy Erbaugh and Jessica Fleck.
For more information on service-learning at Stockton, contact the Office of Service-Learning at 609-652-4256.
_ Reported by Jessica Jacob
# # #
Contact:
Diane D'Amico
Director of News and Media Relations
Galloway, N.J. 08205
Diane.D'Amico@stockton.edu
609-652-4593
stockton.edu/media