Service-Learning Event Shows How Students Get Involved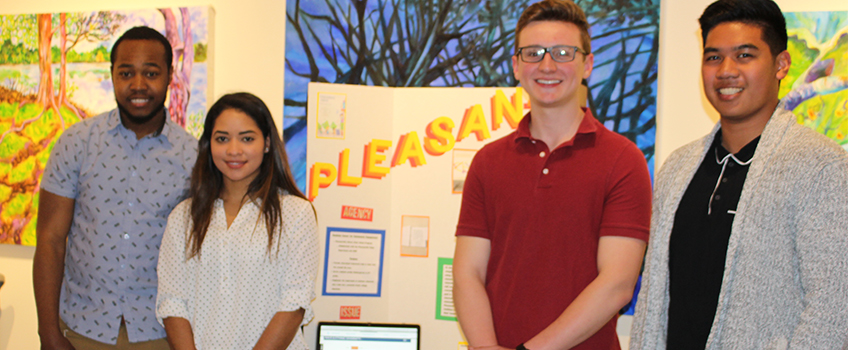 Galloway, N.J. - From preserving the stories of the African Community of Cape May, to having tea with senior citizens and teaching middle school students in Atlantic City and Pleasantville to build and operate underwater robots, students at Stockton University had a busy semester involved in service learning and community engagement projects.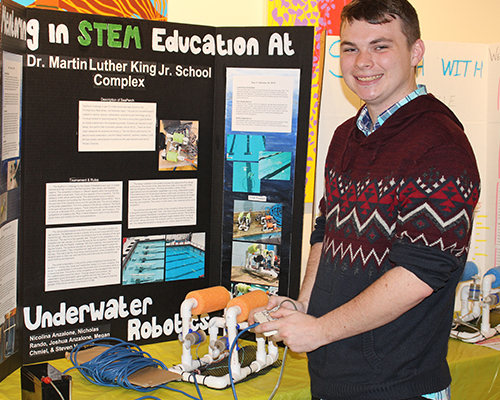 Each semester about 1,200 students participate in some 400 service projects. On April 24, some 45 projects were presented at the Celebration of Service & Civic Engagement Showcase in the L-Wing Art Gallery.
Eleven projects were awarded mini-grants from Alumni Affairs of up to $250 for the spring semester to fund supplies, said Office of Service-Learning Program Coordinator Diana Strelczyk.
"It's a competitive process," she said. "We had 25 applications."
Alicia Dalia of Point Pleasant and Melanie Arcidiacono of Franklinville used their $110 grant to buy special divided plates for young children to teach about nutrition.
They did their project at the Free to Be child care center at Stockton, and Arcidiacono said when they asked students to paste photos of their favorite foods on a paper plate, there was a lot of ice cream, cookies, donuts and French fries. They introduced more fruit and made it fun by making fruit kabobs.
Taylor Ivens of Cape May Court House, Kali Capuccio and Dominic Cenci of Bricktown bought plants for residents of Spring Village Assisted Living.
"We also gave them watering cans so they could have a job and have some independence in caring for the plants, Capuccio said. "They love doing anything for Stockton students. They want us to get good grades."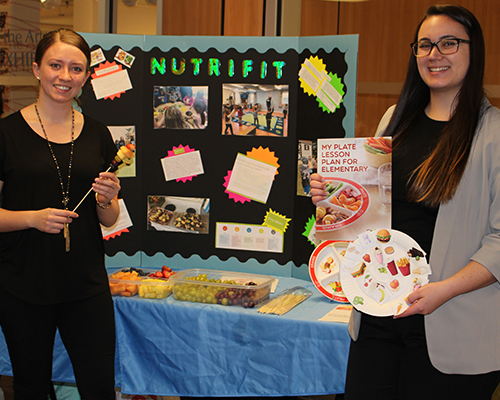 Steven Garcia of Ventnor and Kelly Peng of Piscataway worked with Kelly McLane, Raya Lipka and Max Edwards on a bird garden at the Fernwood Middle School in Egg Harbor Township which is not yet complete.
Christina Tallone of Hamilton and Irene Stanley of Princeton assisted with the naturalization classes offered at Stockton's Carnegie Center in Atlantic City, helping tutor participants in English and the citizenship test.
A number of students participated in the Stockton Center for Community Engagement after-school tutoring programs in Atlantic City and Pleasantville.
"We brought down the time it took them to do their homework by 50 percent," said Dayane Santos of Delran. "We provided small treats and incentives to get it done. A lot of them felt like they didn't have to do it."
Van Monger of Northfield and Gianna Torres also participated in tutoring in Stanley Holmes Village in Atlantic City. Torres said she learned how much extra help some students need.
"I got a greater appreciation of education," Monger said. "A lot of students don't have the basics. I think we definitely helped. I hope we did."
Joe Misciascio of Hamilton volunteered to help with the Sea Perch underwater robot project coordinated by Professor of Biology Tara Luke because he said as a biology major he doesn't get as many opportunities to go out into the community and he wanted to do a service learning project.
"I got to work with kids and they had a great time," he said. "They were so interested in what we were doing."
More information about service-learning at Stockton is at Service-Learning.
A gallery of photos of the event is on flickr.
# # #
Contact:
Diane D'Amico
Director of News and Media Relations
Galloway, N.J. 08205
Diane.D'Amico@stockton.edu
609-652-4593
stockton.edu/media