Seven Students Exhibit at Senior Art Show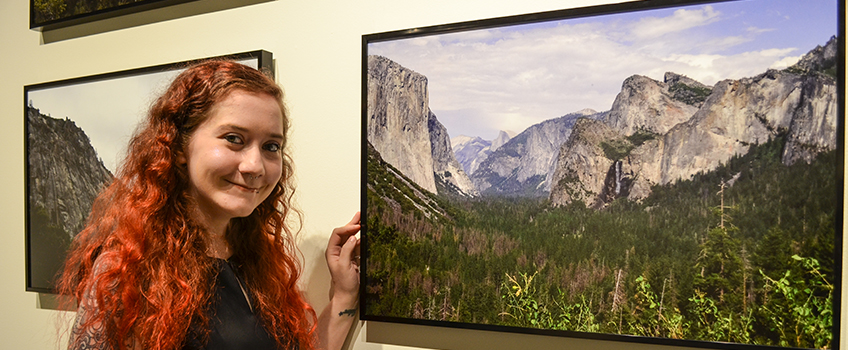 Galloway, N.J. – The varied work of seven students is on display in the Stockton University Art Gallery through Dec. 12. The exhibits employ many different types of art including painting, photography, illustration, and visual communications.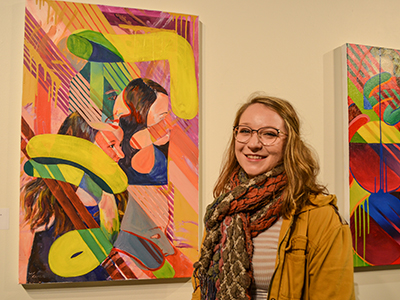 Featured senior student artists are Tanner Egan, Angelina Moise, Kristy Laugois, Samantha Park, Nickolas Cerullo, William Otte, and Matthew Featherer.
Tanner Egan's digitally inspired art is extremely personal to her. In her artist statement she said each piece of art she creates is inspired by the connection she feels to the people close to her. Egan expresses this in a way that is both colorful and chaotic.
Painter Angelina Moiso, is passionate about making others feel the familiarity and discomfort her art creates due to the memories the painted objects invoke, as well as the juxtaposition of the elements.
Moiso's pieces are inspired by a painting she created of a squirrel with a psychedelic background. She notes in her artist statement that before she even picks up a paintbrush, she creates a digital study in order to make her art focus more on the technique than the objects themselves.
Yosemite National Park was the inspiration for the series of photographs Kristy Laugois captured with her Nikon D5100 digital SLR camera. Laugois' photos display the intensity of the icy glaciers, mountains, clear streams, and beautiful granite cliffs.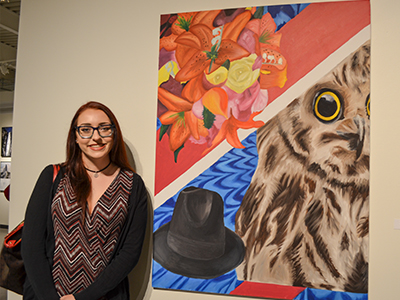 Admission is free. The gallery is open Monday-Saturday, 12-7:30 p.m., and Sundays, 12-4 p.m. The Art Gallery is located in L wing adjacent to the Performing Arts Center.
Reported by Chelsea Doherty. Photos by Marissa Gagliano. # # #
Contact:
Diane D'Amico
Director of News and Media Relations
Galloway, N.J. 08205
Diane.D'Amico@stockton.edu
609-652-4593
609-412-8069
stockton.edu/media